LONDON — Parties always have the potential for messy drama and NATO's 70th birthday gathering has been no exception.
After an acrimonious two days in the United Kingdom, President Donald Trump tweeted Wednesday that he was canceling his press conference that was set to cap off the event.
It comes after Trump lashed out at Canadian Prime Minister Justin Trudeau, calling him "two faced" after an open mic caught him and others making what may have been interpreted as references to Trump.
A day earlier, Trump condemned the "very, very nasty" remarks made about NATO by French President Emmanuel Macron.
The video that rocked this NATO gathering was captured Tuesday evening at a Buckingham Palace reception hosted by Queen Elizabeth II. The footage, which quickly went viral on social media, shows several world leaders, including Macron, Trudeau and Prime Minister Boris Johnson, having an informal chat.
The context of the conversation is not clear, and it is not known whom they are talking about, but Trudeau was overheard saying, "He was late because he takes a 40-minute press conference off the top."
Trudeau later says, "I just watched his team's jaws drop to the floor," again without explicitly saying whom they were discussing.
When asked what he thought of the video, Trump said Trudeau was likely upset that he'd publicly noted Canada was not meeting NATO's military spending goal.
"I called him out on the fact he is not paying 2 percent, and I guess he's not very happy about it," Trump said, adding that he thinks Trudeau is a "nice guy" despite calling him two-faced moments earlier.
Asked whether he and other leaders were making fun of Trump, Johnson told a news briefing later Wednesday it was "absolute nonsense and I don't know where that's come from."
Macron's office declined to comment, and Canadian officials were not immediately available for a response.
Download the NBC News app for full coverage of the NATO summit
Trump was later caught on an audio recording making light of his previous comment about Trudeau, saying "That was funny, when I said that guy was two-faced."
Trudeau himself downplayed, but did not retreat from, his initial comment. "Last night, I made a reference to the fact that there was an unscheduled press conference before my meeting with President Trump. And I was happy to take part of it. But it was certainly notable," the Canadian leader told reporters at a closing press conference Wednesday.
Trudeau said his remark about "jaws dropping" was a reference to Trump's announcement that the next G-7 will be at Camp David.
"We were all surprised and I think pleased to learn that the next G-7 will be at Camp David. I think that was an unscheduled announcement. And I think everyone's team, every different leader has teams who every now and then have their jaws drop at unscheduled surprises like that video itself, for example," he said.
The president's question-and-answer session with reporters ran for almost three times the allotted 20 minutes Tuesday.
Meanwhile, world leaders gathered Wednesday in the unassuming London commuter town of Watford for talks, one-on-one meetings and press conferences among the leaders of the 29 NATO member states.
The event, held at the Grove, a luxury hotel and golf resort, got off to a bumpy start, as Johnson and NATO Secretary General Jens Stoltenberg waited 15 minutes for a photo with Trump.
An aide came to tell the pair that the president's arrival was delayed, leaving them to stand around making small talk. When Trump did arrive, the trio posed for a photo together before the president tried to leave out of the wrong exit.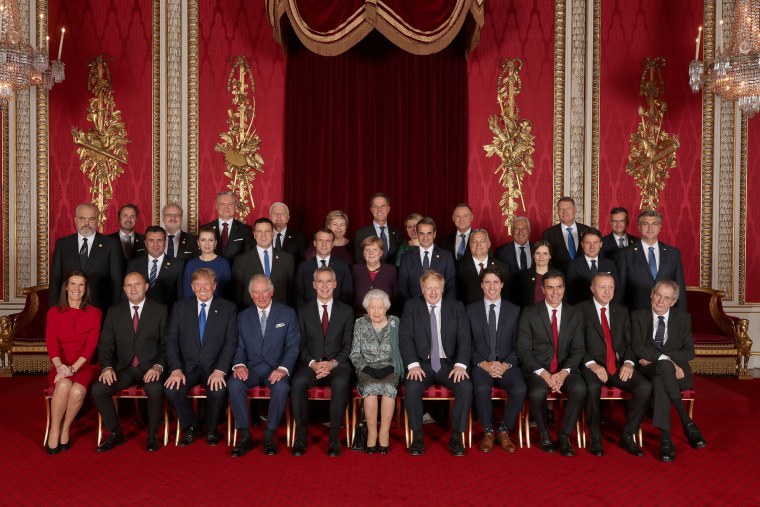 Trump also held an unscheduled meeting with Turkish President Recep Tayyip Erdoğan, who recently purchased a Russian missile defense system rather than the American alternative.
Erdoğan was also recently criticized by Macron, who condemned Turkey's "crazy" offensive into northern Syria after U.S. troops pulled back. Macron also said that NATO was "brain dead" and suggested the alliance should focus its attention away from Russia.
Those recent controversies have presented a fresh challenge for NATO, often referred to by supporters as the most successful military club in the world. Trump has typically been its loudest critic, suggesting he might walk away if smaller countries do not pay more toward their militaries.
On Wednesday, the White House hosted a lunch for "NATO two percenters" — nations that spend 2 percent of their gross domestic product toward their defense budget, as recommended by the alliance.
Once back in Washington, Trump faces his own drama.
The first impeachment hearings by the House Judiciary Committee began Wednesday, with constitutional scholars testifying about the purpose of impeachment, and the definition of high crimes and misdemeanors as it relates to Trump's conduct.
Alexander Smith reported from London, Shannon Pettypiece from Watford and Lauren Egan from Washington.