NATO summits normally deal with global threats such ISIS, Afghanistan and Russia.
But when Secretary of State Rex Tillerson heads to his first NATO meeting in Brussels on Friday, America's allies will be focused on what they see as the danger posed by the White House itself, according to experts.
Washington's partners in Europe will have President Donald Trump "at the front of their minds," according to Keir Giles, an associate fellow Chatham House, a think tank based in London
Trump caused alarm by once calling NATO "obsolete" and suggesting he wouldn't protect its members against Russian aggression unless they upped their military spending.
Furthermore, Trump's tweets saying that "Germany owes vast sums of money to NATO and the United States" led many to question whether he understood the alliance's funding model.
All of which will likely come to a head at the summit, according to analysts who said NATO members will likely seek assurances from Tillerson that Trump has their back.
"There is real concern about whether the Trump presidency really does not understand how NATO works and what the implication of that might be," said Giles at Chatham House. "It would be very surprising if they did not want to sound Tillerson out about that."
"You will not get the Europeans to spend more if there are questions about America's commitment."
As the world's most powerful military, the U.S. is the de facto head of NATO. Its members are advised to spend 2 percent of their GDP on defense, and in return there has always been an acknowledgement that America would defend them in the face of an attack.
However, most of these countries now spend less than 2 percent. And while past U.S. administrations — including President Barack Obama — have urged countries to up their contributions, Trump is the first to openly suggest breaching the principle of collective defense.
That notion caused "astonishment" and "agitation" among Europe's leaders, German Foreign Minister Frank-Walter Steinmeier has said.
"It will be the job of someone like Tillerson to reassure them that the United States remains committed to NATO," said Jonathan Eyal, a senior research fellow at the Royal United Services Institute (RUSI).
So far, Tillerson has done little to calm fears and initially planned to skip the summit, which originally clashed with Chinese President Xi Jinping's visit to Trump's Mar-a-Lago resort in Florida. To compound the perceived snub, Tillerson said he would find time to travel to Russia for meetings even as the FBI investigates whether Trump's campaign colluded with a Russian government-backed operation to interfere with the election.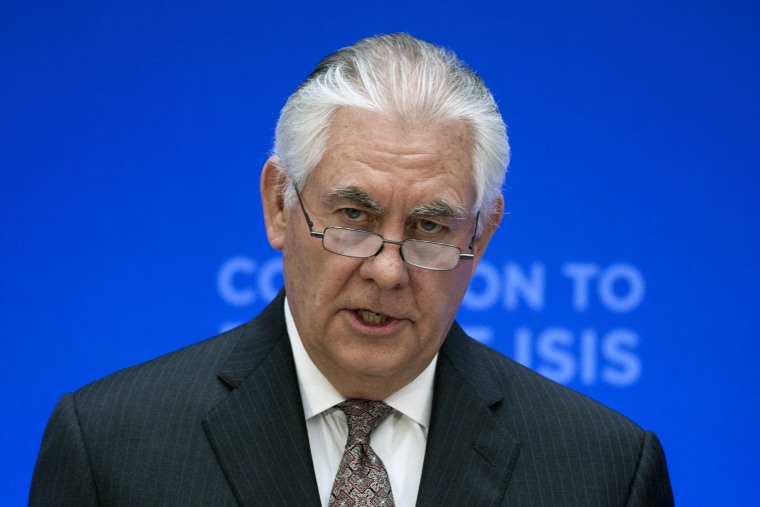 In an about-turn, the State Department announced Saturday that Tillerson would attend the NATO meeting after it was brought forward to later this week — a rescheduling that would have required consensus among all 28 NATO member countries.
Trump is correct about allies not paying sufficient dues — but the problem is not new, according to Eyal at RUSI.
"The question over contributions is as old as the alliance itself," he said. "Washington is right to feel impatient, but the reality is that the 2 percent is not god-given, and Trump should be focusing on allies making progress on spending rather than an immediate jump to 2 percent."
For Germany to increase military spending to the recommended level from its current position of 1.2 percent would cost it an extra $30 billion on top of what it's already spending on defense, according to Eyal.
"The only way that Europe is going to reach its targets is if they are reassured about the American commitment toward them," Eyal added. "You will not get the Europeans to spend more if there are questions about America's commitment."