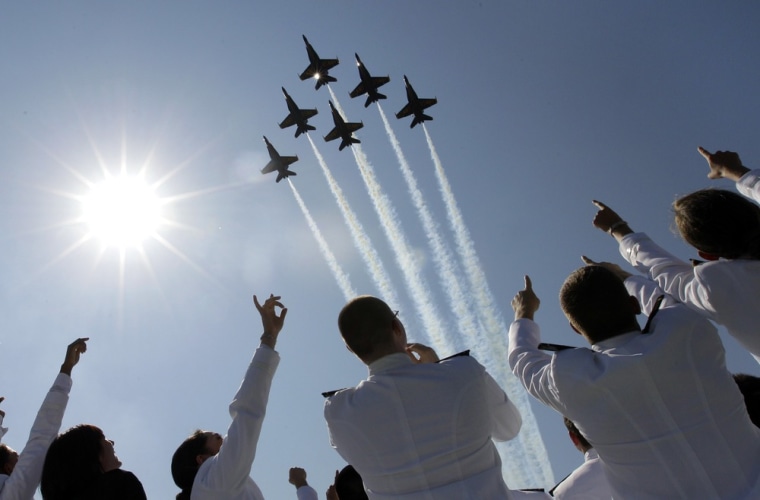 Defense Secretary Leon Panetta told graduates of the U.S. Naval Academy in Annapolis, Md., that they will help shape a more agile, flexible, technologically advanced military that puts an emphasis on Asia-Pacific and the Middle East. 
"One of the key projects that your generation will have to face is sustaining and enhancing American strength across the great maritime region of the Pacific," he said Tuesday.
He told graduates that their work will help strengthen defense ties with China, modernize ties with old allies like Japan and Korea and build new partnerships with countries like Malaysia, Vietnam and Singapore.
America's prosperity lies with the ability "to advance peace and security," he said. "That reality is inescapable for our country and for our military, which has already begun broadening and deepening our engagement throughout the Asia Pacific."
During visits to Southeast Asia, India and China, Panetta vowed to speak about America's goal to remain a Pacific power. "And I'll tell them why: because of you," he told the class of 2012. "Because during your careers many of you will be headed across the Pacific. There and across the globe, the Navy and Marine Corps must lead a resurgence of America's enduring maritime presence and power."
Panetta urged the graduates to help strengthen defense ties with China. 
"China's military is growing and modernizing," he said. "We must be vigilant. We must be strong. We must be prepared to confront any challenge. But the key to peace in that region is to develop a new era of defense cooperation between our countries — one in which our militaries share security burdens to advance peace in the Asia-Pacific and around the world." 
Panetta also said the military will protect its investments in cybersecurity, unmanned systems and special operation forces. "We will ensure our military can confront aggression and defeat any opponent anytime, anywhere," Panetta said.
There were a total of 1,099 graduates — 877 men and 222 women. A total of 810 were commissioned as naval officers, including 634 men and 176 women. There were 267 commissioned as officers in the Marine Corps, including 224 men and 43 women. Several graduated as officers in the Air Force and Coast Guard.
Panetta also noted the death last week of retired Lt. Cmdr. Wesley Brown, the first African-American to graduate from the U.S. Naval Academy in 1949. He was 85.
The defense secretary cited the academy's diversity, and he noted that some students are gay. This was the first graduating class at the service academy in which gay students could be open about their sexuality after repeal of the military's "don't ask, don't tell" policy in September.
"You are men and women from every state in the union and 12 foreign nations — rich and poor, secular and religious, black, white, Latino, Native American, Asian, straight and gay. Diversity of this class is a tribute to the life and service of retired Lt. Cmdr. Wesley Brown," Panetta said, bringing cheers and applause from the audience. 
The Associated Press contributed to this report.
More content from msnbc.com and NBC News: