More than two years after masterpieces looted by the Nazi regime were discovered in a Munich apartment, the first artwork was returned to the heirs of its original owner Friday.
The 1921 "Seated Woman" painting by Henri Matisse originally belonged to Jewish art dealer Paul Rosenberg but was taken from him when he fled Germany for France in the 1940s.
It was one of more than 1,000 pieces found in 2012 by German customs officials in the home of Cornelius Gurlitt, the reclusive son of Hildebrand Gurlitt, a dealer who amassed artworks declared as "degenerate" by the Nazi regime. Some of the works were taken from their original owners.
Christopher Marinello, CEO and founder of London-based Art Recovery Group, was able to collect the work from a Munich storage facility after a court earlier this week approved its release to Rosenberg's heirs.
"The family is elated that this case finally has come to a conclusion," he told NBC News, noting that the painting is in excellent condition. "It has not been touched since the hands of Matisse — so that's very good news."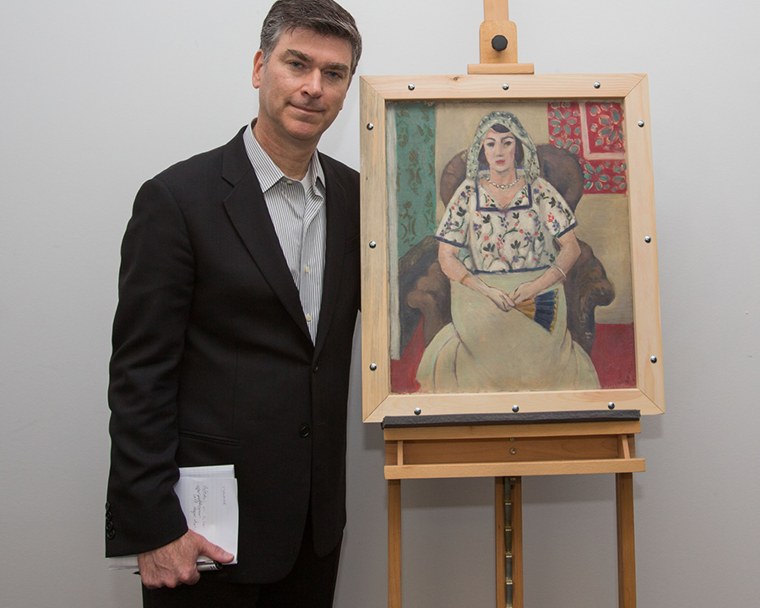 Marinello told NBC News that he worked with Paul Rosenberg's heirs since the art trove first became public in the fall of 2013.
"It's been a real struggle since then," he said, adding that the family's extensive documentation helped their case. Rosenberg's collection consisted of about 400 artworks, with the whereabouts of 60 still unknown.
"Until the Munich find, family wasn't sure if the painting had been destroyed," Marinello said.
In a written statement, the Rosenberg family thanked officials — and the Gurlitt family "for their cooperation and for their recognition of this historic claim."
The court ruling also approved the restitution of Max Liebermann's "Two Riders on a Beach" to another family.
Meanwhile, a task force set up by the German government continues to research the history of the other paintings found in Gurlitt's apartment.
Gurlitt died in May 2014, but a legal battle continues between some of his relatives and a Swiss art museum that he named as the sole heir of the collection. The museum said it would accept the paintings — except for those looted by Nazi regime.