Treasure hunters searching for a buried Nazi-era train laden with gold said Tuesday they had found signs of a tunnel — but experts working alongside them said they could find no evidence of any train inside.
Piotr Koper and Andres Richter announced their progress in the hunt for the World War II-era train, which they believe is buried in an embankment close to the town of Walbrzych, Poland.
The pair said a scan of the site using ground-penetrating radar had revealed disturbances that suggested the existence of a tunnel.
However, Janusz Madej, a professor of geology and geophysics at the AGH University of Science and Technology in Kraków, said his team working alongside the treasure hunters could also see the "anomalies" but found no evidence of a train.
"If there was an armored train approximately 2.5 meters (8.2 feet) under the ground and 150 meters (492 feet) long we should see it on our research but there is no train," he told reporters.
Looking at the audience, Madej asked "Is that sort of pattern visible here? No. What is the conclusion?" "There is no train," Madej repeated after a voice from the room suggested that conclusion.
Related: 'Nazi Gold Train' Town Enjoys Tourism Gold Rush
Koper and Richter told the same news conference that they remain convinced they have located the train, which according to local folklore was loaded with gold, jewels and weapons was hidden in a sealed tunnel by Nazi forces retreating from the advance of the Soviet Red Army in 1945.
They said they would continue searching the area. However, it could be many months before further work begins because of winter snowfall in the area.
Two teams scanned the ground where the train is thought to be - some from Koper and Richter's own company, XYZ, and some from the AGH University of Science and Technology.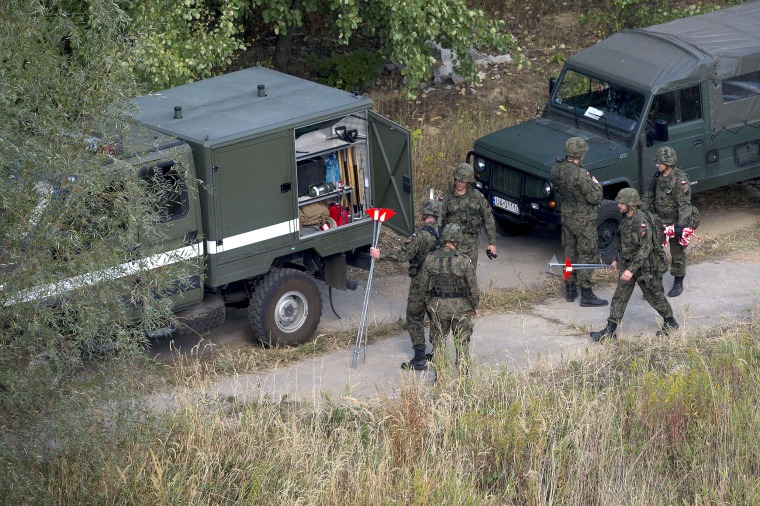 Arkadiusz Grudzien, spokesman for the city of Walbrzych, told NBC News that it would consider the different presentations before deciding what to do next.
"Right now we have to analyze the reports very carefully because we have seen only presentations," he said. "After checking the reports we'll decide with our [mayor] what will be our next step."
He added that the city might consult other experts.