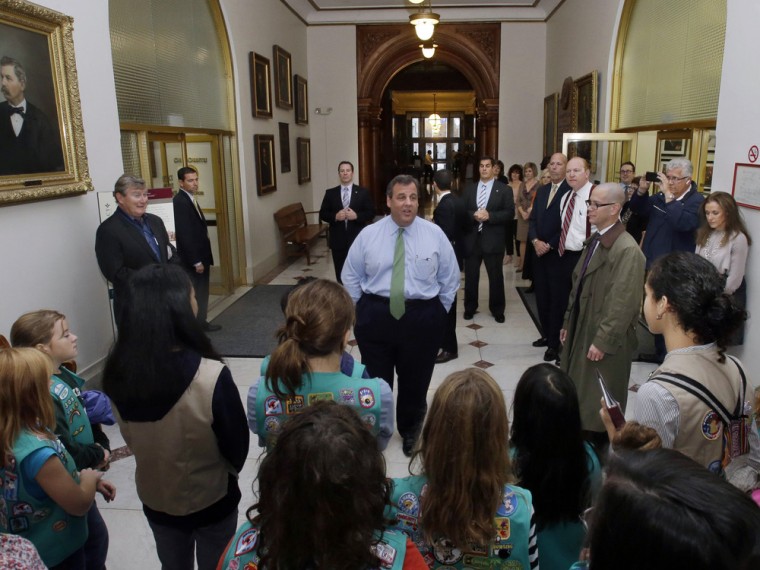 If New Jersey Gov. Chris Christie runs for president in 2016, he would face the dual challenges of uniting a fractured Republican Party and besting a formidable Hillary Clinton in a general election, according to a new NBC News poll.
Following his resounding re-election victory last week, 32 percent of Republican and Republican-leaning respondents say they would vote for Christie in a GOP presidential primary, while 31 percent prefer another Republican candidate.
"Naming just Christie divides the faithful equally into Christie, Not Christie and Don't Know," said G. Evans Witt, CEO of Princeton Survey Research, which conducted the poll. "A third of the vote is not a bad showing in a party primary with [potentially] 10 candidates, but the first primary is more than two years away."
Read the full poll results here (.pdf)
There's also a striking geographical divide: A majority of Northeast Republicans (57 percent to 22 percent) say they would support Christie in a GOP primary.
But pluralities of Republicans in other parts of the country prefer another GOP candidate – in the Midwest (by 35 percent to 30 percent), the South (29 percent to 27 percent) and the West (40 percent to 22 percent).
On Monday, The New York Times highlighted this Republican split over Christie, especially after establishment Republicans have cheered his possible 2016 candidacy.
"We're so frustrated with all this Christie talk we can't see straight," Scott Hofstra, a Tea Party Republican from Kentucky told the Times. "He's no more conservative than Harry Reid," referring to the Democratic Senate majority leader.
Appearing on Sunday's "Meet the Press," Christie declined to label himself a moderate or conservative. "I don't get into these labels. That's the Washington, D.C., game," he said.
Instead, Christie added, "Look at my record. We're spending less today in 2014 fiscal year than we did in 2008 in real dollars; we've cut business taxes by $2.3 billion; 143,000 new private sector jobs."
Christie vs. Clinton
Christie's challenges extend beyond his own party: The poll finds Clinton getting the support of 44 percent of all adults in a hypothetical match up against the New Jersey governor, who gets 34 percent. The rest of respondents either preferred another candidate, said they would not vote, or were undecided.
And while Election Day 2016 is still more than 1,000 days away, the survey shows Clinton benefiting from the same demographic trends that helped propel President Barack Obama to win the election in 2008 and re-election in 2012.
Clinton leads Christie among African Americans (83 percent to 4 percent), respondents ages 18 to 29 (45 percent to 31 percent) and Latinos (44 percent to 33 percent).
Clinton also holds the advantage with residents from the Northeast (52 percent to 35 percent), West (43 percent to 30 percent), the South (43 percent to 35 percent) and Midwest (41 percent to 37 percent). And she has a narrow edge among independents (39 percent to 35 percent).
Christie, meanwhile, leads among whites (41 percent to 37 percent), seniors (44 percent to 41 percent) and respondents with an annual income of $75,000 or more (46 percent to 34 percent).
Democrats unite around Clinton
Within her own party, Clinton enjoys strong support for the nomination. Sixty-six percent of Democratic or Democratic-leaning respondents say they'd back Clinton in a presidential primary, versus just 14 percent who say they'd vote for another Democratic candidate.
This comes after Clinton served as President Obama's secretary of state for four years, as well as her unsuccessful presidential bid in 2008, when Obama upset her for the Democratic nod.
While Clinton still could receive a Democratic challenge – the New Republic magazine recently wrote about Sen. Elizabeth Warren, D-Mass., possibly running in 2016 – other prominent Democrats would likely avoid the race if Clinton decides to throw her hat into the ring.
"Clinton is the best-known Democrat in the country who might run in 2016, with the possible exception of Vice President Biden," Witt added. "No one else is close in sheer name recognition."
The NBC poll was conducted Nov. 7-10 of 1,003 adults (which has a margin of error of plus-minus 3.6 percentage points), 428 Democrats or those who lean Democratic (plus-minus 5.5 percentage points) and 394 Republicans or those who lean Republican (plus-minus 5.8 percentage points). 
Related: