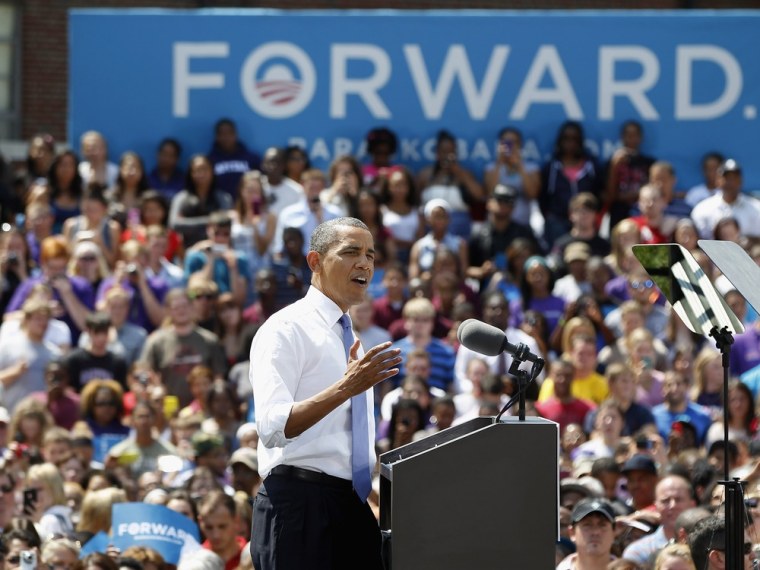 After Mitt Romney selected his vice presidential running mate, and just days before the political conventions kick off next week, President Barack Obama maintains his advantage in the race for the White House, according to the latest NBC News/Wall Street Journal poll.
A Democratic ticket featuring Obama and Vice President Joe Biden gets support from 48 percent of registered voters, and a Republican ticket of Romney and new running mate Paul Ryan gets 44 percent.
These numbers are only slightly changed from July, when Obama led Romney by six points in the survey, 49 percent to 43 percent, suggesting a minimal bounce for Romney (if at all) after this month's Ryan pick.
While the state of the U.S. economy and the nation's direction continue to pose significant obstacles for the president, the poll points to even steeper challenges for Romney, including concerns about his tax returns and a lack of support for his plans to overhaul Medicare.
"The election has moved from a referendum to a choice," says Democratic pollster Peter D. Hart, who conducted this survey with Republican pollster Bill McInturff. "Mitt Romney is starting to accumulate a number of negatives on the personal front and issues front."
Looking ahead to next week's Republican convention, which begins on Monday in Tampa, Fla., Hart adds: "Mitt Romney has a lot of repair work to do with his image."
But McInturff argues that there's still a path to victory for Romney, especially with Obama's numbers below that all-important 50 percent threshold for an incumbent.
"When a guy gets stuck at 48 percent, it doesn't mean they are out of the clear," he says. "It means they are in an incredibly competitive campaign."
The swing states, the demographics and the Ryan pick
In a smaller sample of voters living in 12 key battleground states – Colorado, Florida, Iowa, Michigan, Nevada, New Hampshire, New Mexico, North Carolina, Ohio, Pennsylvania, Virginia and Wisconsin –  Obama leads Romney by three points, 49 percent to 46 percent. 
That's a narrower edge in these battlegrounds than the eight-point lead the president enjoyed in the June and July NBC/WSJ polls.
Looking inside the numbers, Obama continues to lead Romney among key parts of his political base, including African Americans (94 percent to 0 percent), Latinos (by a 2-to-1 margin), voters under 35-years-old (52 percent to 41 percent) and women (51 percent to 41 percent).
Romney is ahead with whites (53 percent to 40 percent), rural voters (47 percent to 38 percent) and seniors (49 percent to 41 percent).
And the two presidential candidates are essentially even when it comes to the swing groups of suburban voters, Midwest residents and political independents.
As for Romney's selection of Ryan as his running mate, which was made on Aug. 11, the poll suggests that – so far – the pick has had less of an impact on voters than previous running mates have had.
Twenty-two percent say Ryan makes them more likely to vote for the presumptive Republican presidential nominee, while 23 percent say he makes them less likely to vote for Romney; 54 percent say the pick doesn't affect their vote either way.
That margin (-1) is compared with Joe Biden's in 2008 (+8), Sarah Palin's in 2008 (+9 percent), John Edwards' in 2004 (+21), and Joe Lieberman's in 2000 (+13).
Ryan's numbers come closest to Dick Cheney's in 2000 (+2).
Moreover, in the poll's feeling thermometer, Ryan's favorable/unfavorable score stands at 33 percent/32 percent.
Hart, the Democratic pollster, attributes Ryan's mixed numbers to today's increasingly partisan divide, with Republicans backing him, Democrats opposing him and independents fairly divided.
Romney's two challenges
According to the poll, Mitt Romney has two challenges heading into next week's Republican convention in Florida: repairing his image and selling his proposal to overhaul Medicare.
NBC/WSJ poll: Voters split on Ryan
For starters, Romney continues to have a net-negative favorable/unfavorable score (38percent/44 percent) – which no other modern Republican presumptive presidential nominee has had.
What's more, Obama bests Romney by 35 points (58 percent to 23 percent) on the question of which candidate is more likeable, and by 22 points (52 percent to 30 percent) on caring about average people.
In addition, a majority of voters (51 percent) view the former Massachusetts governor's approach to issues as being "out of step" with most Americans' thinking. By comparison, 54 percent say Obama's positions are "in the mainstream."
And by a 36 percent to 6 percent difference, voters say what they have seen, heard and read about Romney's tax returns – he has refused to release returns prior to 2010 – has given them a more negative impression of the Republican candidate. Forty-one percent say it doesn't make much of a difference.
Problematically for Romney, similar negative margins exist with swing voters like independents, suburban voters and Midwest residents.
"That is as much negative as anything that comes out in this poll," Hart says of Romney's tax returns.
Testing the Medicare debate
Another negative for Romney in the poll is his plan to make substantial changes to Medicare, the government health-insurance program for seniors.
When voters are given a description of the Romney-Ryan plan – that future seniors would receive a guaranteed payment that some call a voucher, and that these seniors could use it to purchase either private insurance or to have access in the traditional Medicare program – twice as many call it a bad idea (30 percent) versus good idea (15 percent).
However, 51 percent of voters said they have no opinion.
In a separate question, 34 percent of voters say they agree with the statement that Romney believes this Medicare proposal "is a good idea because it would strengthen Medicare and reduce government costs … by giving future seniors more control over their own health-care dollars."
NBC/WSJ poll: Approval of Congress hits bottom
In contrast, 50 percent say they agree with the statement that Obama believes this proposal "is a bad idea because it would end Medicare as we know it by turning it into a voucher system giving seniors a set amount of money to pay for their health-care costs and leaving them to personally cover costs above this amount."
What's more, a plurality (39 percent) say that Medicare needs only minor modifications, versus 15 percent who believe it needs a complete overhaul, another 15 percent who think it's OK the way it is and 27 percent who say it needs major changes.
And when asked which candidate is better on issues affecting seniors, 46 percent pick Obama and 34 percent choose Romney.
Obama's own challenge: the economy
Yet Obama has challenges, too, and they're the same ones that have dogged his campaign over the past year.
More than six in 10 believe the country is headed in the wrong direction, which is essentially unchanged from last month.
And just 36 percent believe the economy will improve in the next 12 months, though that's up nine points since July's poll.
Not surprisingly, Romney holds a six-point advantage over Obama (44 percent to 38 percent) on which candidate has better ideas on how to improve the economy.
That said, 50 percent of voters in the poll believe the economy is recovering, and they're split (46 percent to 46 percent) on whether the recent news about the economy has made them more optimistic or less optimistic.
The president's overall job approval rating stands at 48 percent, and approval of his handling of the economy is at 44 percent.
The NBC/WSJ poll was conducted of 1,000 registered voters (300 reached by cell phone) from Aug. 16-20, and it has an overall margin of error of plus-minus 3.1 percentage points.