President Barack Obama and presumptive Republican presidential nominee Mitt Romney remain locked in a tight contest, with each candidate displaying significant strengths and weaknesses four months before Election Day, according to the latest NBC News/Wall Street Journal poll.
For Obama, he runs stronger than Romney does in the key swing states, and he holds a strong base of support among young voters, African Americans and Latinos. What's more, the president continues to be personally popular.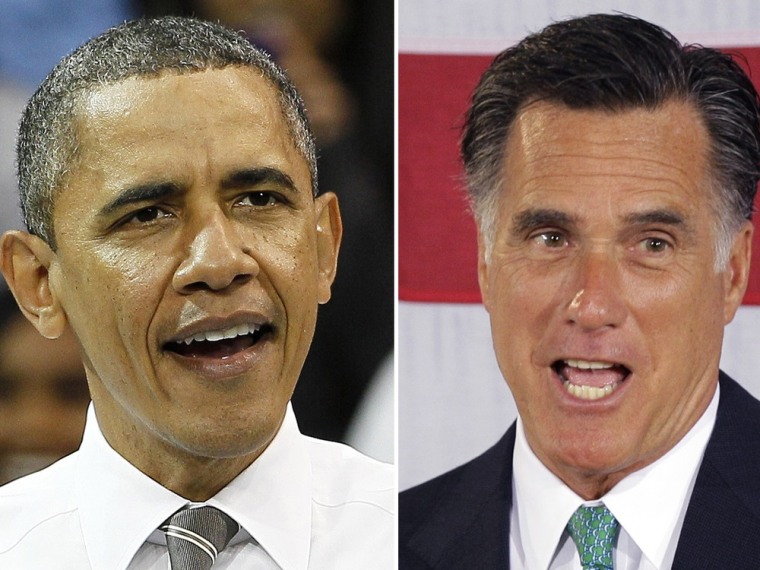 But in the past month, the public has grown more pessimistic about the state of the U.S. economy and the country's direction. And two key parts of Obama's base – young voters and Latinos – aren't as enthusiastic about the election as they were four years ago.
For Romney, key Republican groups – including the Tea Party – have begun to rally around the former Massachusetts governor, and he has the opportunity to capitalize on the attitudes about the economy and nation's trajectory.
Read the full poll results here (.pdf)
Yet he largely remains a largely undefined figure, and his favorable-unfavorable rating is still a net-negative.
"If the election is a referendum on health care or the economy, the odds work to Romney's favor," says Democratic pollster Peter D. Hart, who conducted this survey with Republican pollster Bill McInturff. "Obama is the odds-on favorite if it's a referendum on the personal aspects."
Stable numbers after another unstable month
After another eventful month in American politics – the disappointing May jobs numbers, the unsuccessful gubernatorial recall in Wisconsin, the economic uncertainty in Europe and Obama's recent immigration announcement – the Obama vs. Romney race is essentially unchanged.
Related: NBC/WSJ poll: More would be pleased if health law ruled unconstitutional
In the poll, the president leads his presumptive challenger by three points among registered voters, 47 to 44 percent, which is within the survey's margin of error.
Last month, Obama's edge over Romney was four points, 47 to 43 percent.
Also in the current poll, the president's overall approval rating stands at 47 percent (down a point from May), and his favorable-unfavorable score is 48 to 38 percent (which is essentially unchanged).
"It looks like a dead heat on a merry-go-round," Hart adds. "The position of the two horses has not changed."
Obama is ahead among African Americans (92 to 1 percent), women (52 to 39 percent), Latinos, voters ages 18-29 (52 to 35 percent) and independents (40 to 36 percent).
Romney leads among Tea Party supporters (94 to 1 percent), whites (53 to 38 percent) and men (48 to 43 percent).
And the two are running even among seniors, Midwest residents and high-interest voters.
The swing states: Obama's lead and Romney's decline
Another place where Obama is running ahead: the swing states.
Among swing-state respondents in the poll – those living in Colorado, Florida, Iowa, Michigan, Nevada, New Hampshire, New Mexico, North Carolina, Ohio, Pennsylvania, Virginia, and Wisconsin – Obama leads Romney, 50 to 42 percent.
Also in these swing states, Romney's favorability numbers have dropped, possibly reflecting the toll the negative Obama TV advertisements are having on the former Massachusetts governor in these battlegrounds.
A month ago, Romney's favorable/unfavorable score stood at 34-38 percent nationally and 36-36 percent in the 12 swing states.
But in this latest survey, his national fav/unfav score is 33-39 percent and 30-41 percent in the swing states. 
In addition, the poll shows that attitudes about Romney's business background – a frequent target in Obama ads – also are more unfavorable in these battlegrounds.
Related: NBC/WSJ poll: Six in 10 say Obama inherited current economy
Among swing-state respondents, 18 percent say what they've seen and heard about Romney's business record gives them a more positive opinion about the Republican candidate, versus 33 percent who say it's more negative.
That's compared to the national 23-to-28 percent margin on this question.
"It's been more of a problematic month from May to June for Romney," says McInturff, the GOP pollster.
Down on the economy and nation's direction
But it's also been a problematic month for Obama when it comes to U.S. economy. According to the poll, 49 percent say they're less optimistic about the economy after what they've seen, read and heard in the last few weeks, compared with 43 percent who are more optimistic.
What's more, 53 percent disapprove of the president's handling of the economy, which is up one point from last month.
And 61 percent believe the nation is headed in the wrong direction, a three-point increase from May.
Still, another six in 10 believe that Obama inherited the current economic conditions, and 51 percent say the U.S. economy is recovering rather than not recovering.
Yet, asked whether the president's policies have helped or hurt the economy, 33 percent say they've hurt; 32 percent say they've helped; and another 32 percent answer that they haven't made much of a difference.
What also has to concern Obama and his campaign is enthusiasm, especially among key demographic groups.
The poll shows that Democrats are showing their highest level of interest in the presidential election this year, matching Republicans on this question. But the internal numbers also find Latinos and young voters aren't as interested as they were four years ago.
"The president has an enormous stake in turning out 18-29 year olds and Latinos," McInturff says.
A largely undefined Romney
Meanwhile, the challenge for Romney is far different: create a stronger impression with the American public.
Although the poll shows that only 6 percent of respondents don't know who Romney is, just 20 percent say they "know a lot" about him, versus 43 percent who indicate the same about Obama. (That said, Romney's percentage here is comparable to Obama's when he was running for president at this same point in 2008.)
In addition, a majority of Romney supporters – 58 percent – say their vote is more against Obama than for Romney. That's compared to a whopping 72 percent of Obama supporters who say their vote is more for Obama than against Romney.
"He's a known name but an unknown person," Hart, the Democratic pollster, says of Romney. "They just haven't related to him."
When respondents in the poll were asked to say the first thing that came to their mind when thinking about Romney as president, 43 percent of the answers were negative. The top examples: wealthy/favor the wealthy (12 percent), bad/disaster (7 percent), out of touch (7 percent) and women's rights/abortion stance (5 percent).
By contrast, 40 percent of the answers about Romney were positive, such as good businessman (10 percent), change (10 percent), conservative/for smaller government (7 percent) and improve economy (5 percent).
For Obama, 52 percent of the open-ended answers for him were negative: economy (15 percent), lack of experience/incompetent (9 percent), Obamacare (8 percent), high unemployment (6 percent) and broken promises (6 percent).
Another 44 percent were positive: good leader/doing good job (10 percent), for the people (6 percent), health-care reform (5 percent) and fair/honest (5 percent).
The NBC/WSJ poll was conducted by live telephone interviews of 1,000 adults (250 by cell phone) from June 20-24, and it has an overall margin of error of plus-minus 3.1 percentage points.