European leaders endorsed sanctions on Belarus after an emergency summit Wednesday as protests against its embattled president, Alexander Lukashenko, intensified following a contested election.
The European Union said that it did not recognize the election results, which gave Lukashenko a landslide win, and that it would shortly impose sanctions on those who were involved in electoral fraud and repression of protesters, European Council President Charles Michel said.
"Our message is very clear: Stop the violence," Michel said.
At least two demonstrators have been killed and thousands more have been detained in a crackdown on protests during the political crisis.
"What we have witnessed in Belarus is not acceptable. The Aug. 9 elections were neither free nor fair," Michel said in an invitation letter to the 27 leaders establishing the virtual meeting.
He told reporters after the summit that the sanctions would target a "substantial number of individuals" and that a list of names would be released in due course. Sanctions against Lukashenko would be "deliberated," he added, giving no further details.
The E.U. also said it would reroute 53 million Euros earmarked for Belarus from the government toward civil society, victims of the state crackdown and the country's fight against the coronavirus pandemic.
During the summit, Lukashenko, 65, said Western leaders should instead focus on their own domestic problems.
"I would just give them a piece of advice: Instead of pointing the finger at us, they should discuss the yellow vests movement in France, the terrible riots in the USA," he said, according to Belta, the national news agency.
Speaking from neighboring Lithuania, opposition leader Svetlana Tsikhanouskaya appealed to E.U. leaders to reject what she called a fraudulent presidential election.
"Mr. Lukashenko has lost all legitimacy in the eyes of our nation and the world," Tsikhanouskaya said, speaking in English for the first time in a video address.
"I call on you to support the awakening of Belarus," she said. "I call to respect the sovereignty of Belarus and the choice of Belarusian people."
Tsikhanouskaya, 37, a political novice who emerged as an unexpected opposition candidate after better-known figures, including her activist husband, were jailed or barred from running in the election, says she is the rightful winner of the presidential election in Belarus, a former Soviet republic.
In the short video, she also called for new elections to be held under international supervision.
Belarusian opposition figures set up a council Tuesday to negotiate a transition, a move Lukashenko denounced as an attempt to seize power.
Download the NBC News app for breaking news and alerts
Russia, an ally of Belarus, is likely to play a decisive role in how the crisis plays out.
President Donald Trump said Tuesday that he would talk to Russia "at the appropriate time" in the wake of protests, which he said appeared mostly peaceful.
"I like seeing democracy," he told reporters. "It doesn't seem like it's too much democracy there in Belarus."
Trump gave no further details about when he would hold talks with Moscow, adding that he would also speak to other people.
The Kremlin said Tuesday that Russian President Vladimir Putin had warned European leaders against foreign meddling in Belarus' affairs.
Belarus and Russia share deep historic and cultural ties, but Lukashenko and Putin have a somewhat frosty personal relationship, analysts say. Even so, Putin has offered Lukashenko "assistance" if needed in the wake of the unrest, according to the Kremlin's official transcripts.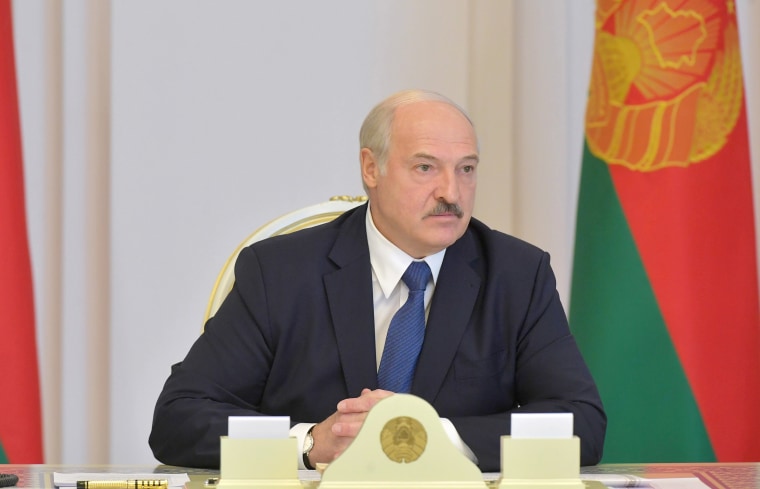 Thousands of Belarusians have taken to the streets every day since Lukashenko's contested victory as calls for his departure grow after a violent crackdown on demonstrators.
The demonstrations pose the biggest challenge to Lukashenko's 26-year hold on power. Lukashenko, who is often called "Europe's last dictator," denies having rigged the election to secure a sixth term.
After videos appeared online showing some police officers throwing their uniforms into dustbins, the Interior Ministry acknowledged Tuesday that some police had quit.
The E.U. wants to avoid a repeat of what happened in neighboring Ukraine six years ago, when a pro-Russian leader was ousted in a popular uprising, triggering a Russian military intervention and Europe's deadliest ongoing conflict.