Prime Minister Benjamin Netanyahu said he is "confident" that the Trump administration will recognize Israeli sovereignty over parts of the occupied West Bank within months — giving an apparent green light for Israel to annex territory Palestinians hope will form part of a future state.
"President Trump pledged to recognize Israel's sovereignty over the Jewish communities there and in the Jordan Valley," Netanyahu said.
"A couple of months from now, I'm confident that that pledge will be honored, that we will be able to celebrate another historic moment in the history of Zionism," he said Sunday during a virtual event marking the 100th anniversary of the San Remo conference, which charged Britain with establishing a national home for the Jewish people in Palestine.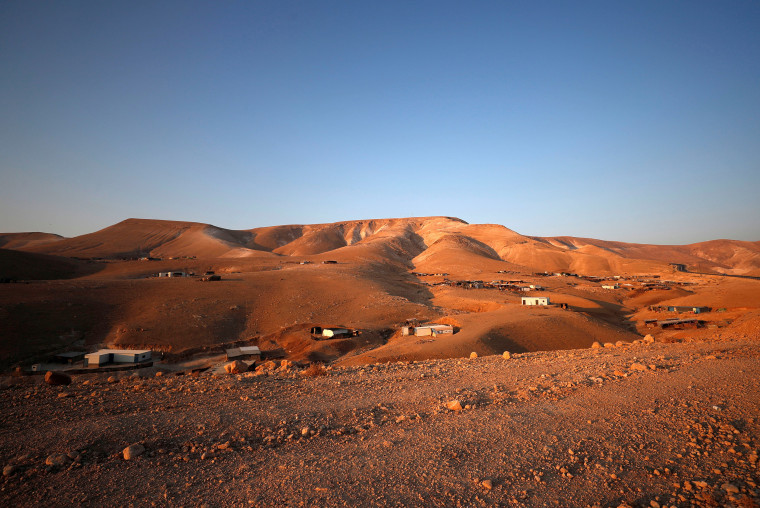 The State Department did not immediately respond to a request for comment on Netanyahu's statement.
However, a senior administration official told NBC News Monday that there was a condition attached to the U.S. recognition of Israeli sovereignty over parts of the West Bank outlined in President Donald Trump's Mideast peace plan. Namely, that the government of Israel agrees to negotiate with the Palestinians along the lines set forth in Trump's peace plan.
If Washington were to agree to Israel unilaterally annexing Jewish settlements in the occupied West Bank, it would not be the first time the U.S. under Trump has abandoned long-standing American policies and set itself against the international community with regards to the Israeli-Palestinian conflict.
Trump has moved the U.S. embassy to Jerusalem and has halted funding for the United Nations Relief and Works Agency for Palestine Refugees in the Near East, which has supported Palestinian refugees for decades. Washington has also recognized Israeli sovereignty over the Syrian Golan Heights.
The Israeli-occupied West Bank was captured from Jordan in the 1967 Six-Day War. The Palestinians seek all of the West Bank and east Jerusalem for an independent state. The Israeli settlements there are considered to be illegal by most of the international community.
"Annexation of parts of the West Bank would constitute a serious violation of international law, deal a devastating blow to the two-state solution, close the door to a renewal of negotiations, and threaten efforts to advance regional peace," the United Nations Mideast envoy, Nickolay Mladenov, told the U.N. Security Council last week.
While a two-state solution has been accepted in diplomatic circles since the mid-1990s as the best option in terms of peace and justice for Palestinians and Israelis, experts and officials say it is becoming increasingly unlikely.
In a deal to form an emergency unity government last week, Netanyahu and his centrist rival Benny Gantz agreed that Netanyahu will be able to bring forward legislation to annex parts of the West Bank for approval by the government and the Israeli Parliament by July 1.
Washington would need to agree to the move, according to the power-sharing agreement, under which Netanyahu will serve as prime minister for 18 months before handing power over to Gantz.
Netanyahu had made annexation of parts of the West Bank a campaign pledge in Israel's three consecutive elections in the space of a year, in a persistent effort to win over right-wing voters.
Then in January, the Trump administration released a long-promised Middle East peace plan that, if implemented, would recognize Israeli sovereignty over a significant portion of the West Bank while creating a conditional path to statehood for Palestinians.
The plan was immediately slammed by Palestinians and rejected as unacceptable and unworkable.
"We say 1,000 times: no, no, no, to the deal of the century," President Mahmoud Abbas said at the time.
However, Netanyahu has continued to pursue annexation of Israeli settlements in an apparent effort to make it part of his legacy as Israel's longest-serving prime minister.
As for Washington, Secretary of State Mike Pompeo said last week that it was up to Israel whether to annex parts of the West Bank and that Washington would offer its views privately to the country's new government.
Palestinians have expressed outrage at Israel's annexation plans.
"Israel is also exploiting the blind ideological support it has in the White House to quickly reach the point of no return," Hanan Ashrawi, a veteran Palestinian politician said Sunday.
"Israeli actions are unraveling the practicability and applicability of the two-state formula. They are etching a future of perpetual conflict and suffering while also threatening the core and relevance of international law to global peace and security," she added.
The West Bank is home to almost 2.7 million Palestinians and more than 400,000 Israelis, according to figures collated by Peace Now, an Israeli organization that advocates for a two-state solution.