The rate of new infections has been halved at a coronavirus hot spot in Israel after a military lockdown brought life in the ultra-Orthodox Jewish community to a standstill.
Not all residents of Bnei Brak heeded the government's instructions to stay home, resulting in the rapid spread of the virus earlier this month, and leading health experts to fear that thousands of people may be infected.
Israeli forces descended on Bnei Brak on April 3, blocking roads and forcing residents to stay indoors. Israel's Health Ministry reported at the time that the city had 1,061 confirmed cases — a handful less than the 1,132 recorded in Jerusalem, a city that is more than four times its size.
By last weekend, the city on the outskirts of Tel Aviv was quiet with both playgrounds and synagogues empty, and residents praying on the sidewalks instead.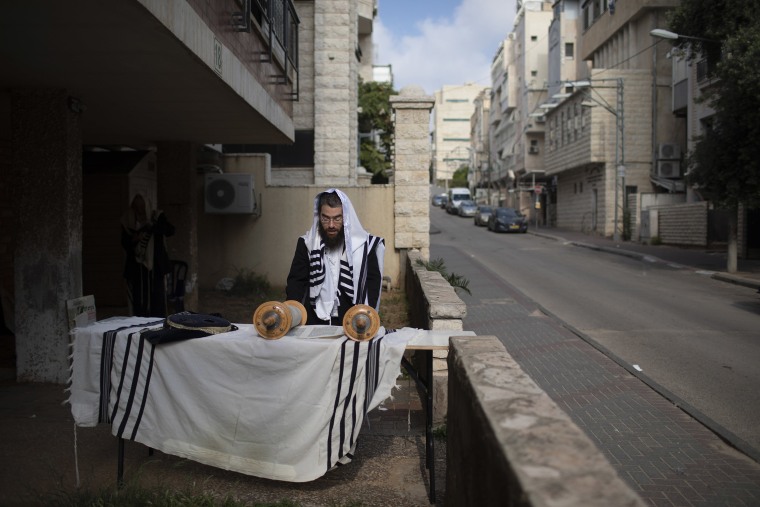 "Israel now is in a situation that is a little bit more optimistic," Shafir Botner, director of the Paramedic Education Center for Israel's emergency medical services Magen David Adom, told NBC News. "The numbers of the sick people are lowering and the numbers of severe cases are lowering as well, so perhaps we managed to flatten the curve."
Getting to this point wasn't easy.
Botner said the residents weren't simply being defiant but a large number did not even know about the virus. The ultra-Orthodox community rejects much of modern technology — including television and social media — leaving them uninformed about the pandemic.
Full coverage of the coronavirus outbreak
"We had to deal with that in a different (way), for example, going in the streets with loudspeakers and telling the information on how people need to protect themselves and to come over here to do the swab tests," he said.
Since then, 10,900 tests were conducted and rigorous contact-tracing was underway.
Retired Col. Avi Cohen, who spent three decades in cyberwarfare hunting terrorists, has headed the virus war room to track down people who have been infected or exposed.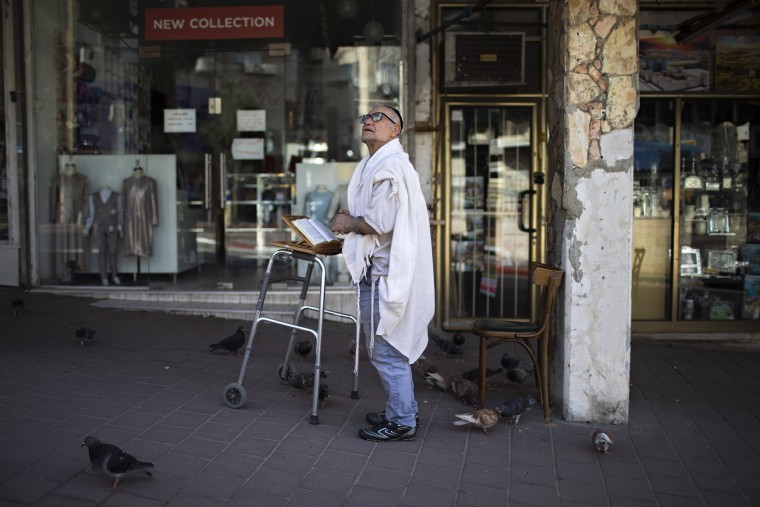 "(If) you contain inside the apartment and you give them what they need and you talk with them, it will not spread outside of this," he said.
Members of the Israeli military have also been sent to deliver food to the poor and sick in an effort to keep people inside.
But at-home quarantining was not possible for all cases. With families housing as many as 10 people in one home, authorities also had to evacuate those showing signs of the virus in order to prevent further exposure.
Download the NBC News app for full coverage of the coronavirus outbreak
There were 600 people moved into quarantine hotels established by the government.
With more than 400 people already recovered and more testing underway, health officials say they're cautiously hopeful their efforts are working.
"We're more optimistic than two weeks before," Botner said.
CORRECTION (April 26, 2020, 2 p.m. ET): An earlier version of this article included an out-of-date estimate from health officials on the proportion of Bnei Brak residents infected with the coronavirus. Health officials originally said that as much as a third of the population was probably infected; by the time of the article's publication, that estimate had been lowered to one-tenth of that amount. The earlier estimate has been removed from the article.