Editor's note: News organizations around the world pounced on comments, originally misreported by Italian media, that Pope Francis said animals can go to heaven. It turns out he never said that, but a similar comment reportedly made by a pope decades ago may have added to the confusion.
Pope Francis' declaration that there are pups in paradise didn't come as a surprise to Boston College theologian Thomas Groome.
"There must be dogs in heaven. Or else it wouldn't be heaven," Groome said, quoting his grand-niece. He paused and quipped, "Now cats? I don't know about that. Cats would be more of a leap of faith for me."
The pontiff's comments on the eternal animal kingdom happened earlier this week as he consoled a little boy whose dog had recently died.
"One day, we will see our animals again in the eternity of Christ. Paradise is open to all of God's creatures," he said, according to Italian news sources.
The remark thrilled vegans who apparently forgot the Pope loves a good steak and annoyed traditionalists who would like to muzzle the Vatican's most voluble occupant.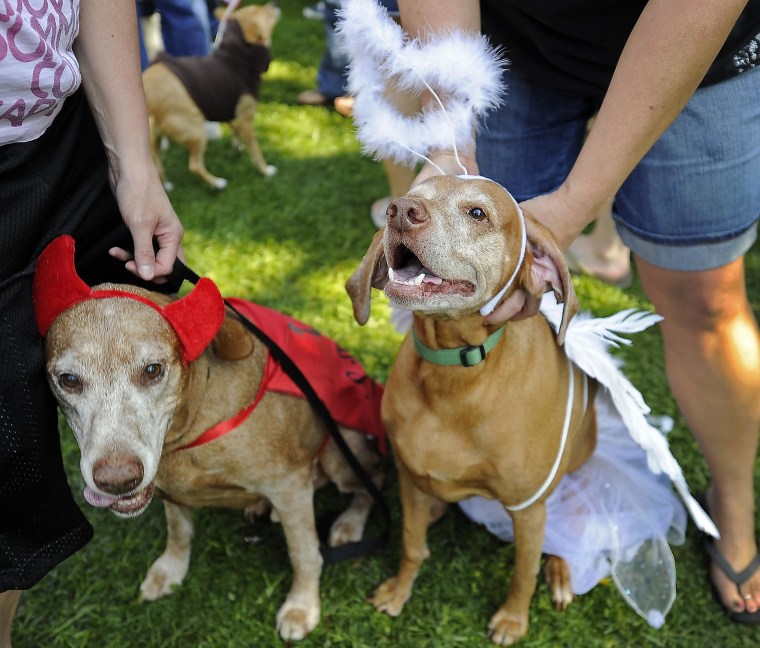 John Vennari, editor of Catholic Family News and a staunch traditionalist, said the pope displayed "a triumph of sentiment over adherence to the firm doctrine that the church always taught throughout the ages.
"It might move the person's heart and make them feel good, but it has no basis in Catholic teaching," Vennari said.
His take: animals share external and internal senses with humans but don't have the will and intellect that form the basis of a "soul," and their life force dies with them and does not go to heaven.
"That's the basic teaching," Vennari said.
Does the pope's conversation with a grieving child change that? Traditionalists agree it does not.
"But it creates a confusion on the very idea of salvation," Vennari said. "Did Christ die for my cat? Did Christ die for my dog? No. Christ died for human beings."
Groome, on the other hand, says the pope is on firm theological ground.
"The biblical evidence is that all life comes forth from God and all life returns into God," said the professor, a proud owner of a loyal Shih-tzu named Riley. "The Bible is quite clear about it."
That's also the interpretation of Sarah King, who heads Christian outreach at People for the Ethical Treatment of Animals.
"The timing couldn't be more divine," she said, noting that PETA has launched a yuletide campaign called Jesus People for Animals with a website that explores such issues as whether Christ really ate fish.
"We hope the pope's word will encourage more people to direct kindness and mercy toward animals and the first step is to stop eating meat," King said.
But Francis is from Argentina, one of the world's biggest meat-eating countries, and grilled sirloin is one of his favorite dishes. Doesn't that send a mixed message?
"It absolutely does," King said, somewhat less sunnily.
Groome doubts that the pope wants Catholics to give up meat.
"I don't think he's condemning a cow and having good steaks," he said. "You can say the cow serves its purpose and is now going to heaven."
True or not, most dog-owners in New York's Central Park were happy to think that the pearly gates have a dog door.
"I would like to hope that is true," said Lauren Dichiara. "It'd be great if we can skip down the yellow brick road in heaven."