Revelers rang in 2017 across the globe with dazzling fireworks displays at midnight, draping skylines from Sydney to Singapore and Bangkok to Berlin with sparkling bursts of color hours before the ball dropped in New York's Times Square.
Dubai did not disappoint, with more than 650,000 people estimated to have watched the fireworks shoot from the world's tallest building, the Burj Khalifa, in a massive 10-minute production fit for a prince.
A crowd estimated at 1 million packed in and around New York City's Times Square to watch the ball drop and signal the end 2016, under the watchful eye of police following a gun attack on a nightclub in Istanbul that occurred a little more than an hour after the start of the New Year there.
"I've always wanted to come to New York and this is one of the must-dos before you die," Stefania Moran, 25, from Puebla, Mexico, told NBC New York as she waited with friends.
Mariah Carey headlined in Times Square for "Dick Clark's New Year's Rockin' Eve with Ryan Seacrest" on ABC, but the show hit a snag. She had technical difficulties during her performance and stopped singing, then she paced the stage and urged the audience to belt out the "Emotions" lyrics instead.
"I'm trying to be a good sport here," she said.
Sydney used its New Year's Eve showstopper to say farewell to 2016's fallen icons, honoring the late singer David Bowie and late actor Gene Wilder, among others, and become the first major city to bid a bittersweet adieu to a turbulent year.
The glittering festivities over Sydney's famed harbor and bridge featured Saturn and star-shaped fireworks set to "Space Oddity," the classic song by Bowie — one of the seemingly endless parade of beloved entertainers who died in 2016.
Wilder was also honored as the bridge lit up in a rainbow of colors while a song from Wilder's famed film "Willy Wonka and the Chocolate Factory" played.
"This year, sadly, we saw the loss of many music and entertainment legends around the world," fireworks show co-producer Catherine Flanagan said. "So celebrating their music as part of Sydney New Year's Eve fireworks displays is an opportunity to reflect on the year that has been and what the future may hold."
PHOTOS: Hello 2017! Sydney, Asia Usher in the New Year
President-elect Donald Trump threw a New Year's bash at his Mar-a-Lago estate in Florida, and when asked about his resolution he smiled and replied "Make America great again, OK? I'll do that one!" Tickets went for more than $500, Politico reported.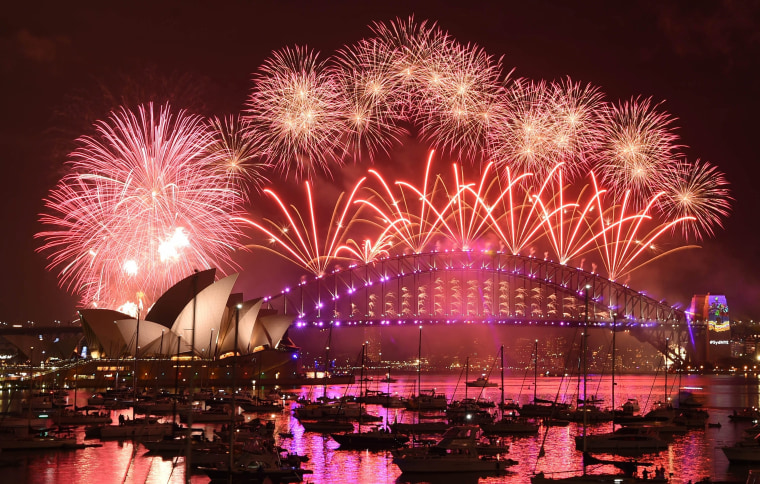 In Paris, Tourists and French revelers swarmed along Paris' illuminated Champs Elysees Avenue on a frosty night, admiring the laser display from the Arc de Triomphe and lines of trees sparkling with lights.
Pope Francis called on the faithful to help young people find a place in society, and said during vespers on New Year's Eve that young people have been "pushed to the margins of public life, forcing them to migrate or to beg for jobs that no longer exist, or fail to promise them a future."
Related: Trump Tweets to 'Enemies' as World Leaders Share New Year's Messages
More than 300,000 visitors are expected to descend on Las Vegas for an extravagant New Year's Eve celebration.
An eight-minute fireworks show will kick off at the stroke of midnight, with rockets launching from the tops of half a dozen casinos.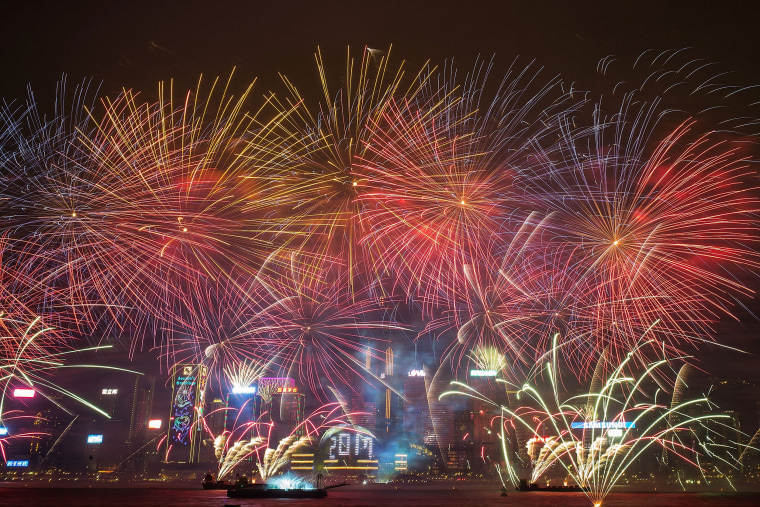 Nightclubs are pulling out all the stops with performances from DJ Calvin Harris, rappers T-Pain and Kendrick Lamar and artists Drake and Bruno Mars. The city's celebrity chefs have crafted elaborate prix fixe menus complete with caviar and champagne toasts.
Terrorism cast its shadow over the New Year in some places. As the East Coast of America celebrated the stroke of midnight, a manhunt was underway in Istanbul for a gunman who opened fire on an upscale nightclub, killing 39 people and wounding nearly 70 others in a suspected terror attack.
In Berlin, thousands of Germans gathered near the iconic Brandenburg Gate amid heightened security following a truck attack on a Christmas market that left 12 people dead more than a week ago.
"We are stronger when we are united. Our country is stronger," German Chancellor Angela Merkel said in her annual New Year's address, in which she called terrorism the year's most difficult test but reaffirmed her commitment to country's refugee policy.
A man was arrested at the Berlin celebration after he shouted "bomb, bomb, bomb," according to the local police. On Twitter, Berlin law enforcement called the act #Nichtlustig, which means "not funny" in German. The police added in a tweet that the detained man would #Welcome2017 with them.