New York state on Monday was nearing a grim milestone with close to 1,000 residents having died from the coronavirus. With more than a third of America's COVID-19 cases, New York is the U.S. epicenter of the pandemic.
Across social media, the phrase "another 30 days" was trending Monday, the day after President Donald Trump announced an extension of social distancing guidelines to April 30.
Trump said last week that he wanted to see much of the country return to normal by Easter, April 12, despite warnings from top health experts that easing the guidelines too soon could cause widespread deaths and economic damage.
But Sunday, he said the extension was necessary to avoid a catastrophic death toll, while still gauging the number to reach "between 100,000 and 200,000."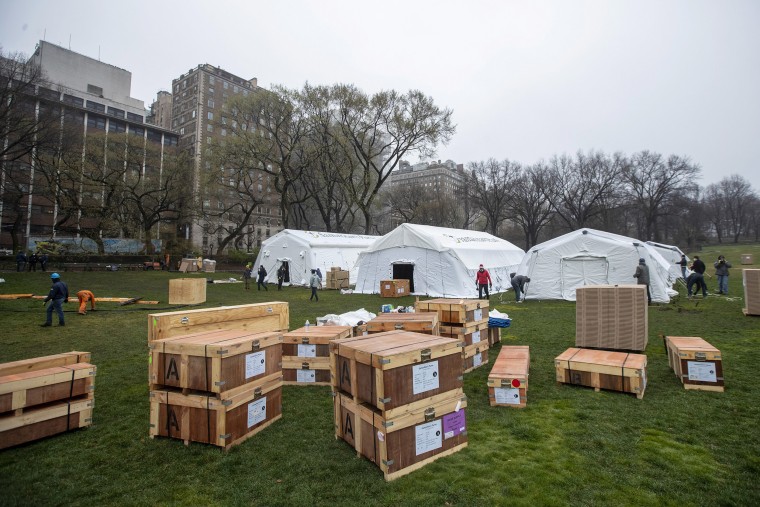 At least 2,472 people have died due to the virus in the U.S. while some 142,788 have been recorded infected, according to tracking by NBC News. The official global death toll has hit 34,018, according to Johns Hopkins University.
The reported global infection rate has crept close to 750,000 cases.
On Sunday, New York Gov. Andrew Cuomo did not put a date to the end of the crisis, instead pointing out that the rate of hospitalization was doubling every six days. At the same time, however, that rate appeared to be slowing, he said.
"That is good news," he said, adding that efforts to ramp up hospitals' capacity were continuing. "The virus has been ahead of us, I want to get ahead of the virus."
New York has imposed a "pause" on travel and activity in the state — directing nonessential workers to stay home and schools to remain closed — and it has been extended by another two weeks. To support the measures, Cuomo said schools would now host day care free of charge and pharmacies would offer free home delivery.
Another major worry for officials and the public has been the safety and health of health workers working with coronavirus cases. But it isn't just health workers who are feeling the burden from the surge of patients.
Former NYPD Commissioner Bill Bratton said Sunday that 12.8 percent of the police force was out sick. That could rise to upwards of 15 percent — meaning as many as 500 sick officers — by Monday morning.
Spain also hit a worrisome milestone Monday with the total confirmed cases in the country surpassing that of China, where the outbreak first began. At least 85,195 people had contracted the virus in Spain, and 7,340 people have died in connection with it.
As the United Kingdom entered its second week of a lockdown with nonessential businesses and schools closed, health officials warned it could be six months before life returned to normal.
England's deputy chief medical officer Jenny Harries said Sunday the government will need a couple more weeks to see if restrictions to stop the virus from spreading are working, and even if successful, the country wouldn't revert to business-as-usual immediately.
Britain has seen 1,228 deaths as a result of the coronavirus and confirmed at least 19,784 cases.
Although leading the global death toll with nearly 11,000 lives lost, Italy on Sunday saw the second successive fall in the daily rate with 756 deaths reported, compared to 889 deaths on Saturday. Government officials said its strict lockdown measures were likely to be extended beyond the current April 3 deadline.
Meanwhile, South Africa is seeing signs of the disease spreading, having recorded its first case of the virus Sunday in a slum outside Cape Town. The incident is raising alarm if the spread could be mitigated in an area where people live in close quarters and have limited access to water and sanitation.