UPDATE: New York Times responds. See below.
A lot of folks received an email, which looks as if it was sent on behalf of the New York Times, on Wednesday afternoon. The email informs the recipients that they recently requested to cancel their New York Times home delivery subscriptions and asks them to reconsider the decision.
None of those things would be strange if it weren't for the fact that the Times didn't send this email. Oh, and that some of the email recipients were only ever subscribed to the digital edition of the Times, not the home delivery service.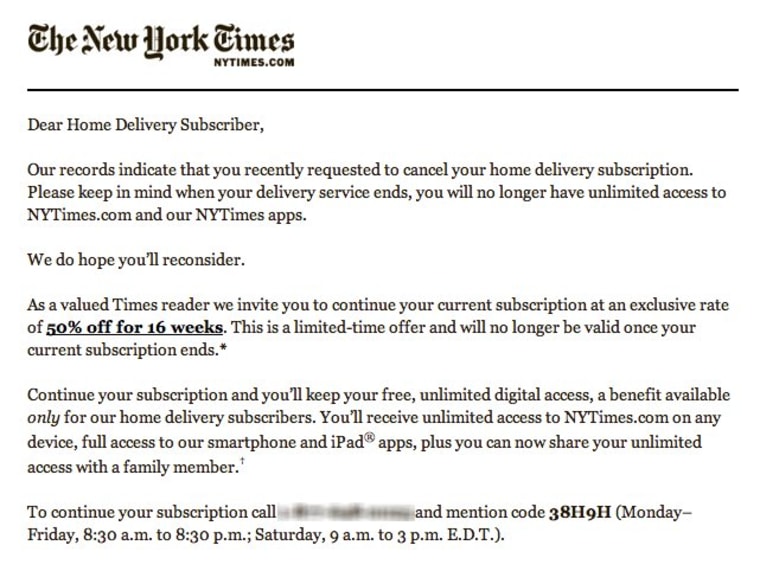 Shortly after the mysterious emails began hitting inboxes, a tweet from the Times' official Twitter account explained they should be ignored. "It's not from us," explained the tweet.
The Times' Vice President of Corporate Communications Eileen Murphy further clarified to CNBC that "the email is SPAM and was not sent from The New York Times."  
She continued to say that the company is "alerting subscribers immediately." Once there is more information about the mystery emails and where they are coming from, it will be shared.
According to the New York Times Media Decoder blog, Times spokeswoman Danielle Rhoades Ha also said that the company is "working to coordinate a response" as the "false messages sent off a flood of Twitter reactions and lit up the Times switchboard."
Some Twitter users suggested that the strange email came from "Epsilon, an email firm that was hacked last spring." But when contacted by BetaBeat, a spokesperson from the company expressed that the blog's inquiry was the first anyone there had heard about these emails and that she would "talk with [the Epsilon] email group" to find out if there is a connection.
Well, turns out that it wasn't spam after all. We just received this statement from the New York Times (about 1 p.m. PT):
An email was sent earlier today from The New York Times in error. This email should have been sent to a very small number of subscribers, but instead was sent to a vast distribution list made up of people who had previously provided their email address to The New York Times. We regret this error and we regret our earlier communication noting that this email was SPAM.
Related stories:
Want more tech news, silly puns or amusing links? You'll get plenty of all three if you keep up with Rosa Golijan, the writer of this post, by following her on Twitter, subscribing to her Facebook posts, or circling her on Google+.