WELLINGTON, New Zealand — New Zealand's Prime Minister Jacinda Ardern gave birth to her first child — a baby girl — on Thursday.
The 37-year-old politician's pregnancy had been followed around the world.
The last elected leader to give birth while holding office was the late Benazir Bhutto, who was prime minister of Pakistan when she gave birth to daughter Bakhtawar in 1990.
Ardern posted a photo of the little girl, along with partner Clarke Gayford, on Instagram.
Deputy Prime Minister Winston Peters has taken over as acting prime minister. Ardern plans to take six weeks of maternity leave.
Under the arrangement, Ardern will still be consulted on major decisions, including issues of national security. She has said she's confident the government will continue to run smoothly in her absence.
Gayford, who is the host of a TV fishing show, plans to become the child's main caregiver after Ardern returns to work.
Ardern found out she was pregnant on Oct. 13, just six days before she was propelled into the job following post-election coalition negotiations.
She worked until late into her pregnancy, regularly encountering members of the public who touched her stomach and passed on gifts.
"It's been great," she told reporters at her last major public event before giving birth. "New Zealanders are incredibly generous people and have been generous in their support of me regardless of the politics just as another human being going into a new stage of life."
Jennifer Curtin, a professor of politics at the University of Auckland, said there was symbolic importance in the pregnancy in that it showed political parties around the world that it was fine to have younger women as candidates.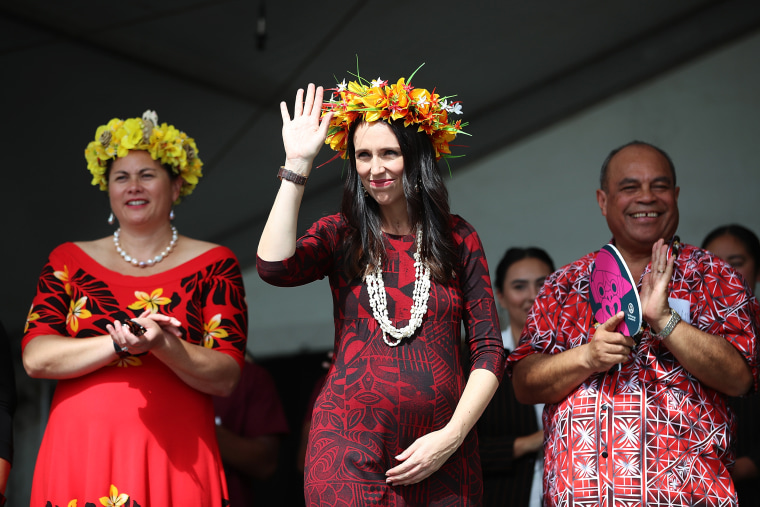 "What I think is valuable, if she becomes a role model, is the way in which she is normalizing the combination of motherhood and participation in the paid labor market, and in politics," Curtin said.
In 1893, New Zealand became the first country to give women the right to vote.