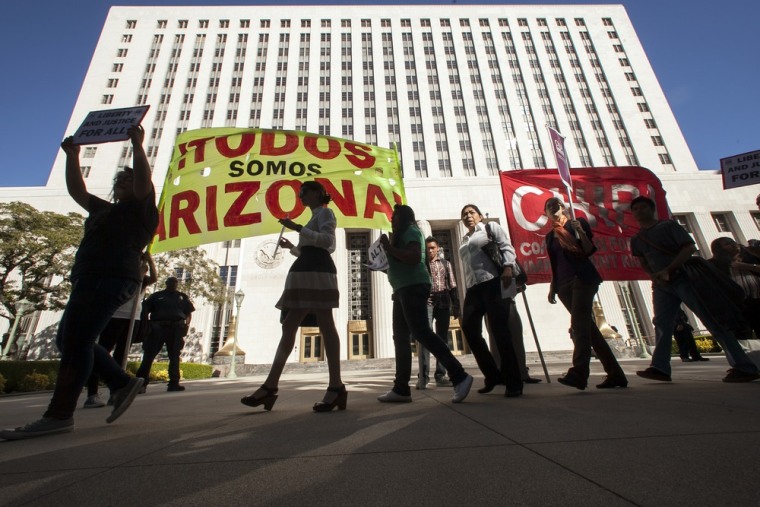 The "show me your papers" provision of Arizona's immigration law that was left standing by the U.S. Supreme Court is likely to wind up in a familiar place – back in the courtroom.
The nation's top justices on Monday struck down three sections of SB 1070 but unanimously upheld the most-discussed provision: Section 2(B) requires police to check the immigration status of people they stop, detain or arrest for other legitimate reasons "if there's reasonable suspicion" the person is in the country illegally.
But exactly how local police will go about enforcing that provision is raising more questions than answers. Enforcement had been put on hold pending the Supreme Court decision; lower courts must lift the injunction before it can take effect.
Even the Supreme Court justices hinted that they expect the provision to be legally challenged again.
"There is a basic uncertainty about what the law means and how it will be enforced. At this stage, without the benefit of a definitive interpretation from the state courts, it would be inappropriate to assume 2(B) will be construed in a way that creates a conflict with federal law," the high court said.
"This opinion does not foreclose other preemption and constitutional challenges to the law as interpreted and applied after it goes into effect."
The American Civil Liberties Union says it is exploring legal challenges to keep "show me your papers" from ever taking effect.
"The Supreme Court vacated the injunction against it but took pains to point out the potential constitutional problems that are inherent in Section 2(B) and drew a firm line in the sand that the state cannot cross," said Cecillia Wang, director of the ACLU Immigrants' Rights Project. "We are going to be in court bringing new claims and evidence to stop 2(B) again."
Among the possible claims are that the provision violates the Fourth Amendment right against unreasonable searches and seizures and that it invites racial profiling, ACLU officials say.
Joe Rubio, lead organizer for the Arizona Interfaith Network, a coalition of religious groups that opposed SB 1070, said the provision "leaves a nebulous area" if it goes into effect.
"It's going to be important that the state monitors very closely how police deal with immigrants during regular stops and make sure racial profiling does not occur," Rubio said.
"I think we're going to have a few months here where people are suspending judgment to see how it's going to be implemented."
Jim Gilchrist, founder and president of the Minuteman Project, an anti-illegal immigration group that recruits volunteers to patrol the U.S. border with Mexico, said the Supreme Court decision "left vague" the fate of enforcement of immigration laws by local police.
"Police will be able to ask (about immigration status); however, that's all they can do," he said.
"Nobody's really getting serious about this. Everybody keeps kicking the ball around the court."
The interpretation of Section 2(B) also could put law officers in a precarious bind. There are no written instructions on how long local police must wait for federal immigration officials to respond, for example, when they encounter someone they suspect is illegal.  And immigration checks could open police up to accusations of racial profiling.
"Talk about 'no win' - if they find the person is not in authorized status, what do they do? Hold them for ICE which doesn't want them? Charge them with some state crime?" said Margaret Stock, an immigration attorney who has has testified before Congress on immigration, homeland security and military issues.
"If they make a mistake, they get sued. If they make too many mistakes, the rest of the statute gets enjoined as unconstitutional as enforced."
"We're going to get sued if we do. We're going to get sued if we don't. That's a terrible position to put law enforcement officers in," Pima County Sheriff Clarence Dupnik, whose territory covers much of southern Arizona, told The Associated Press.
Tucson police Chief Roberto Villasenor told the AP he estimates the statute will result in 50,000 additional calls a year to federal immigration authorities in his city alone.
Romney pledges immigration reform, wants more state 'latitude'
Suspects for minor crimes like shoplifting or vandalism, who would normally be released with a citation, must be booked into custody if immigration authorities "don't answer the phone, they never call us back after we talk to them or whatever," Villasenor said.
The Department of Homeland Security acknowledges that the provision raises the possibility that its offices might be flooded by calls for verification checks.
"The Court's decision not to strike down Section 2 at this time will make DHS' work more challenging," DHS Secretary Janet Napolitano said in a statement.
Jon Feere, of the Center for Immigration Studies, a Washington-based think tank that advocates for limited legal immigration, suggested that enforcement will ultimately lead to tougher immigration laws once Congress or the courts are forced to act definitively.
"There will now be an extensive record every time Arizona contacts ICE (Immigration and Customs Enforcement) about an illegal alien detained by local law enforcement. When the White House inevitably refuses to take an illegal alien into custody, forcing Arizona to release the alien back out onto the streets, it will become a national story if the alien goes on to commit a serious crime. Lax federal enforcement of immigration laws will be to blame," he wrote in a blog post.
Five other states have passed laws similar to Arizona's -- Alabama, Georgia, Indiana, South Carolina and Utah.
The ACLU says it has raised nearly $8.8 million in a special fund to challenge "show me your papers" laws in Arizona and those other states. And it's ready to go to court again.
"If state governments enact new immigration bills, we say bring it on, we will see them in court," ACLU Executive Director Anthony Romero said Monday.
The Justice Department has set up a federal hotline for the public to report potential civil rights concerns regarding the Arizona law. The phone number is 1-855-353-1010
. The email is: SB1070(at)usdoj.gov.
More content from msnbc.com and NBC News: