For eight days, night and day bled together as Marco Novoa, 25, lay on the muddy floor of his cell. First he was beaten, the Nicaraguan protester said, then stripped and electrocuted. Bones in his feet were broken under the butt of automatic weapons. But he said his torturers, who he believes were men aligned with the repressive government in Nicaragua, did not stop there. When they did not get the answers they sought, he said, they waterboarded and sodomized him.
"They destroyed me completely," he told NBC News and Noticias Telemundo Investiga in an exclusive interview. "But the thing I was most afraid of was that my body wouldn't be returned to the arms of my mother and father."
Told at times in painful detail, Novoa's story offers a window into the brutality of the government crackdown against protests that have convulsed Nicaragua. Since April, the government has taken an iron-fist approach to street marches held against an overhaul to the country's social security system.
The U.N. High Commissioner for Human Rights said last week that it had found a wide range of human rights violations, "including extrajudicial killings, torture, arbitrary detentions, and denying people the right to freedom of expression."
"The appalling loss of life must stop — now," Rupert Colville, spokesperson for the U.N. High Commissioner for Human Rights, said Tuesday.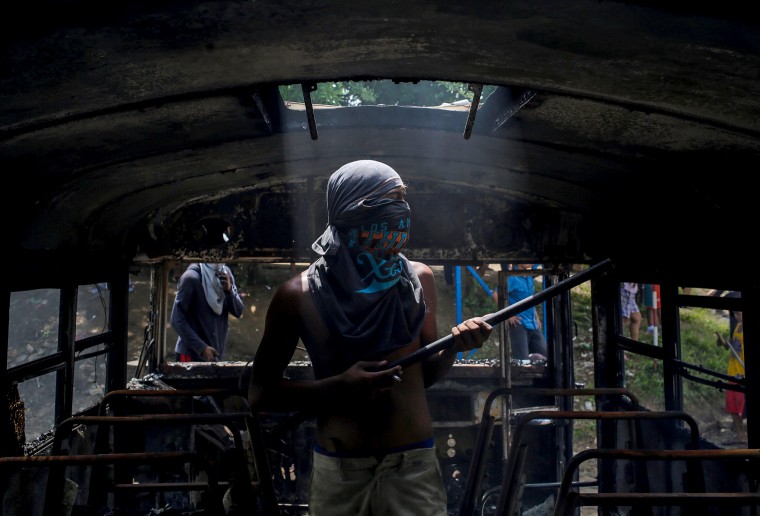 Many Nicaraguans fear that President Daniel Ortega's aggressive crackdown on protests may return the country to the age of the Somoza dictatorship, which Ortega himself helped to topple in 1979.
An estimated 280 people have been killed in the unrest, the U.N. said. Nearly 2,000 more have been injured in the tiny country of 6.2 million and dozens have "disappeared."
Meanwhile, their families remain in limbo. Young people and news organizations circulate posts on social media with pictures and pleas for information. Mothers stand outside El Chipote, the infamous prison in the capital, Managua, waiting for news of their children.
On May 29, Novoa's mother, Sol, stood among them. It had been almost a week since Marco had vanished, along with at least 24 other young protesters. Photographs of her son spread across social media, along with a flood of information spreading through the hashtag #SOSNicaragua. In one post online, Sol wrote, "If the sun and the stars could talk, they would tell you how much I miss you, how much I have cried and how much I have prayed."
That afternoon, it was announced that religious leaders, who have become the intermediaries between the government and protesters, had negotiated the release of 22 of those arrested. But Marco was not among them.
"If my son isn't here, then where is he?" she said to a scrum of television reporters outside El Chipote.
It was Novoa's sixth day in that dark cell.
Growing involvement in the protest movement
Before April, Novoa, a bespectacled young man, said he had not considered himself particularly political. Born in the U.S. to a Nicaraguan family who traveled the world for his father's business, he was looking forward to his upcoming graduation from the American University in Managua.
The country in which he came of age was one in which economic stability was growing alongside autocracy. In 2014, presidential term limits were scrapped. Many questioned the integrity of the 2016 vote in which Ortega was elected to a third consecutive term in office. His wife, Rosario Murillo, became vice president.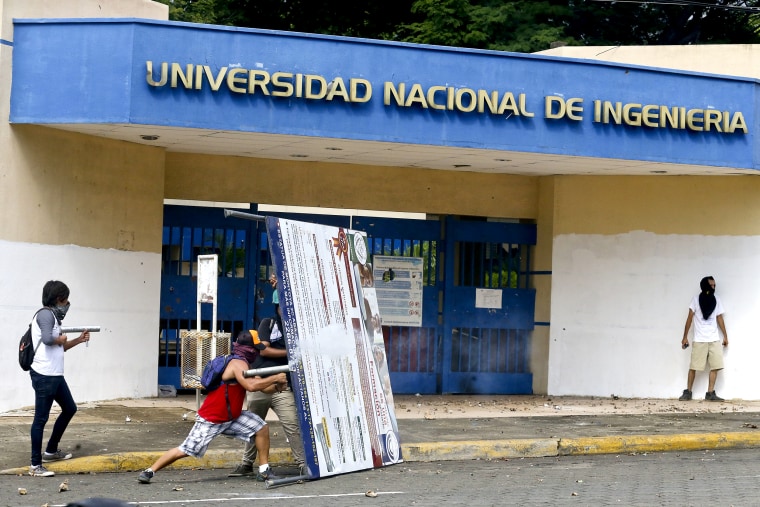 The government quashed protest and opposition quickly when it arose. Yet foreign investment was improving. The private sector, as well as the middle and upper classes, wanted to believe that economic stability would overcome the troubling political situation.
"We knew deep down inside that this one day would not be sustainable, that this would explode," said Xiomara Diaz, a business owner and former member of the chamber of commerce in the city of Grenada. "But the moment you thought this is going somewhere really dark, you'd say, 'Look at the foreign investment. They must know something we don't.'"
Faith eroded quickly in April with the announcement of a social security overhaul meant to shore up the country's finances by raising taxes and cutting benefits. Students took to the streets alongside elderly retirees in protest.
Novoa recalls walking out of class on the evening of April 18 to find rivers of people emerging from buildings all around him. He said at first he thought it was a sign of another of Nicaragua's frequent earthquakes. Then he turned left and saw the protesters. Moments later, masked men on motorcycles rode up, marking the arrival of the paramilitary groups often used by the government to scatter marches, he said.
"They began to attack the people protesting," said Novoa. An elderly woman was hit and began to bleed, he said, then an old man. A pharmacy was looted. "They destroyed everything in their paths."
"I went home and I felt a fury — this didn't need to happen," Novoa said. "So the next day I went to help."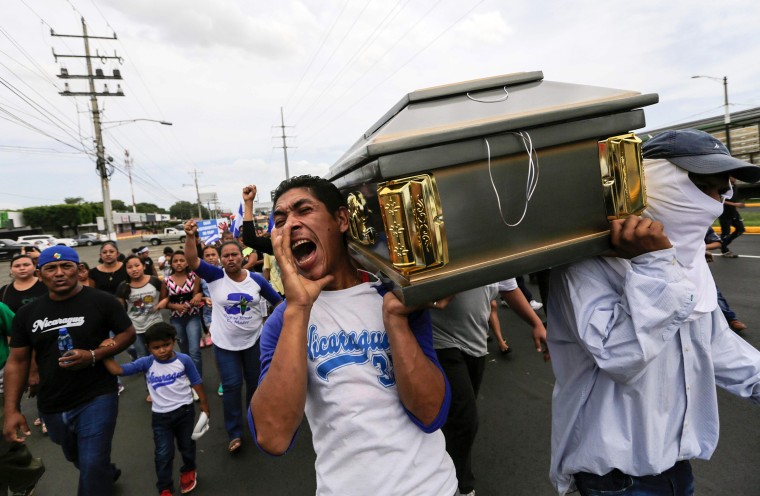 Through a church, Novoa volunteered to transport medical supplies to the university campuses that on April 19 became the strongholds of the protests. As the day went on, he said, rubber bullets became live ammunition. By day's end, three people were dead.
Novoa was moving a shipment of supplies when he said the police and the Sandinista Youth, a pro-government paramilitary force, began to attack. He rushed into a nearby church where he battened down with some 400 people, including women and children. They pushed pews against the doors. He said police threw tear gas through the windows.
"It was one of the first experiences when I said to myself, 'I'm dead,'" Novoa recalled.
A nun and a priest went out to negotiate a stop to the violence, he said, the beginning of a mediation by religious leaders that would continue throughout the months of conflict to come.
For the next weeks, Novoa worked within a widening web of grassroots support for protesters coming from all levels of society. Street vendors gave free water to students holding banners. Housewives collected food and medical supplies while taking their kids to playdates.
The Ortega administration has blamed right-wing agitators for much of the brutality. Last week, the country passed an anti-terrorism law that U.N. spokesperson Colville could be used to criminalize protesters. Meanwhile, international human rights organizations and the U.S. held the government responsible for the bloodshed.
"The repugnant political violence by police and pro-government thugs against the people of Nicaragua, particularly university students, has shocked the democratic international community," the White House said in an April 24 statement.
Nicaraguans told NBC News by phone that it felt as if opposition only emboldened the government. As independent journalists and protesters circulated information on social media, the violence only worsened.
The body count grew. Young people arrested by police resurfaced in an area on the edge of Managua, barefoot and with their heads shaved, alleging in an interview with Nicaraguan newspaper La Prensa that they had been tortured.
A plunge into darkness and a deal for release
On May 24, Novoa said he got a call from a friend who said he wanted to see him and offered to pick him up. Novoa said he thought he saw a car tailing them. His friend told him he was paranoid. But soon after he arrived at the house of the friend, masked men rushed in, Novoa said.
The men beat him, Novoa said, then put a gun to his back and said they were going to kill him. They sliced his shirt off his body, wrapped it over his face, then put him in a truck, telling him they were gang members, he added. "They were trying to play with me psychologically," he said, "but I knew they were police."
When the car stopped, Novoa heard dogs. Still blindfolded, he said they took him to that cold cell, where he felt mud under his feet. "It was like a grave, going into that hole," Novoa said. "I started screaming because I thought that I was going to get shot."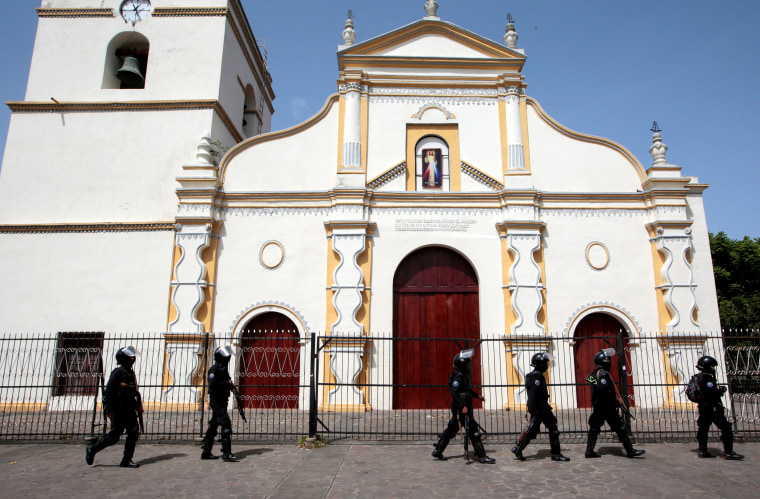 "They hit me with the gun and they said, 'No we're not going to kill you yet,'" he recalled.
Novoa said the men wanted to know where the money was coming from to support the protests. They asked him if it was from the U.S. Embassy and seemed to know he was a U.S. citizen by birth. He told them the support for the protesters came from the community.
With the passing days the questions remained the same but the tactics changed, he said. In his cell, which had no toilet, he was forced to defecate on the floor. He said he could hear other people in cells nearby but couldn't speak to them. Still tied up, he tried to find a position that would bring sleep.
When he did drift off, he said cold water was dumped on him, then he was shocked with electricity. "They tased my body and they tased my genitals," he said. After that came Russian roulette with a pistol, Novoa said.
He said he lost track of time as the torture went on, but some things he cannot erase from his mind: The way he could not breathe when waterboarded him. And the day one man sodomized him with an object, telling him, "I'm going to give you something so you remember this the rest of your life if you get out of here."
On what would be Novoa's last day in that cell, another man came to speak to him. "He said, 'Look, I'm going to talk to my boss and he'll help you but you have to do something for us and then we'll let you go," Novoa recalled.
He thought about his parents, Novoa said, about how his older brother had died in a car accident. He said he didn't want them to suffer the loss of another son, so he agreed.
They took him to an infirmary, where Novoa bathed and pulled on new pants and a long-sleeved white shirt. They handed him a script, and made him learn it, he said, hitting his injured foot when he stumbled over the word. At gunpoint, he said he read the script before a video camera, testifying that he was part of a rebel group that planned to kill a monsignor, destroy government buildings and kidnap members of the ruling party and their families.
Then they let him go.
Novoa surfaced in a parking lot of a cell phone company on the edge of the city. He said a security guard helped him get in touch with his family. By the evening of May 31, word had spread on social media that he had been found.
For several days he moved from safe house to safe house as he recovered. When he was well enough to travel, he fled with his family to Miami. While Novoa is a U.S. citizen, the rest of his family are not. They are not sure what they will do next.
Many Nicaraguans who can have left the country, going to Costa Rica, Panama and the United States. Those who remain are, like Novoa's family, unsure of what the future brings
"We love our country, all we want is to get our life back," a Nicaraguan business owner told NBC News, asking not to be named for fear of reprisals. "But we know we can't do it under this repressive regime."