Niger President Mohamed Bazoum says he is a "hostage" and has called on the United States to rescue his country after its democratically elected government was ousted in a coup last week.
If the military takeover in the impoverished West African state succeeds, "it will have devastating consequences for our country, our region and the entire world," he wrote in an op-ed for The Washington Post on Thursday evening.
President Joe Biden issued his own statement the same day, saying Niger was "facing a grave challenge to its democracy" and calling for Bazoum to be released.
But the military junta that seized control of the country has shown no sign of backing down, despite a threat of intervention from its neighbors.
Niger, a vast and arid nation twice the size of Texas in Africa's Sahel region, has one of the lowest gross domestic products per capita in the world. There was some cause for optimism in 2021, when Bazoum was elected in the country's first democratic transfer of power. And it has become an anchor for Western-backed counterterrorism efforts in the volatile region.
However, the military takeover last week marks the seventh coup in West and Central Africa in three years, a democratic backsliding that worries many African and Western governments.
In his op-ed, Bazoum called the coup a "cynical effort to undermine the remarkable progress Niger has made under democracy."
"Niger stands as the last bastion of respect for human rights amid the authoritarian movements that have overtaken some of our neighbors," he said. "While this coup attempt is a tragedy for Nigeriens, its success would have devastating consequences far beyond our borders."
Bazoum warned that his country could become a client of the Russian mercenary Wagner Group, which has established an influential presence in some nearby countries.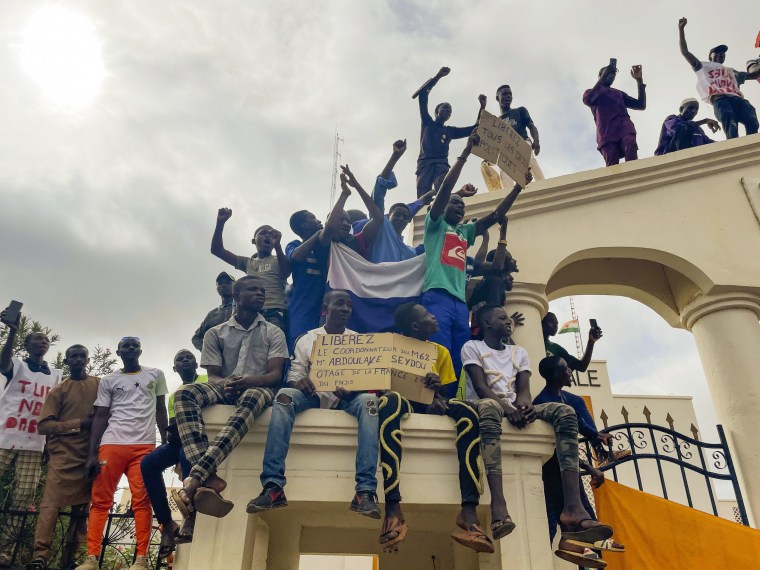 "I call on the U.S. government and the entire international community to help us restore our constitutional order," he said. "Fighting for our shared values, including democratic pluralism and respect for the rule of law, is the only way to make sustainable progress against poverty and terrorism. The Nigerien people will never forget your support at this pivotal moment in our history."
On Thursday, the State Department said it would help evacuate private American citizens in Niger. They will be offered seats on a commercial flight chartered by the department that, if all goes to plan, will leave the Nigerien capital, Niamey, on Friday afternoon, senior officials said on the condition of anonymity.
There had already been a reduction in U.S. government personnel. Roughly 1,110 U.S. troops had been helping build up Niger's special forces to combat Boko Haram, the Islamic State terrorist group and groups linked to Al Qaeda. France, a former colonial power that ruled the country until 1960, has about 1,500 troops on the ground.
Although France, Germany and the European Union have called the takeover by the military officers a coup, the Biden administration so far has refrained from using the word, something that would mean the suspension of all U.S. economic and military assistance.
France, as well as other nations including the 15-nation Economic Community of West African States, or ECOWAS, have already imposed sanctions.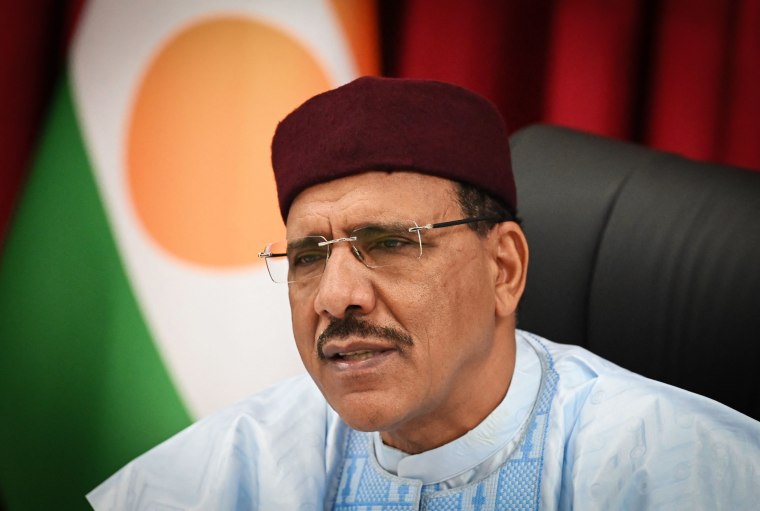 Envoys for the ECOWAS regional bloc arrived Thursday for talks, having set Niger's mutinous soldiers a Sunday deadline to release and reinstate Bazoum or face potential force.
The military uprising has been characterized by the same anti-French sentiment of coups in other neighboring former French colonies.
And Thursday, a representative of the military junta now controlling Niger said the country was canceling a raft of military cooperation agreements with Paris. It has also suspended broadcasts of French state-funded international news outlets.
In an announcement on state television, the junta also said it was firing some of the previous government's key ambassadors, including to the U.S.
Despite African and Western pressure, junta leader Abdourahmane Tiani, the former head of Niger's presidential guard, has said he will not back down. He has cited insecurity as his main justification, even though data shows militant attacks have been decreasing.