A former military dictator with a checkered human-rights record was elected president of Nigeria on Tuesday, making him the first opposition candidate to win a presidential vote in the country's history.
Gen. Muhammadu Buhari defeated President Goodluck Jonathan after the incumbent of five years conceded early Wednesday. Jonathan's relinquishing of power has paved the way for an unprecedented peaceful transition in Africa's most populous nation.
"Nobody's ambition is worth the blood of any Nigerian," Jonathan said in a statement, according to The Associated Press. "I promised the country free and fair elections. I have kept my word."
The historic victory marked the second time 72-year-old Buhari rose to power in Nigeria. In the 1980s, he seized power in a coup and ruled Nigeria as a military dictator for around 18 months — before he was ousted in a counter-coup.
Human-rights groups accused Buhari's regime of crushing political dissent and installing harsh military values into civilian life.
The Buhari victory, though, underscored Nigeria's frustration with Jonathan, whose People's Democratic Party (PDP) had ruled the country since it transitioned from military rule to democracy in 1999.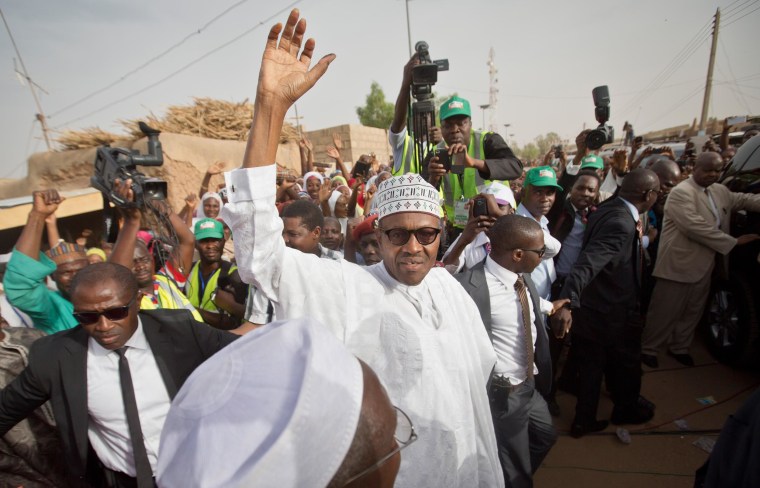 Jonathan had come under fire for failing to stem the growth of militant group Boko Haram — along with rampant corruption in the country.
Buhari — who since coming out of retirement ran for election several times, though this poll was the first as leader of the opposition All Progressives Congress (APC) — made those two issues central to his campaign.
"This is the first time in Nigeria that a sitting government will be voted out of power using purely democratic means," APC spokesman Lai Mohammed told Reuters. "The people of Nigeria have taken over."
While the U.S. and U.K. warned Monday of "disturbing indications" that the vote-counting process was being subject to political interference, Jonathan willingly conceded — even as the Independent National Electoral Commission was still tallying votes.
With the results uncontested, so far, the election's outcome will become the first democratic transfer of power since Nigeria gained independence from British rule in 1960. Since then, military rulers and presidents have only been deposed in coups and counter-coups.
While there were some issues with malfunctioning equipment, delayed ballot deliveries and sporadic violence on election day — Boko Haram attacks killed dozens — the vote drew praise for its largely peaceful nature.
The National Democratic Institute, which sent a monitoring team to Nigeria, said that "Nigerians showed perseverance, creativity and discipline."
The NDI said in a statement that "Nigerian voters conducted themselves in a peaceful and orderly manner on election day" and urged politicians to recognize and respect the citizens' "commitment to the democratic process."
In the last election, allegations of vote-rigging around Buhari's loss to Jonathan set off a wave of violence that left around 800 people dead.
The Associated Press and Reuters contributed to this report.