Whether it's Melania, Bill or Michelle, the other halves of America's bruising presidential campaign have regularly been called upon to defend their embattled partners.
Nigeria's president is probably wishing his wife had kept quiet.
In a candid interview with the BBC, Aisha Buhari revealed Friday that she may not back her husband, President Muhammadu Buhari, if he stands for re-election in 2019.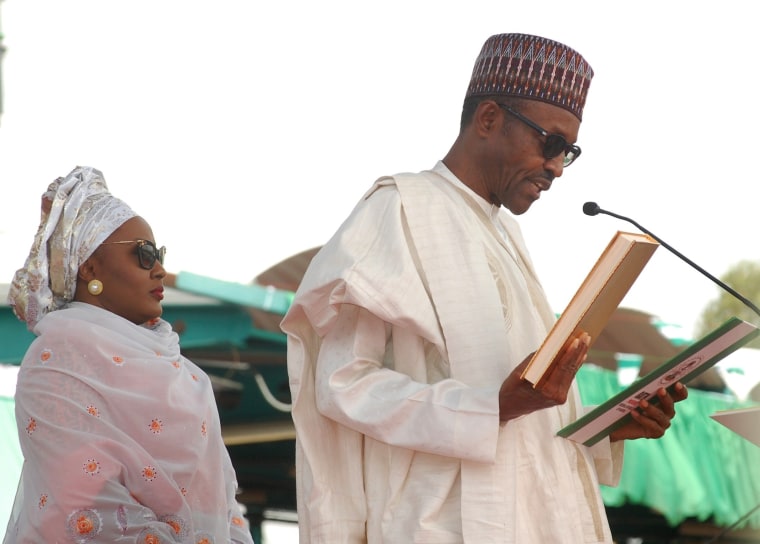 The president won a historic victory in 2015 after campaigning on a platform to stamp out Nigeria's endemic corruption problem. But on Friday, the first lady suggested that her husband's administration had been hijacked and that he was not in control of appointing his own officials.
"The president does not know 45 out of 50, for example, of the people he appointed," she told the BBC. "I don't know them either, despite being his wife of 27 years."
She said that these officials had been "sitting down in their homes folding their arms, only for them to be called to come and head an agency or a ministerial position" in Buhari's government.
"A lot of people have been coming ... to tell him that things are not going the way they should," she said. "If it continues like this, I'm not going to be part of any [re-election] movement again."
Buhari, who will be 76 at the next election, responded to his wife's comments during a news conference while visiting Germany.
"I don't know which party my wife belongs to, but she belongs to my kitchen and my living room and the other room," he said.
Buhari has not announced whether he plans to stand again in 2019.
Asked whether her husband was still in control of Nigeria's government, Aisha Buhari told the BBC: "That is left for the people to decide."
She would not say who she thought was responsible for hijacking the administration, offering only that "you will know them if you watch television."
Related: Is Ex-Military Dictator the Answer to Nigeria's Boko Haram?
Asked whether her husband knew how she felt, she added: "Yeah, he knows, he knows."
At 45, Aisha Buhari was just a teenager when her husband became Nigeria's leader for the first time, ruling as a dictator between 1983 and 1985.
He returned as head of the nation last year — his historic election being the first time power has peacefully changed hands since Nigeria gained independence in 1960.
Under his government, the militant group Boko Haram has continued to lose territory, and on Thursday, 21 of the Chibok girls were released after more than two years in captivity.
But low oil prices have plunged Africa's biggest producer into a recession.