Nigeria is risking the lives of millions of displaced civilians by planning to return them to communities vulnerable to attack by Islamist terrorists, experts warn.
The government says it has all but defeated Boko Haram, the ISIS-allied group that was involved in the slaughter of 11,000 people last year and ranks among the world's deadliest terror organizations.
President Muhammadu Buhari has pledged that he will "start in earnest" to return an estimated 2.2 million citizens who have been forced to flee their homes.
However, while most of the territory once held by Boko Haram has been recaptured, experts say the insurgents' renewed guerrilla campaign is deadlier than ever.
"The concern from humanitarian actors is that some of these areas are still very risky for people to live in," Francis Garriba of the United Nations Refugee Agency (UNHCR) told NBC News from the Nigerian capital of Abuja. "To return the IDPs [internally displaced people] to their home communities is premature in many cases."
Garriba said he believed the government was putting millions of lives at risk with its plan.
"If the government wants to remake a meaningful life for these people it will take a very long time to put these infrastructures in place," he said.
Nigeria says around 80 percent of its IDPs are women or children. Most are staying in relatives' homes, but thousands are forced to live in camps funded by the government and aid agencies.
"Mass returns could be like red rags to a bull"
Their towns and villages were heavily damaged or destroyed as Boko Haram swept the northeast of the country in 2014.
"They killed two of my brothers," 39-year-old Mohammed Umaru, a nurse who fled the northeast to a camp outside Abuja, told NBC News.
With little or no infrastructure, civilians wanting to move back there would face a lack of food, water, medicine and education, as well as the militant threat.
There is also evidence that Boko Haram suicide bombers have deliberately attacked returning IDPs because of their vulnerability, according to Elizabeth Pearson, an associate fellow at London's Royal United Services Institute think tank.
"Mass returns could be like red rags to a bull," Pearson said. "While IDPs want to return home, and should eventually do so, it is important to ensure that their safety is not jeopardized in achieving this goal."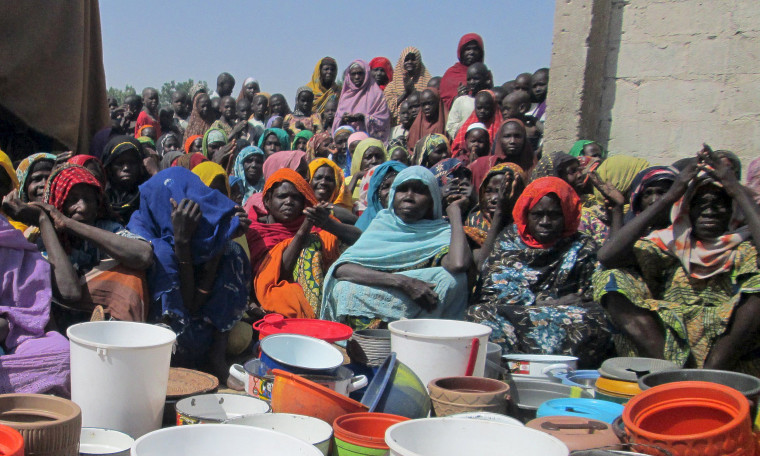 Manzo Ezekiel, spokesman for Nigeria's National Emergency Management Agency, rejected the idea that some areas were not safe enough for re-population.
"The military has made a lot of progress against Boko Haram ... and the IDPs are very much eager to go back to their communities," he told NBC News. "The fear that was in the minds of the people last year is not the same kind of fear that's in their minds now."
However, Ezekiel was not able to provide details on whether the government planed to finance the rebuilding of ruined communities, nor how 2.2 million people would be transported across the country.
One of the IDPs who is feeling more positive is Bunu Saje, a 55-year-old civil servant who was forced to flee his hometown of Baga after a devastating Boko Haram assault in January last year.
"Yes, yes, yes! Of course we want to return. Life here is not comfortable," he told NBC News by telephone from Maiduguri. "The security situation has now improved. The threat has dramatically decreased."
Related: ISIS Owns Headlines, but Nigeria's Boko Haram Kills More Than Ever
Evidence suggests that this optimism owes more to government hype than reality.
The administration has been keen to appear successful against Boko Haram after the crisis became deeply embarrassing for the previous government.
The potential for political points scoring could be prompting "the incumbent administration to try to paint a better picture that's not representative of the situation on the ground," said Ryan Cummings, a South Africa-based analyst at crisis management consultancy Red24.
"You just cannot see how communities within northeast Nigeria are going to be repopulated without protection against very probable attacks," he added.
The UNHCR's Garriba agreed, calling the government's positive message "political propaganda."
One man who as seen the crisis unfold firsthand is Zanna Mustapha, a lawyer and philanthropist who runs a school for orphans and disadvantaged children in Maiduguri.
The northeastern city has remained a relative safe haven despite being on the fringes of the conflict, and as such has seen a large influx of IDPs.
"It's not safe for anybody to go back to where they have come from," Mustapha said. "Every week there are fresh attacks."
He praised the efforts of the Nigerian army in routing Boko Haram from its territory, but said he was worried there were too many unanswered questions in the government's plan to resettle people.
"How do you transport them back to their communities? How do you take care of their town? Is the military going to be guarding them 24 hours a day?" he said.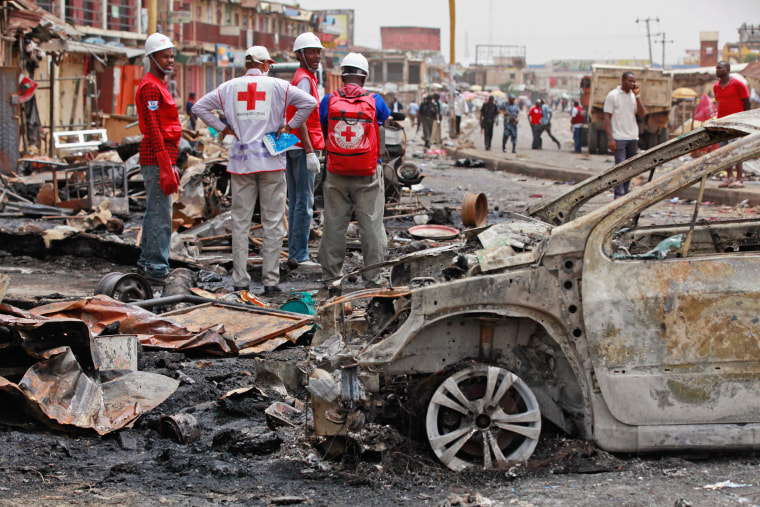 The arrival of untold numbers of IDPs has put a strain on the city, Mustapha said, with his school, the Future Prowess Islamic Foundation, also seeing a swell in numbers.
"We have orphans whose fathers were soldiers in the Nigerian army, and orphans whose fathers were Boko Haram fighters — they are all children who need somewhere to go," he said. "Most of the children in the school witnessed how their parents were killed and saw the most horrible things you can imagine."
Outside of Maiduguri "the humanitarian challenge is also enormous," said Nwakpa Nwakpa, head of communications at the Nigerian Red Cross Society.
Some civilians want to return to their hometowns, Nwakpa said, while others see little point in moving from one area of poverty to another.
"For some of them, moving back would be just like moving from one IDP camp to another — there's nothing there for them anymore in a lot of cases," he said.