LONDON — After a blackout of close to three months — and a blizzard of speculation — Nigerians have caught sight of their elusive leader, 3,000 miles from home.
President Muhammadu Buhari has not been seen since leaving Africa's most populous country, which is battling an economic crisis, terrorism and a regional famine, for medical treatment at the beginning of May.
In his absence, questions have been raised over whether he will be able to seek a second term in 2019 elections. Earlier this year, some even asked whether Buhari was still alive.
However, pictures released on Twitter by the president's office appear to show Buhari meeting a delegation of governors from his APC political party in London.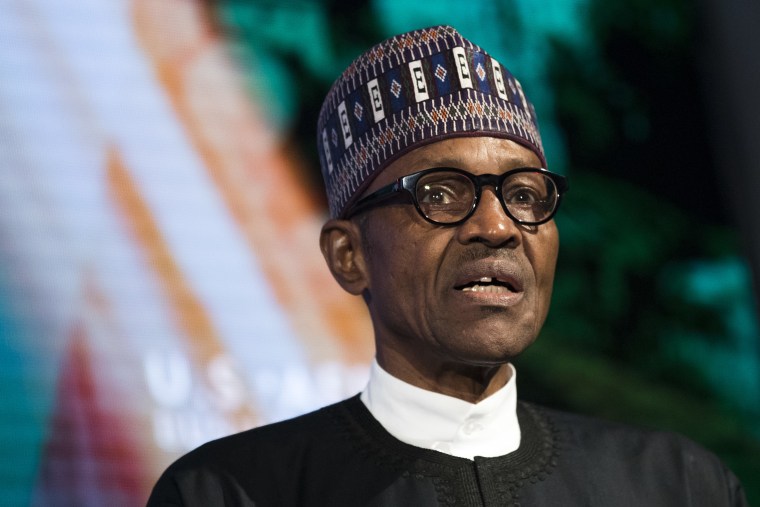 "The president sends his best wishes to all Nigerians. He will be back to Nigeria as soon as his doctors give the go-ahead," the text of one of Sunday's tweets said.
Buhari's supporters have criticized the speculation over Buhari's health as "fake news."
Little information has been released about the 74-year-old's condition or the ailment he has been receiving treatment for.
He first left Nigeria for the UK in January before returning home two months later.
That trip was initially billed as a "short annual vacation" during which time he would undergo some "routine medical check-ups."
However, just before he was due to return, Nigeria's 180 million citizens were informed via a statement that Buhari would be "extending his vacation."
Although he returned home in March, Buhari was rarely seen in public and was last glimpsed welcoming back a group of 82 schoolgirls released by the militant group Boko Haram shortly before he left for London a second time.
Elizabeth Donnelly, deputy head of the Africa Program at U.K. think tank, Chatham House, said the latest image was likely designed "to calm the speculation" over his protracted absence.
Related: President Muhammadu Buhari's absence sparks concern
She added that it may also be an attempt to curb "political maneuvering" and maintaining order in the corridors of power in Abuja.
With elections due within two years, Donnelly says potential presidential candidates have been looking ahead and plotting a potential 2019 campaign should Buhari be unable to run.
In the meantime, vice president Yemi Osinbajo has been acting as president.
Nigeria is Africa's most populous nation and the continent's biggest oil producer. Yet it faces numerous pressing challenges in the short-term.
These include the Boko Haram insurgency and famine-like conditions in the country's northeast, unrest due to militancy in the oil producing Niger Delta region as well as an economy struggling to get back to growth after plunging into recession last year.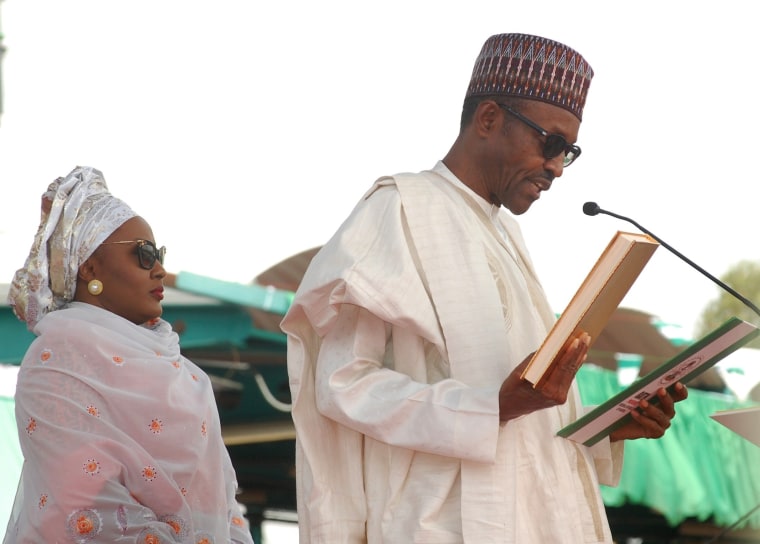 Buhari isn't the first Nigerian president to seek lengthy medical treatment outside of the country. In 2010, Umaru Yar'Adua died of a kidney condition after officials had attempted to keep details of his illness quiet. He had been whisked away to a German hospital for treatment during the 2007 presidential campaign.
While it is not ideal to have a president absent for so long, Donnelly said there had at least been a formal and transparent process over who is running the country.
Nigeria's Vanguard newspaper reported a statement from presidential advisor Femi Adesina in which he relayed the comments of Imo State Governor, Rochas Okorocha after a meeting with Buhari in London. Buhari was "very cheerful and has not lost any bit of his sense of humor," Okorocha was quoted as saying.
"By our visit to London today, the merchants of lies have been put out of business and Nigerians will not buy the garbage they have been selling. All those who look up to fake news can find better use for their time," Okorocha added, according to the statement.
However, Nigerians will continue to wonder when, or even if, their president will return, said Donnelly.
"It's a long time away," she said. "Whether he will go back or not, speculation will continue."