LONDON — One of the world's most populous countries has been without its leader for almost a month, and no one seems willing to explain why.
Muhammadu Buhari, the 74-year-old president of Nigeria, has been the subject of swirling rumors, conspiracy theories and downright fabrications since he flew to London on Jan 19.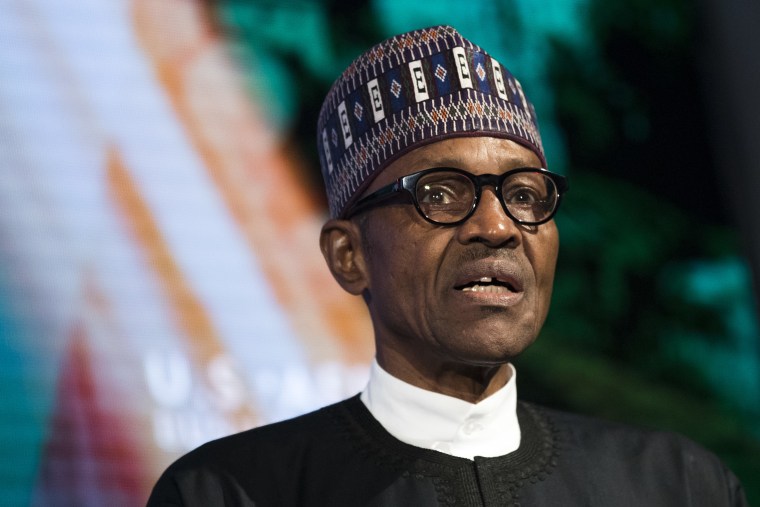 This uncertainty hasn't been helped by the lack of information provided by Buhari's team.
A full 29 days after the president left, neither he nor his aides have explained exactly why he is there, nor when he plans to return.
"We will let you know when he is coming back," Buhari's special adviser, Femi Adesina, told NBC News by telephone Friday. "All of the information [about his situation] is in the public domain."
"It's a long time for a head of state to be out of the country."
Buhari's team has indeed provided some information about his trip, initially billing it as a "short annual vacation" during which time he would undergo some "routine medical check-ups."
However, on Feb. 5, a day before he was due to return, the septuagenarian leader informed his 180 million citizens that he would be "extending his vacation."
The president needed to stay in London "complete and receive the results of a series of tests recommended by his doctors," Adesina said in a statement.
This time, no return date was given, and the rumor mill went into overdrive.
Having not seen their leader in weeks, some Nigerians speculated Buhari was gravely ill or even dead, according to one conspiracy theory doing the rounds.
These fears were allayed this week after Buhari held his first official phone call with President Donald Trump. Two days later, Nigerian Senate Leader Bukola Saraki flew to London and posted pictures showing Buhari smiling and shaking hands with officials.
"We were delighted to see that President Buhari is doing well, was cheerful and in good spirits," Saraki said. "The president I saw today is healthy, witty and himself."
However, though Saraki said the president was set for an "imminent return," he did not provide a precise date, nor explain exactly why Buhari's stay was extended.
"Obviously something is going on that means his long absence is necessary," said Elizabeth Donnelly, deputy head of the Africa program at Chatham House, a London-based think tank. "It's a long time for a head of state to be out of the country."
While Buhari is in London, Vice President Yemi Osinbajo has been acting as leader. But he has taken the wheel at a difficult time for Africa's largest economy and biggest oil producer.
A slump in global oil prices saw its economy slip into recession last year, and the years-long struggle against Boko Haram militants has forced millions to flee their homes.
The United Nations said that Nigeria could experience "a famine unlike any we have ever seen anywhere" unless something is done to help these people.
"A time of economic crisis tends to fuel speculation and feed the rumor mill," Donnelly said.
She added that another reason Nigerians are so acutely away of Buhari's health is because they are worried history will repeat itself.
In 2010, President Umaru Yar'Adua died of a kidney condition. He had been ill for some time but officials had attempted to keep it quiet. Like Buhari, Yar'Adua was whisked away to a German hospital for treatment during the 2007 presidential campaign.
Nigerians might also find Buhari's convalescence troubling because they pay so much for their leaders and high-ranking officials to have treatment abroad while their own health system suffers.
Ordinary Nigerians spent about $6.3 billion in 2015 for this so-called "medical tourism," according to The Associated Press.
This is despite taxpayers' funding of the State House Medical Center, said to be Nigeria's best-equipped facility, which serves the president and vice president, their families and staff.
The center's budget this year of some $12 million to care for fewer than 1,000 people is 1 percent of the country's entire public health budget, the AP reported.
For now, Nigerian officials remain tight lipped on the details.
"The man has a right to go on vacation," adviser Adesina said Friday. "And during that time he just underwent some medical tests."