TEL AVIV – American and Israeli defense officials welcomed a new arms sale agreement on Monday as a major step toward increasing Israel's military strength, but Israeli officials said it still left them without the weapons they would need if they decided to attack Iran's deepest and best-protected nuclear sites.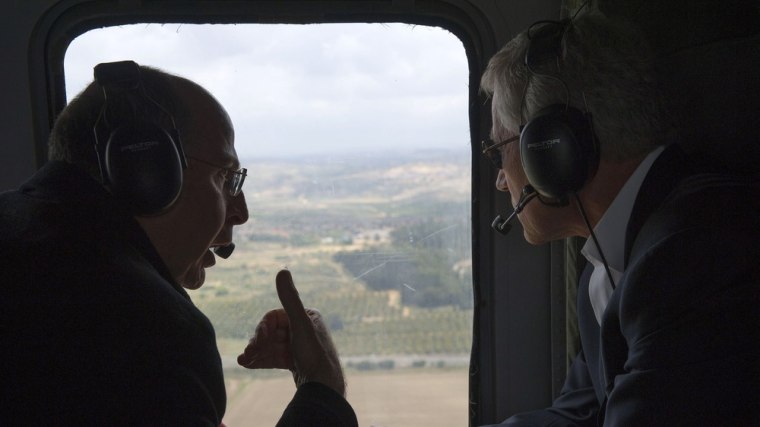 The mixed message came as Defense Secretary Chuck Hagel and his Israeli counterpart, Moshe Yaalon, reaffirmed their commitment to stopping Iran from obtaining nuclear weapons, while sidestepping a continuing disagreement between the two countries about how close to allow Iran to get toward such a goal.
In public, Mr. Hagel again said that Israel had the right to decide by itself how to defend the country, and both officials said military action should be a last resort. But a close adviser to Prime Minister Benjamin Netanyahu said on Monday that "the fundamental difference of views on how much risk we can take with Iran is re-emerging."
The new weapons sale package includes aircraft for midair refueling and missiles that can cripple an adversary's air defense system. Both would be critical for Israel if it were to decide on a unilateral attack on Iran.
But what the Israelis wanted most was a weapons system that is missing from the package: a giant bunker-busting bomb designed to penetrate earth and reinforced concrete to destroy deeply buried sites. According to both American and Israeli analysts, it is the only weapon that would have a chance of destroying the Iranian nuclear fuel enrichment center at Fordow, which is buried more than 200 feet under a mountain outside the holy city of Qum.
The weapon, called a Massive Ordnance Penetrator, weighs about 30,000 pounds — so much that Israel does not have any aircraft capable of carrying it. To do so, they would need a B-2 bomber, the stealth aircraft that the United States flew nonstop recently from Missouri to the Korean Peninsula to underscore to North Korea that it could reach their nuclear sites.
The Obama administration has been reluctant to even discuss selling such capability to the Israelis.
Iran has consistently denied that it wants nuclear weapons and has called its uranium enrichment activities peaceful.
The Fordow site has become an increasing source of concern to the Israelis. When they referred last year to Iran entering a "zone of immunity," Israeli officials said the phrase referred to the moment when the facility would be complete, and immune from attack by Israeli forces. All the centrifuges that enrich uranium at the site have since been installed, but only about a quarter of them are now operating.
Israel has asked the United States for weapons like the Massive Ordnance Penetrator in the past and has been turned down. American officials declined to say whether the yearlong negotiations with Israel that resulted in the new arms package had included a discussion of the new bomb.
Instead, they pointed to a decision by President Obama to send advanced refueling tanker planes to Israel that would make it possible for the country's fighter aircraft to reach as far as Iran. A similar refueling capability was turned down during the administration of former President George W. Bush.
The debate is about more than just equipment. Israel's position has been that Iran cannot be allowed to build up too large a stockpile of medium-enriched uranium that could allow it to then race for a bomb. When Mr. Netanyahu addressed the United Nations in New York last September, he drew a red line across a cartoon picture of a bomb, which aides later said indicated that Iran would not be allowed to amass enough medium-enriched uranium to get enough fuel to make a single weapon.
But most of Iran's production of that uranium is occurring inside the mountain at Fordow. So far, Iran has stayed just below Mr. Netanyahu's red line, converting some of the fuel to a metallic form that can be used in a nuclear reactor – but that would take a bit more time to convert back to bomb fuel. To the United States, this has offered up more time for a diplomatic solution. To many Israeli officials, it is a ploy, designed to buy time as Iran installs a new generation of centrifuges that could speed its production.
"It's all about timetables," said Dore Gold, the president of the Jerusalem Center for Public Affairs and a member of Mr. Netanyahu's inner circle of strategists. "If you say the goal is to halt Iran in the enrichment phase, you don't have much time. If you are waiting for Iran to weaponize" — the position the Obama administration has taken – "maybe you can give it another year or more."
Mr. Yaalon suggested that there was still time. "There are other tools to be used and to be exhausted, whether it is diplomacy, economic sanctions," Mr. Yaalon said.
He avoided mentioning another element of the strategy: sabotage of the Iranian program, which has included cyberattacks on enrichment facilities and the assassination of Iranian scientists. He urged support for Iranians who oppose the current government in Tehran, especially in advance of a presidential election scheduled for June.
But without "a credible military option," Mr. Yaalon warned, "there is no chance" that the Iranian government would curtail its nuclear ambitions.
During a news conference with Mr. Yaalon at the Israeli Ministry of Defense, Mr. Hagel pledged that the United States would sustain its commitment to assuring Israel's "qualitative military edge," and he was emphatic in discussing Iran.
"Iran will not be allowed to develop a nuclear weapon," Mr. Hagel said. "Period."
That was far more definitive than anything he said in his confirmation hearing. There he talked about a strategy of containing Iran – a strategy that seemed at odds with Mr. Obama's stated position — before correcting himself for the record to align with the administration's position.
The United States has promised Israel $3.1 billion in military financial assistance in this fiscal year, the highest amount ever. Mr. Hagel cited the $460 million the United States has already given to Israel for its missile-defense systems and noted the $220 million request for the next fiscal year.
After his meetings in Tel Aviv, Mr. Hagel toured northern Israel by helicopter, crossing into the Golan Heights occupied by Israeli forces. The flight took him within a couple miles of the Syrian side of their disputed border and about 30 miles from the Syrian capital, Damascus.
On Monday evening, Amos Yadlin, the former head of military intelligence in Israel, told the annual conference of Israel's Institute for National Security Studies, that while any Israeli attack would only delay Iran's program, "this delay could be important because we may have a regime change."
Mr. Yadlin, now the executive director of the institute, described the tactical differences between the United States and Israel on dealing with Iran as a "time gap."
"Israel has defined what the trigger is, what the red line is," he said. Iran, he concluded, "is already there."
This story, "No Bunker-Buster Bomb in Israel's U.S. Arms Deal," first appeared in The New York Times.
More world news from NYTimes.com