Early Sunday, Skylar Martin of Hanover, Virginia, was taken to the hospital after she spent six miserable hours in her room and lost consciousness at a resort in the Dominican Republic.
Martin and her husband were married last month, and they were in the country on their honeymoon.
"I had a fever," Martin told NBC affiliate WWBT of Richmond, Virginia. "I was in and out of consciousness for a while. I would wake up to vomit. My body would wake itself up to get more out."
She said doctors in the Dominican Republic speculated that it might have been a blood infection, but the exact cause of her illness is still unknown.
The company that runs the hotel the Martins were staying at, the Hard Rock Hotel & Casino in Punta Cana, said Tuesday that it's "regretful that we did not achieve the extremely high standards we set for ourselves." It apologized and said it "immediately took corrective action," including a full disinfection process and inspection of all common areas.
The Punta Cana resort is the same one where Robert Bell Wallace, 67, died in April. He is one of seven Americans known to have died in the Dominican Republic this calendar year and at least the ninth in the last 12 months — numbers that have sparked concern among would-be tourists.
"We just want some answers," said Jason Allen, the brother of Joseph Allen, 55, of Avenel, New Jersey, who was found dead at the Terra Linda resort in Sosúa on June 13.
Those answers are likely to be unsatisfying, because in overall terms, nothing unusual is going on in the Dominican Republic.
The State Department has tallied all deaths of U.S. citizens abroad from so-called unnatural causes since 2007. Compared with the seven Americans who have died so far this year, 15 died through June in both 2011 and 2015 of causes like auto accidents, suicides, homicides and drownings. In 2009, 14 Americans died through June. In 2016, the number was 13.
Those numbers don't include deaths from natural causes like those that are suspected in some of the recent cases; overall death totals are likely to be even higher.
"We have not seen an uptick in the number of U.S. citizen deaths reported to the department," a State Department official told NBC News on Tuesday.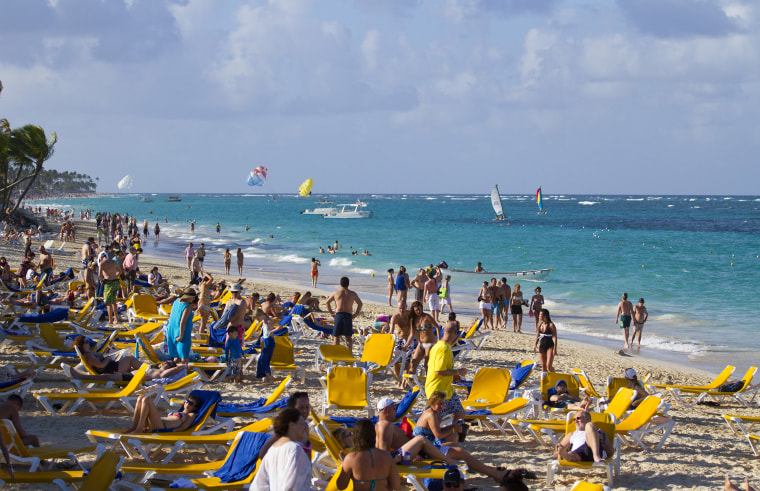 That doesn't shed any light, however, on the dozens of Americans who have fallen ill in the country in recent months. Neither the State Department nor any other agency, U.S. or Dominican, collects that data, so there's no way to know whether recent illness reports are out of the ordinary.
Download the NBC News app for breaking news and politics
Reports of mass outbreaks of illnesses, however, are not uncommon in the Dominican Republic and other parts of the Caribbean. A single message board on the travel site TripAdvisor, for example, runs to 11 pages of people reporting problems with or asking about the safety of bootleg and unregulated alcohol in the Dominican Republic, one of the avenues investigators are exploring to explain the current illnesses.
The CDC, meanwhile, warns would-be tourists that drinking the country's tap water can open them to risk of hepatitis A, typhoid and cholera. The agency is currently warning travelers about an increase in report of rabies in Punta Cana; last year, the Zika virus was a big concern.
The non-profit International Association for Medical Assistance to Travellers even devotes a section on its website to "travelers' diarrhea" in the Dominican Republic.
Dominican Tourism Minister Francisco Javier García insists that the recent illness reports, while regrettable, are "isolated." The FBI is conducting toxicology analyses in some of those cases and said it could take until mid-July for results to come in.
In a statement last week, García cited a survey by the country's central bank that reported that 99 percent of Americans who visited as tourists last year "said they would return to our country on vacation."
"It is important for everyone who wishes to disseminate information about the situation to do it in context and with perspective," he said.
CORRECTION (Wednesday, June 19, 5:20 p.m. ET): A previous version of this article incorrectly compared the annual death rate of Americans in the United States to the rate of recent deaths of Americans in the Dominican Republic. The comparison did not take into account that most Americans in the country are tourists who are not there for a year; the passage has been removed.