Human rights campaigners in Russia, Ukraine and Belarus won the Nobel Peace Prize on Friday.
Jailed human rights advocate Ales Bialiatski from Belarus, the Russian human rights organization Memorial, and the Ukrainian human rights organization Center for Civil Liberties were announced as the 2022 winners at a ceremony in Oslo.
"This year's laureates represent civil society in their home countries. They have for many years promoted the right to criticize power and protect the fundamental rights of citizens," said Norwegian Nobel Committee Chair Berit Reiss-Andersen. "They have made an outstanding effort to document war crimes, human right abuses and the abuse of power. Together they demonstrate the significance of civil society for peace and democracy," she added.
The award comes as Russia wages war on Ukraine, in Europe's biggest land conflict since World War II. Nominations for this year's winner took place prior to the Kremlin's invasion in late February, but it was widely speculated that the award may reflect the conflict.
But despite acknowledging that this year's winners are "neighbors and civil society [groups] with a joint understanding of the values that they want to promote," committee chair Reiss-Andersen denied suggestions that the choices of winners this year was designed to send a birthday message to Vladimir Putin, who turned 70 on Friday.
"This prize is not addressing President Putin, not for his birthday, or in any other sense — except that his government, as the government in Belarus, is representing an authoritarian government that is suppressing human rights activists," she said, adding that the committee awards the prize "for something and to somebody and not against anyone."
Ales Bialiatski was one of the initiators of the democracy movement that emerged in Belarus in the mid-1980s. In 1996, he founded the Minsk-based human rights group "Viasna," which advocates for political prisoners. He was himself detained in 2020 following protests against the re-election of Belarus' strongman leader Alexander Lukashenko, a close ally of Putin. He remains in jail without trial.
In a statement on its website, Viasna noted that this was Bialiastski's sixth nomination for the award, and that he is the fourth winner to nave received the Nobel Peace Prize while in custody.
Memorial is a human rights group in Russia established by activists in the former Soviet Union in 1987, as a public history campaign to ensure that the victims of the Soviet regime would never be forgotten.
During the Chechen wars, Memorial gathered information on alleged war crimes committed by Russian and pro-Russian forces. The Russian supreme court liquidated Memorial in December 2021, just two months prior to the invasion of Ukraine, amid a broader crackdown on human rights groups and independent journalists.
The Ukrainian Center for Civil Liberties has focused on documenting and identifying Russian war crimes in Ukraine since the war began. The center was established in 2007 to advance issues of democracy and human rights in Ukraine more broadly.
Not all were happy with the decision to split the prize, however. "Nobel Committee has an interesting understanding of word 'peace' if representatives of two countries that attacked a third one receive @NobelPrize together," said Mykhailo Podolyak, an advisor to Ukrainian President Volodymyr Zelenskyy, on Twitter.
"Neither Russian nor Belarusian organizations were able to organize resistance to the war," he added.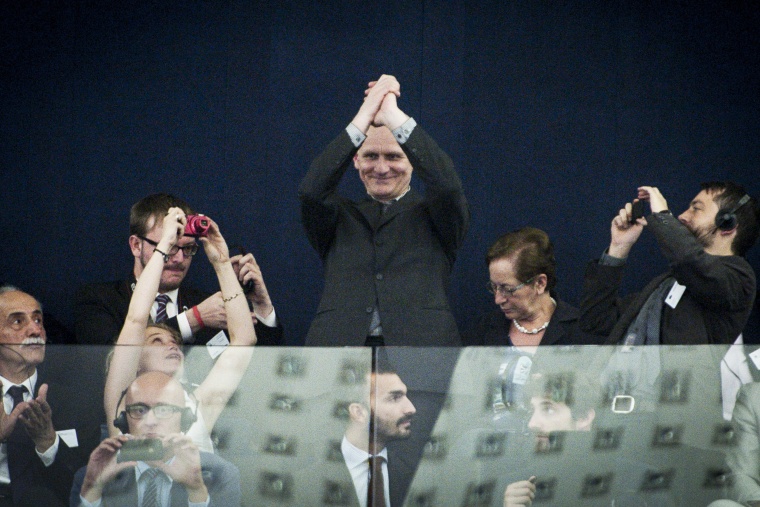 Last year's prize was awarded to journalists Maria Ressa and Dmitry Muratov for their "efforts to safeguard freedom of expression" in the Philippines and Russia.
Ressa is the co-founder the investigative digital media company Rappler, which has focused on the brutal war on drugs waged by former Philippine President Rodrigo Duterte.
Muratov is a broadcaster and editor-in-chief of Novaya Gazeta, an independent Russian newspaper critical of the Putin regime. In March this year, the newspaper was forced to announce that it was suspending print and digital activities and removing reporting on the invasion, after receiving multiple censorship orders from Moscow authorities.
Previous winners also include the World Food Program, female education activist and Taliban attack survivor Malala Yousafzai, ex-Soviet leader Mikhail Gorbachev, civil rights hero Martin Luther King Jr., and four former U.S. Presidents: Barack Obama, Jimmy Carter, Theodore Roosevelt and Woodrow Wilson. 
The coveted prize comes with an 18-karat gold medal and cash winnings of 10 million Swedish krona ($898,534), as well as international acclaim. 
The decision of who to award the prize is a highly secretive operation, involving a rigorous eight-month process in which the Norwegian Nobel Committee and a host of Norwegian and international advisors screen names of nominees submitted by academics and statespeople all over the world.
A list of candidates is created by spring, with the committee making a simple majority vote at the start of October, according to the award's website. The full list of nominees is not released for another 50 years, according to the prize's website. 
The peace prize caps a week of Nobel awards.
French author Annie Ernaux won the Nobel Prize in Literature Thursday. Ernaux, who has written about class, sex and abortion, strongly defended women's rights to contraception and abortion in a speech at a news conference in Paris.
"I will fight to my last breath so that women can choose to be a mother, or not to be. It's a fundamental right," she said.
The Nobel Committee also awarded prizes in Physics to scientists Alain Aspect, John Clauser and Anton Zeilinger for their work to develop new telecommunications systems that are impossible to break into. In Chemistry, Carolyn R. Bertozzi, Morten Meldal and K. Barry Sharpless were the winners, for their work in developing a way of "snapping molecules together" that can be used to explore cells, map DNA and design drugs that can target diseases such as cancer more precisely.