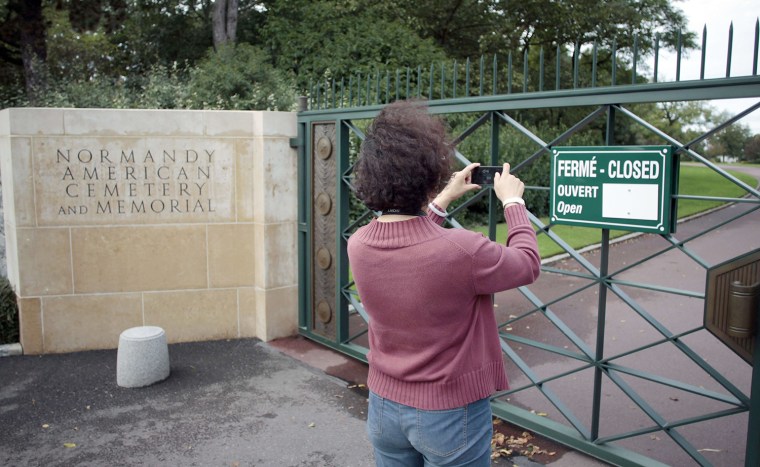 From the World War II graveyards in Normandy, France to the military bases of Okinawa, Japan – Americans are feeling the impact of the government shutdown well beyond the Beltway.
Ann and Ted Pardy, of Lincoln, Neb., planned their first French vacation with Normandy as the final stop.  
But when the couple arrived at the Normandy American Cemetery and Memorial to pay their respects to the nearly 10,000 men who died there to bring an end to World War II, they were greeted with a locked gate.
The cemetery, along with the rest of the memorial run by the American Battle Monuments Commission, had been closed as part of the government shutdown.
"It's symbolic of the failure of our government to pull together," Ted Pardy said, glancing through the gate in the direction of the iconic rows of white crosses. "Unlike the people here, who knew how to pull together to get something tough done."
The Pardys' anger reflects that of many Americans, both living and traveling abroad, who are feeling the sting of the federal government shutdown in ways big and small.
From Japan to Germany
On the American military base in Okinawa, Japan, Jim Hashman works as the fine arts coordinator for the region's military schools.
Hashman, 51, was diagnosed with ALS, or Lou Gehrig's disease, in August. He said he and his wife, Marcia Hashman, were hoping for an early medical retirement with benefits that would allow him to enroll in a clinical trial back in the U.S.. He submitted the required paperwork last week.
But now both he and his wife, who also works in the school system, are furloughed and working without pay. They said they are not financially able to return to the U.S. for the trials.
"I can't just walk away from my job...I still need to be able to provide for my family," Hashman said.
"We have given 23 years of our lives overseas serving military families," Marcia added. "[Congress'] argument over the budget and the healthcare system that's already a law is delaying our return home to be with family at a very critical time of our lives."
U.S. military commanders and supervisors in the European theater also sent home most of their civilian workers this week.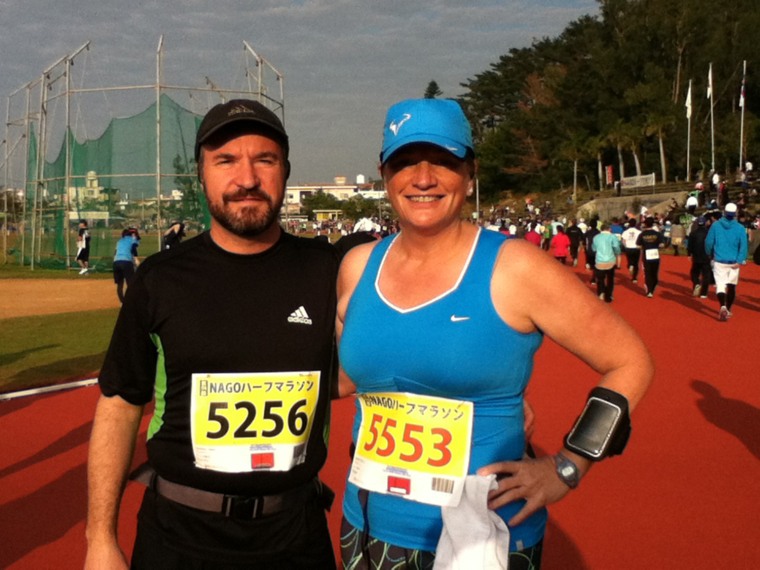 "The U.S. Army Europe, including our subordinate units, currently have furloughed 75 percent of our civilian staff," said Col. Rumi Nielsen-Green, spokeswoman at the headquarters of U.S. Army in Europe located in Wiesbaden, Germany.
"That is approximately 1,300 of 1,700 Army civilians, who are currently on unpaid emergency furlough for an indefinite period,"  she said. "The one word to describe our present situation is 'uncertainty.'"
On the U.S. Air Force in Europe's Facebook page, Chief of Staff Gen. Mark Welsh III wrote: "I'm sorry that our government shut down continues. We are now feeling the effect across the department... I'd ask you to stay plugged in with your local leadership and communities as we work through this difficult time together."
At U.S. joint training facilities in Germany, operations are already experiencing a significant impact, as training classes had to be cancelled due to a lack of funding for travel.
"While exercises that are critical for ongoing missions are taking place, we did have to cancel medical classes because civilian instructors are not present. And there simply is no money to travel soldiers from other garrisons in Germany," said Lt. Col. Brian Carlin.
"At the moment, we can fulfill our tasks, but the longer this situation continues, the longer it will take us to recover and be ready for missions," Carlin said.
'Insidious' to U.S. intelligence abroad
The intelligence community is not immune either. In Washington on Wednesday, Director of National Intelligence James Clapper told a Senate committee that the shutdown would be "insidious" to U.S. intelligence capabilities abroad.
"This affects out global capability to support the military, to support diplomacy, and to support our policymakers," said Clapper. He called the shutdown a "dreamland for foreign intelligence services."
Back in Normandy, the consequences were less dire, but no less frustrating for the tourists that had made their pilgrimages to the memorial for the war dead.
Sandrine Lepetit, a memorial tour guide who said she has taken thousands of Americans to the U.S. WWII cemetery, has replaced it with visits to the German cemetery.
Sarah Fink traveled from Colorado to pay tribute to her uncle, who fought on Omaha Beach. "It's very disappointing," she said. "We've come a long way and the cemetery is not available to us."
With no access to the memorial grounds, Tom Jackson of San Francisco snapped photographs of the locked gates. Asked what he was planning to do with them, Jackson said he would be sending the photos to his Congressional representatives.
Arata Yamamoto contributed reporting from Japan, Nancy Ing from France and Andy Eckardt from Germany.
Related