President Donald Trump's trip to Asia was given a jarring sendoff Thursday as North Korea accused the "gangster-like" United States of making "frantic" nuclear threats after U.S., Japanese and South Korean jets executed a flyover near the Korean peninsula.
The flyover on Thursday by two B-1B Lancer strategic bombers, escorted by Japanese and South Korean fighters, had been planned in advance and wasn't in response to anything in particular, an Air Force spokeswoman said.
But the government of North Korean leader Kim Jong Un called the flyover a threatening nuclear drill, accusing the United States in a statement dated Friday local time of having staged "a surprise nuclear strike drill targeting the DPRK."
DPRK stands for Democratic People's Republic of Korea, North Korea's name for itself.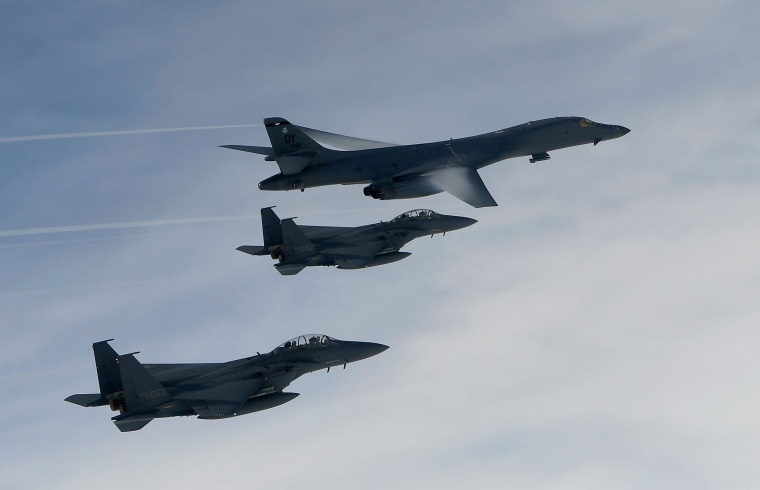 Related: Leave Your Troubles Behind: Trump Departing on 10-Day Asia Trip
The B-1B Lancer, the backbone of the U.S. strategic bomber force, was reconfigured during the 1990s to carry only conventional weapons, not nuclear weapons, according to the U.S. military and independent military watchdog organizations.
Still, the North Korean statement said, "the reality clearly shows that the gangster-like U.S. imperialists are the very one who is aggravating the situation of the Korean peninsula and seeking to ignite a nuclear war."
The accusation came as Trump prepared to set off Friday on a five-country, 10-day tour of Asia designed to strengthen diplomatic and economic partnerships while contending with North Korea's nuclear threat.
Trump's national security adviser, H.R. McMaster, told reporters Thursday that the world was "running out of time" to deal with the threat from North Korea.
North Korea has long accused the United States of seeking to destroy it — and it has in turned threatened to destroy the United States in language just as colorful as the statement it issued Thursday.
But a high-profile defector told Congress this week that the North is now on a hair trigger, ready to "press the button" at the slightest provocation.
Related: North Korea Defector Warns Military Will React to Any Sign of U.S. Attack
"If there is any sound of fire or bombs or strikes from Americans, the [North Korean] artillery and short-range missiles will fire against South Korea," the defector, Thae Yong Ho, told the House Foreign Affairs Committee on Wednesday.
North Korea has conducted several ballistic missile tests this year in defiance of U.N. resolutions, including two intercontinental ballistic missile tests that experts said suggest that a missile could reach parts of the United States.
Some people do not believe in soft power, but only in military options," said Thae, who was Pyongyang's deputy ambassador to Britain before he fled the country last year.
"But it is necessary to reconsider whether we have tried all non-military options before we decide that military action against North Korea is all that is left," he said.