North Korea on Monday declared its ballistic missile launch over the weekend — its first since Donald Trump became president of the United States — a resounding success that will advance its U.N.-banned weapons program.
North Korea fired the medium- to long-range ballistic missile into the sea early Sunday, saying it was launched at a high angle to keep it away from neighboring countries. The South Korean military said the missile reached 340 miles.
The state-run KCNA news agency said leader Kim Jong Un personally supervised the test of what it called a Pukguksong-2, a new type of strategic weapon it claimed was capable of carrying a nuclear warhead.
A South Korean military official told NBC News it was "highly likely" that the missile was an improved version of the Musudan-type intermediate-range missile.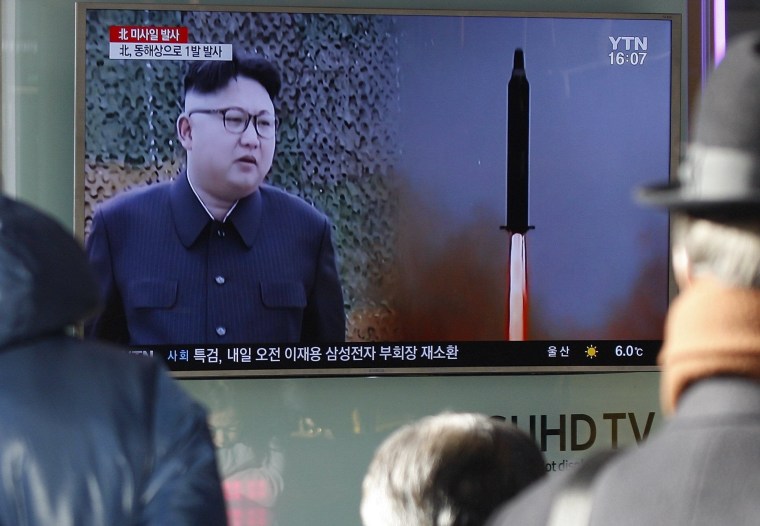 U.S. Strategic Command, or STRATCOM, confirmed that it detected the launch at 5:55 p.m. ET Saturday (7:55 a.m. Sunday in Seoul). The missile was launched near the northwestern city of Kusong and splashed into the Sea of Japan.
North American Aerospace Defense Command determined that it didn't pose a threat to North America, said Army Lt. Col. Martin O'Donnell, chief spokesman for STRATCOM
Reuters quoted North Korea's state-run KCNA news agency as saying supreme leader Kim Jong Un supervised the test of the Pukguksong-2, a new type of strategic weapon capable of carrying a nuclear warhead.
The United States, Japan and South Korea called for U.N. Security Council consultations, a U.S. official told NBC News on Sunday. A meeting was expected Monday afternoon.
Japanese Prime Minister Shinzo Abe, who is meeting with Trump in Palm Beach, Florida, called the launch "absolutely intolerable."
Trump said, "I just want everybody to understand and fully know that the United States of America is behind Japan, our great ally, 100 percent."