TOKYO/SEOUL — North Korea said Sunday a push for further sanctions following its fifth nuclear test was "laughable" and vowed to continue to strengthen its nuclear power.
The isolated state on Friday set off its most powerful nuclear explosion to date, saying it had mastered the ability to mount a warhead on a ballistic missile, ratcheting up a threat that its rivals and the United Nations have been powerless to contain.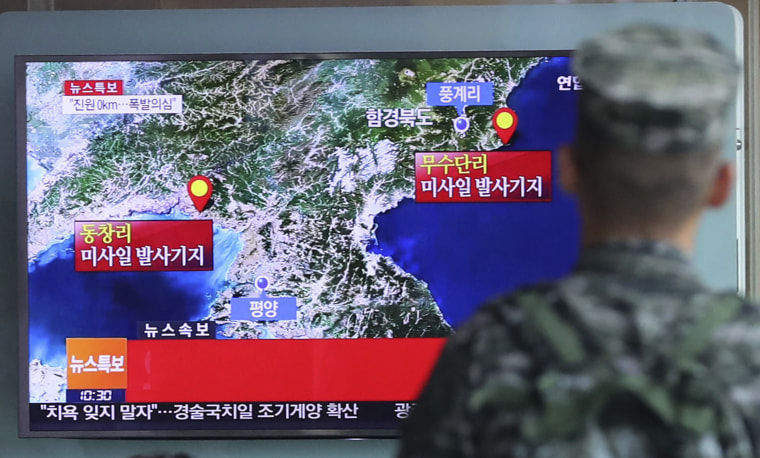 A U.S. special envoy met with Japanese officials on Sunday and said later the United States may launch unilateral sanctions against North Korea, echoing comments by U.S. President Barack Obama on Friday in the wake of the test.
"The group of Obama's running around and talking about meaningless sanctions until today is highly laughable, when their 'strategic patience' policy is completely worn out and they are close to packing up to move out," state-run KCNA news agency cited a North Korean foreign ministry spokesman as saying in a statement later Sunday.
Related: What You Need to Know About North Korea's Nuclear Test
"As we've made clear, measures to strengthen the national nuclear power in quality and quantity will continue to protect our dignity and right to live from augmented threats of nuclear war from the United States," KCNA added.
The U.N. Security Council denounced North Korea's decision to carry out the test and said it would begin work immediately on a resolution. The United States, Britain and France pushed for the 15-member body to impose new sanctions.
Obama said after speaking by telephone with South Korean President Park Geun-hye and with Japanese Prime Minister Shinzo Abe on Friday that they had agreed to work with the Security Council and other powers to vigorously enforce existing measures and to take "additional significant steps, including new sanctions."
"We will be working very closely in the Security Council and beyond to come up with the strongest possible measure against North Korea's latest actions," said U.S. envoy Kim on Sunday.
"In addition to action in the Security Council, both the U.S. and Japan, together with the Republic of Korea, will be looking at unilateral measures, as well as bilateral measures, as well as possible trilateral cooperation," he said, referring to South Korea by its official name.