Ever since President Donald Trump took office in January, tensions with North Korea have escalated rapidly.
The isolated country is barred by United Nations resolutions from carrying out ballistic missile tests or from having a nuclear arms program. Nonetheless, North Korea thumbed its nose at the resolutions — conducting several ballistic missile tests this year alone and five nuclear tests since 2006, including two last year.
The defiant stance has led Trump to ratchet up the rhetoric — promising to show North Korea "fire and fury" if it continues on a perilous path with even more missile tests.
The regime fired its first intercontinental ballistic missile on July 4, a significant step forward in its weapons program. The United States blasted the move, firing warning missiles and vowing to hold Pyongyang accountable at the United Nations.
Meanwhile, leader Kim Jong Un has made no secret of the fact that his scientists are working on a nuclear-tipped missile capable of reaching America.
The situation is so fraught that Secretary of State Rex Tillerson asked China — Pyongyang's neighbor and powerful ally — to "use their influence to convince or compel North Korea to rethink its strategic calculus."
But Pyongyang has blithely ignored warnings by Tillerson that military action is "on the table" if they continued to test intercontinental ballistic missiles.
North Korea's representative at the United Nations, Kim Im Ryong, flat-out warned that the Trump administration's get-tough strategy was creating "a dangerous situation in which thermonuclear war may break out at any moment."
For his part, Trump has dismissed as failures attempts by his White House predecessors to derail North Korea's weapons programs.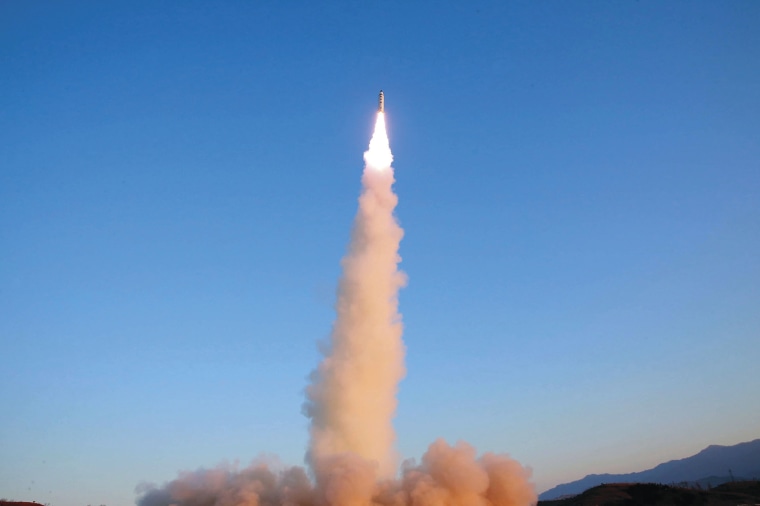 Here's a timetable of how the recent crisis has unfolded:
Feb. 12: In its first show of defiance against the Trump administration, North Korea successfully launched a solid-fueled ballistic missile called the Pukguksong-2 from a submarine.
March 6: North Korean artillery units fired four ballistic missiles into the Sea of Japan as part of a simulated attack on U.S. military bases in Japan. Three landed within 200 miles of Japan's coastline and the country's Prime Minister Shinzo Abe called it "an extremely dangerous action."
March 14 : The U.S. dispatched high-tech missile defense Aegis warships to the waters where the North Koreans fired the missiles for maneuvers with Japanese and South Korean warships.
March 15: Tillerson arrived in Japan for his first Asia trip as secretary of state.
March 19: The North Koreans tested a new rocket engine, claiming its part of their space program.
April 2: Trump declared the U.S. will go it "alone" if China does not help solve the North Korean nuclear problem.
"China will either decide to help us with North Korea of they won't," Trump told the Financial Times. "If they do, that will be very good for China, and if they don't, it's won't be good for anyone."
April 5: The North Koreans test fired a medium-range missile they claimed was capable of destroying a U.S. aircraft carrier. It failed.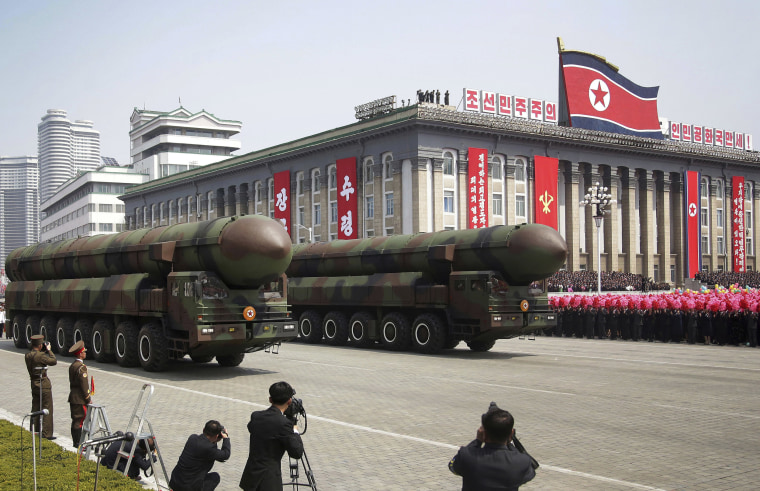 April 10: The USS Carl Vinson, an aircraft carrier, was dispatched to the region in a show of force.
April 15: The North Koreans test fired yet another KN-17 missile. It too failed. In Pyongyang, top official Choe Ryong accused Trump of "creating a war situation" by dispatching U.S. forces to the region.
"We will respond to an all-out war with an all-out war and a nuclear war with our style of nuclear attack," Choe threatened.
April 26: With tensions building, the U.S. test fired a $40 million Minuteman III missile at Vandenberg Air Force Base in California. North Korea called it a provocation.
April 28: The North Koreans test fired another KN-17 missile. Once again, it was a failure.
May 2: In a telephone conversation, Trump and Russian President Vladimir Putin discussed "how best to resolve the very dangerous situation in North Korea."
May 14: North Korea launched a ballistic missile that flew around 430 miles before crashing into the Sea of Japan. "With the missile impacting so close to Russian soil — in fact, closer to Russia than to Japan — the President cannot imagine that Russia is pleased," the White House said in a statement.
May 17: Two U.S. defense officials confirmed to NBC News that North Korea's launch of a KN-17 missile three days earlier was successful. The re-entry was controlled and the vehicle did not burn up, the officials said. It landed in the sea near Russia.
May 21: North Korea launched a medium-range Pukguksong-2 missile. Kim Jong Un called the launch "perfect," state run news organ KCNA reported.
May 29: The South Korean military reported that the North Koreans launched what appeared to be a short-range ballistic missile that flew for about 6 minutes and about 280 miles before landing in the Sea of Japan. It was reportedly the second time in two days that the North Koreans had test-fired a missile.
May 30: The Pentagon sent a message to North Korea by successfully launching a long-range interceptor missile from Vandenberg Air Force Base in California. It hit and destroyed an intercontinental-range missile over the Pacific Ocean fired from a test site on Kwajalein Atoll.
June 13: Otto Warmbier, a 22-year-old University of Virginia undergrad, was unexpectedly released after spending more than a year in a North Korean prison. He had been arrested in January 2016 and later convicted of trying to steal a propaganda flag that was flying near his hotel in Pyongyang. He was sentenced to 15 years of prison and hard labor after a one-hour trial. His father, Fred, credited the Trump administration with his son's release. He said his boy had been "brutalized and terrorized" and suffered extensive brain damage while in North Korean custody.
June 19: Warmbier died. He was mourned by his parents, Fred and Cindy Warmbier. "The awful torturous mistreatment our son received at the hands of the North Koreans ensured that no other outcome was possible beyond the sad one we experienced today," the family said in a statement.
June 29: U.S. Treasury Secretary Steven Mnuchin announced sanctions targeting a China-based bank accused of laundering money for the North Korean government.
June 30: Trump blasted the regime as "brutal and reckless" during a joint news conference with South Korean President Moon Jae-in in the Rose Garden. "The era of strategic patience with the North Korean regime has failed," Trump said. "Frankly, that patience is over."
July 4: North Korea fired its first intercontinental ballistic missile. The regime declared itself a "proud nuclear state." The ICBM would have a range of at least 3,500 miles — and be capable of reaching Alaska. In response, the United States and South Korea fired missiles into South Korea's territorial waters off the east coast — moves that could be seen as a warning message.
July 6: Trump vowed to "confront very strongly" the regime's "very, very bad behavior" in test-launching missiles. "I have some pretty severe things that we're thinking about," he told reporters in Poland. "Something will have to be done."
July 7: Two U.S. B-1B Lancer bombers flew from Guam to the Korean peninsula where they "practiced attack capabilities by releasing inert weapons at the Pilsung Range" in South Korea. Two U.S. military officials said it was intended to "send a clear message" to North Korea following the ICBM test.
July 21: The U.S. State Department announced that American citizens would soon be banned from traveling to North Korea. The "geographical travel restriction" would take effect late August. It would include certain restrictions for "humanitarian" reasons. The travel ban was announced a month after Warmbier's death.
July 28: North Korea fired its second intercontinental ballistic missile. It flew approximately 1,000 kilometers and landed in the Sea of Japan within Japan's exclusive economic zone, according to the Pentagon. "We cannot accept these repeated provocations by North Korea and we made our protest to the North Koreans using the strongest words possible," a Japanese government spokesman said.
July 29: The United States tested its Terminal High Altitude Area Defense system in Alaska, which successfully detected, tracked and intercepted a ballistic missile.
July 30: The United States and allies flew supersonic bombers and fighter jets over the Korean Peninsula during a 10-hour show of force against North Korea. Trump and Abe spoke, with the U.S. president assuring the Japanese prime minister that the United States stood by its ally. Abe later said he "fully agreed" with Trump that China should do more to stop North Korea's weapons program.
Aug. 2: The U.S. military successfully test-launched an ICBM from California, just days after the North Korean test. An Air Force statement said the test was not a response to the North Korean action, but show that America's nuclear enterprise is "safe, secure, effective and ready to be able to deter, detect and defend against attacks on the United States and its allies." The ICBM was equipped with a test reentry vehicle, which officials said showed it traveled about 4,200 miles to the Kwajalein Atoll in the Marshall Islands.
Aug. 5: The U.N. Security Council unanimously approved tough new sanctions against North Korea due to its weapons program. The sanctions included a ban on coal and other exports that are worth over $1 billion. Nikki Haley, the U.S. Ambassador to the U.N., called it "the most stringent set of sanctions on any country in a generation."
Aug. 7: North Korea responded to the sanctions with a statement aimed at the U.S. vowing a "severe lesson" with nuclear force if Washington employs military action.
Aug. 8: Trump promised "fire and fury like the world has never seen" if North Korea continues to threaten nuclear action. The remarks came shortly after it was revealed that U.S. intelligence agencies believed North Korea could put a nuclear weapon on a missile. A U.S. official said this doesn't mean that North Korea has fielded a nuclear-tipped ICBM; they still have to establish that they can deliver a weapon that survives reentry. After Trump's comments, North Korea announced it was "seriously reviewing" a plan to strike near the U.S. Pacific territory of Guam with missiles.
Aug. 9: Tillerson, en route to Guam for a refueling stop after visiting Asia, backed Trump's "fire and fury" remarks. But he denied there was an imminent threat: "I think Americans should sleep well at night."
Aug. 10: Trump doubled down on his previous promise of "fire and fury," telling reporters that maybe that statement wasn't "tough enough." He later said that he was watching the situation in Guam closely.
Aug. 11: Trump continued his heated rhetoric against North Korea, tweeting: "Military solutions are now fully in place, locked and loaded, should North Korea act unwisely. Hopefully Kim Jong Un will find another path!"
Aug. 17: South Korea's leader tamped down the threats of war in a nationally televised news conference. "I can confidently say there will not be a war again on the Korean Peninsula," President Moon Jae-in said.
Aug. 26: North Korea fired what were believed to be three short-range ballistic missiles, one of which exploded shortly after launch. It came during an annual joint military exercise between the U.S. and South Korea that the North condemned as an invasion rehearsal.
Aug. 29: North Korea launched an unidentified ballistic missile over the northern Japanese island of Hokkaido. Abe later said he spoke with Trump, who pledged the U.S. stands "100 percent with Japan." The White House released a statement that "all options are on the table" when it comes to the North.
Sept. 8: The Trump administration readied a package of diplomatic and military moves against the regime, including cyberattacks and increased surveillance and intelligence operations.
Sept. 14: North Korea fired a ballistic missile that flew over Japanese airspace before crashing into the Pacific Ocean. Tillerson said "continued provocations only deepen North Korea's diplomatic and economic isolation."
Sept. 17: In a tweet, Trump referred to Kim Jong Un as "Rocket Man." He added: "Long gas lines forming in North Korea. Too bad!"
Sept. 18: Secretary of Defense James Mattis told reporters he and his South Korean counterpart have "discussed the option" of putting nuclear weapons in Seoul to deter North Korea.
Sept. 19: In his first address to the United Nations, Trump threatened to "totally destroy" North Korea. "Rocket man is on a suicide mission," he said. "The United States has great strength and patience, but if it is forced to defend itself or its allies, we will have no choice but to totally destroy North Korea."
Sept. 21: Trump slapped additional sanctions on North Korea and said his goal is the "complete denuclearization" of North Korea. Hours later, Kim Jong Un called Trump "a frightened dog" and a "gangster fond of playing with fire" in a bellicose first-person statement. Kim also referred to Trump as a "dotard," an arcane term for a senile elderly person.
Sept. 23: North Korea said targeting the U.S. mainland with its rockets was inevitable. In response, Trump tweeted the regime may not "be around much longer."
Sept. 24: Trump added new restrictions on visitors and immigrants from North Korea.
Sept. 29: North Korea said international and U.S. sanctions were causing a "colossal amount of damage," but the regime insisted they would not work.
Sept. 30: Tillerson said the U.S. has direct channels of communication with North Korea. He said Washington was "probing" for potential dialogue.
Oct. 1: Trump responded to Tillerson, tweeting that the secretary of state was "wasting his time trying to negotiate with Little Rocket Man." He added: "Save your energy Rex, we'll do what has to be done!"
Nov. 28: North Korea fired another ballistic test missile — the first missile launch since September. "We will take care of it," Trump told reporters after the launch. "It is a situation that we will handle."