SEOUL, South Korea — South Korea's intelligence agency said Wednesday that Kim Jong Un's defense chief had been "removed" from his position in neighboring North Korea.
It was unclear whether Hyon Yong Chol had been executed or merely ousted by the regime.
A spokesman for the NIS intelligence agency told NBC News he could not confirm news agency reports that Hyon was shot to pieces with an anti-aircraft gun in front of hundreds of spectators.
Reuters, The Associated Press and South Korea's news agency Yonhap reported that lawmakers said the NIS had briefed them on the alleged anti-aircraft-gun execution during a closed-door parliamentary committee session Wednesday.
The lawmakers said that, according to the NIS' intelligence, 66-year-old Hyon was charged with treason, including allegations he had disrespected North Korea's autocratic ruler Kim Jong Un by falling asleep during one of his meetings.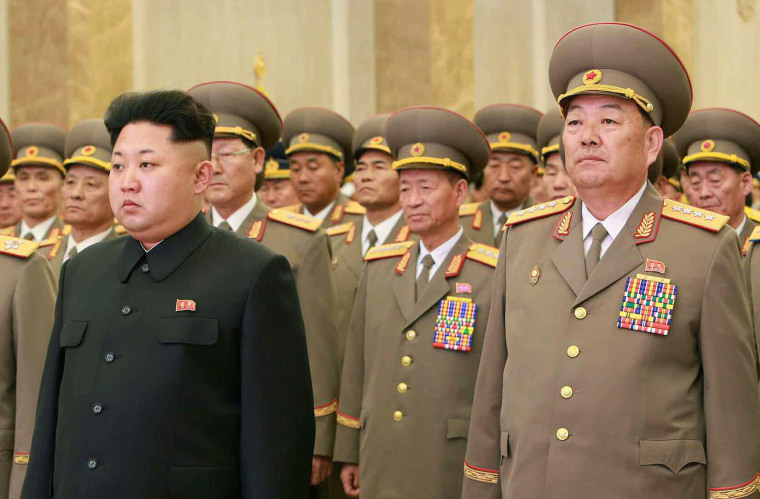 The office of Lee Chul-Woo, one of the lawmakers who attended the closed-door session, would not disclose exact details of the meeting to NBC News, but said Yonhap's story was an accurate report of what was said.
South Korean analysts were split on whether the purported purge would signal strength or weakness in Kim's leadership. The young dictator has already ordered 15 executions this year for people who challenged his authority, according to another closed-door briefing last month.
Hyon was executed at a firing range in the Kanggon Military Training Area, 14 miles north of the capital Pyongyang, according to the news agencies' reports of the NIS briefing.
Last month, the U.S.-based Committee for Human Rights in North Korea (HRNK) said satellite images had uncovered evidence that several people had been executed by anti-aircraft guns at Kanggon in October.
The satellite images recorded some "very unusual activity" at a 100-yard firing range typically used for pistols and light machine guns, HRNK said, when a battery of six ZPU-4 anti-aircraft guns — which have a range of 8,000 yards — were deployed there.
Behind the ZPU-4s appeared to be a line of troops and equipment, several trucks, a trailer and a bus, suggesting "senior officers or VIPs may have come to observe whatever activity was taking place," the report said.
"Busing in senior officers or VIPs to observe a ZPU-4 dry-fire training exercise at a small arms range amidst North Korea's fuel shortages would make no sense… The most plausible explanation of the scene captured in the October 7 satellite image is a gruesome public execution," it said.
Alexander Smith reported from London. Reuters and The Associated Press contributed to this report.