SEOUL, South Korea — President Donald Trump vowed that the U.S. is "100 percent with Japan" after North Korea fired a missile into its airspace, according to the leader of the Asian ally.
Prime Minister Shinzo Abe told reporters he spent 40 minutes on the phone with Trump to discuss Monday's launch — which he also described as "an unprecedented, serious and significant threat."
In a statement released by the White House on Tuesday, Trump reiterated that "all options are on the table" when it comes to North Korea.
He added: "Threatening and destabilizing actions only increase the North Korean regime's isolation in the region and among all nations of the world."
Earlier, a South Korean military official told NBC News that Kim Jong Un's regime had fired an "unidentified ballistic missile" over Japan.
Washington and Seoul are currently conducting war games, and North Korea typically reacts with anger to such military drills.
South Korea's Joint Chiefs of Staff said the missile traveled around 1,677 miles and reached a maximum height of 341 miles as it traveled over the northern Japanese island of Hokkaido early Tuesday local time. It later splashed into the Pacific Ocean.
"I sent a message to my family saying that 'Japan is no longer safe'"
Seoul says that while the North has previously fired rockets it said were carrying satellites over Japan — in 1998 and 2009 — it has never before used a ballistic missile, which is unambiguously designed for military strikes.
It was not immediately clear what type of missile had been fired by Kim.
However, the Associated Press reported that the South Korean military was analyzing whether the North had launched the Hwasong-12, a new intermediate-range missile that Pyongyang recently threatened to fire into waters near Guam, which hosts a major U.S. military base.
The Pentagon said in a statement that it could "confirm that the missile launched by North Korea flew over Japan."
A U.S. intelligence official told NBC News the context of the missile test was multi-faceted.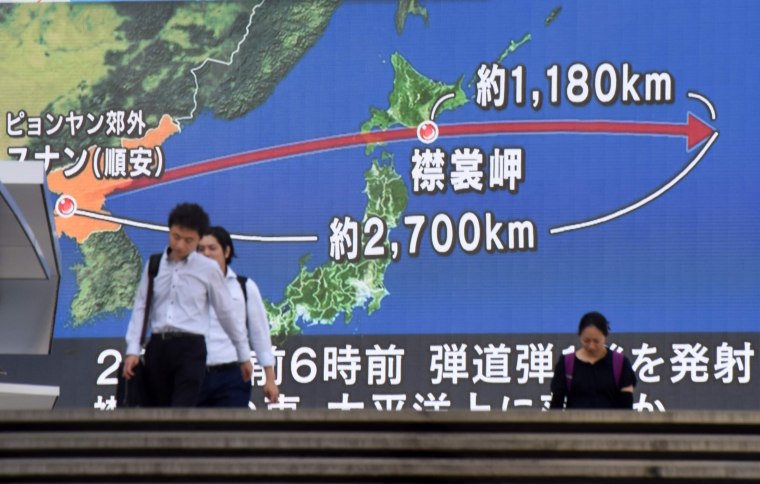 "North Korea has been conducting an unprecedented level of testing since early 2016 and we have not seen anything in their defiant posture to suggest this has changed," the official said.
Citing government sources, Japanese broadcaster NHK reported that no action to shoot down the missile was taken by Abe's government.
In recent weeks, North Korea has launched a series of missiles toward Japan, but most of them fell into the Sea of Japan to the west of the country.
Sirens wailed and loudspeakers urged residents to take precautions in many Japanese towns, sending some scrambling to leave their houses. Others confessed they had no idea how to react.
"We felt helpless knowing there was nothing we could do even while a missile was passing through the skies of Japan," Hiroaki Kumasaka, 38, told Reuters from Tokyo Station. "I sent a message to my family saying that 'Japan is no longer safe,' and the stranger standing next to me shared the same sentiments with me."
Tokyo said there was no reported damage from the missile but Abe vowed to "do our utmost to protect people's lives."
After speaking to Trump, the Japanese prime minister added: "Japan's and the U.S. positions are totally at one."
Related: Miscommunication Is Biggest Threat in U.S.-N. Korea Standoff
North Korea aims to build an arsenal of nuclear missiles that can reliably target the United States.
Guam, the Micronesian island thrust into the Korean conversation after Pyongyang threatened it earlier this month, said in a statement that officials were "monitoring the situation."
Kim has conducted several long-range ballistic missile tests this year, including firing two intercontinental ballistic missiles. Such moves have greatly heightened regional tensions.
Stella Kim reported from Seoul, South Korea. Daniella Silva reported from New York.