HONG KONG — North Korea fired a short-range missile toward the sea off its east coast on Tuesday, South Korean and Japanese officials said, as the country's U.N. envoy blamed "hostile" U.S. policy for his country's continued development of nuclear and ballistic weapons.
In a statement, South Korea's Joint Chiefs of Staff said that North Korea had launched a projectile believed to be a short-range missile from the Mupyong-ri area of Jagang Province around 6:40 a.m. local time (5:40 p.m. Monday ET).
"We regret that the missile was fired at a time when political stability on the Korean Peninsula is extremely important," Defense Ministry spokesman Boo Seung-chan said, echoing comments by South Korea's National Security Council, which convened an emergency meeting.
Japanese Prime Minister Yoshihide Suga also confirmed the launch, saying the projectile "could be a ballistic missile." North Korea is barred from testing ballistic missiles under U.N. resolutions.
The U.S.-Indo Pacific Command, which has 80,000 U.S. troops stationed in South Korea and Japan, said that while the launch did not pose an immediate threat to the U.S. or its allies, it highlighted the "destabilizing impact" of North Korea's illicit weapons programs.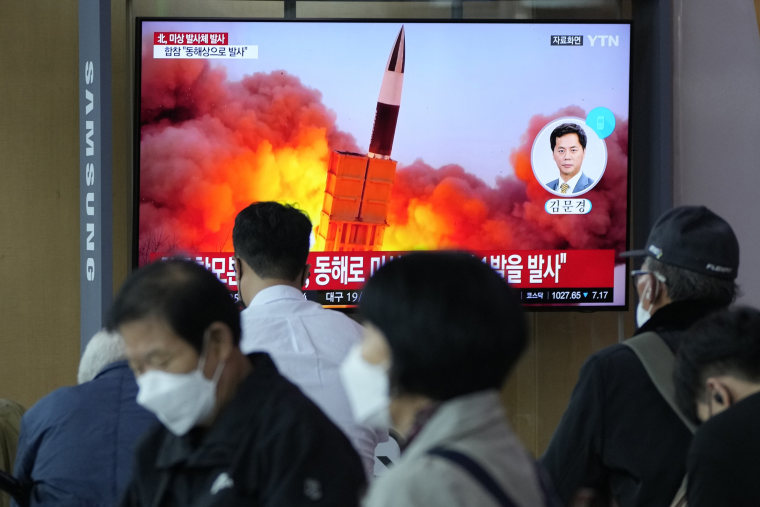 The launch took place shortly before North Korea's U.N. ambassador, Kim Song, addressed the General Assembly in New York. In his speech, Kim said that tensions on the Korean Peninsula were fundamentally caused by the U.S. and South Korea's "hostile" policies toward the North.
Kim described South Korea's recent moves to enhance its weapons arsenal as "dangerous," saying they upset the balance of military power on the Korean Peninsula. He said North Korea had the right to defend itself and that its nuclear and missile programs were preventing military conflict by serving as a "reliable deterrent."
Shin Beom-chul, an analyst at the Korea Research Institute for National Strategy in Seoul, said that with inter-Korean talks back on the table, South Korea may try to avoid antagonizing the North, noting that Seoul expressed "regret" over Tuesday's missile launch rather than calling it a "provocation" as it did with North Korea's earlier tests.
"In addition, North Korea is trying to drive a wedge between South Korea and the U.S.," Dr. Shin said.
The missile launch on Tuesday follows a recent flurry of activity on the Korean Peninsula, which is technically still in a state of war almost 70 years after the Korean War ended in an armistice. Earlier this month North Korea tested a new long-range cruise missile, its first weapons activity in almost six months. Days later, the North launched two ballistic missiles, while South Korea said it had successfully tested a submarine-launched ballistic missile, in a major advance for its weapons program.
Download the NBC News app for breaking news and politics
Speaking at the U.N. last week, South Korean President Moon Jae-in made no mention of the North Korean missile tests, instead reiterating his call for dialogue with North Korea and a formal declaration ending the war. A senior North Korean official initially dismissed Moon's proposal as "premature," but Kim Jong Un's sister, Kim Yo Jong, who is emerging as a powerful figure in the North Korean government, later said the North could be open to an inter-Korean summit if the U.S. and South Korea dropped their "double standard" of trying to limit North Korea's weapons arsenal while building up their own.
On Sunday, South Korea's Unification Ministry urged North Korea to resume communications on the two countries' cross-border hotlines, which have been severed for more than a year except for a brief period last summer. Boo, the Defense Ministry spokesman, said Tuesday that North Korea had not answered the South's calls so far.
At the U.N., North Korea's Kim said that to achieve peace on the Korean Peninsula, the U.S. and South Korea must first stop holding joint military exercises and deploying strategic weapons aimed at the North.
If those steps are taken, he said, "we are also prepared to respond willingly at any time."
"But it is our judgment that there is no prospect, at the present stage, for the U.S. to really withdraw its hostile policy towards the DPRK," he added, using the country's official name, the Democratic People's Republic of Korea.