CHONGJIN, North Korea — If you want to travel back in time, take an internal flight in North Korea. The journey also will provide a glimpse of where this country believes it's going.
Air Koryo is North Korea's national — and only — airline. It is listed by one aviation website as the world's worst carrier, operating just four planes internationally.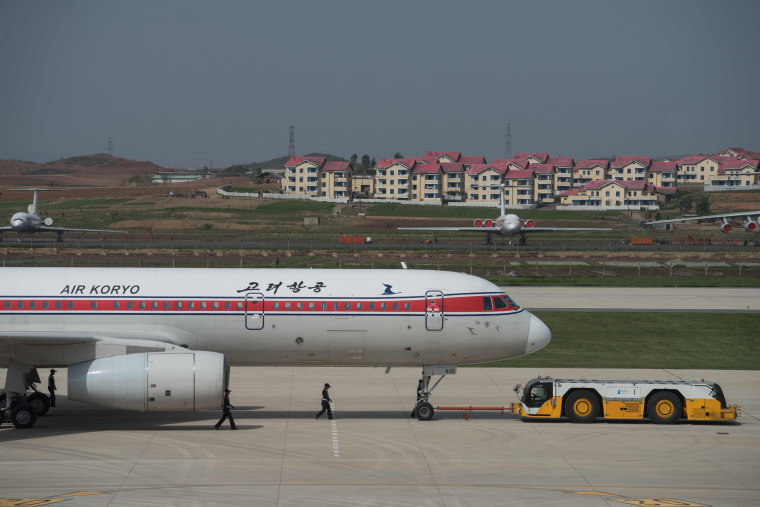 It boasts a good foreign safety record, but domestically relies on half-century-old planes and its accident record is unpublished.
An NBC News team flew Friday from North Korea's capital Pyongyang to Orang, a county near the border with China, on what aviation enthusiasts would call a "vintage" plane. It was a 1950s-designed, Soviet-made propeller aircraft — the Ilyushin 18.
The fittings were retro: The galley featured a full-sized kitchen sink hidden behind yellow draped curtains. It would have thrilled the hundreds of foreign tourists who flocked to North Korea's first air show just two weeks ago.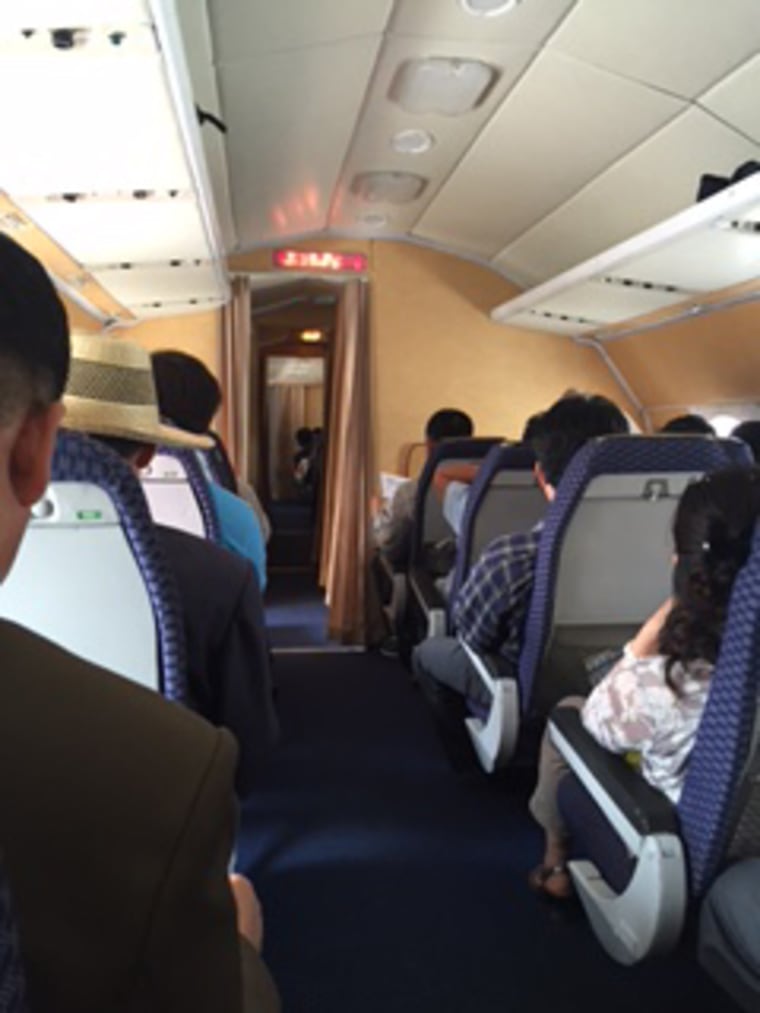 The plane's 100-or-so passengers provided a snapshot of this isolated nation's past and future.
Many were officials — military men dressed in the starched olive green uniforms of North Korean leader Kim Jong Un's army, and tidy Communist bureaucrats wearing the regulation Party badge depicting Kim's father, grandfather or both.
Once airborne, a senior military officer prevented us from filming the fields and mountains below — this is, after all, the world's most closed and secretive society.
Yet nearly everyone on board was talking on a cellphone before takeoff — some had two. A few tapped on tablets, and many women were very elegantly dressed.
Some passengers clutched bags of alcohol and cigarettes they had bought at the pristine domestic airport terminal, whose shelves were stocked with Scotch whiskey, French cognac and Argentinian wine. So much for the international sanctions designed to deter Kim's nuclear ambitions.
As the plane took off over lush fields filled with peasants bent over in labor, passengers scanned a Party newspaper they had been handed. It was filled with stories of heroic North Korean troops and workers battling damage caused by the country's worst floods in 70 years.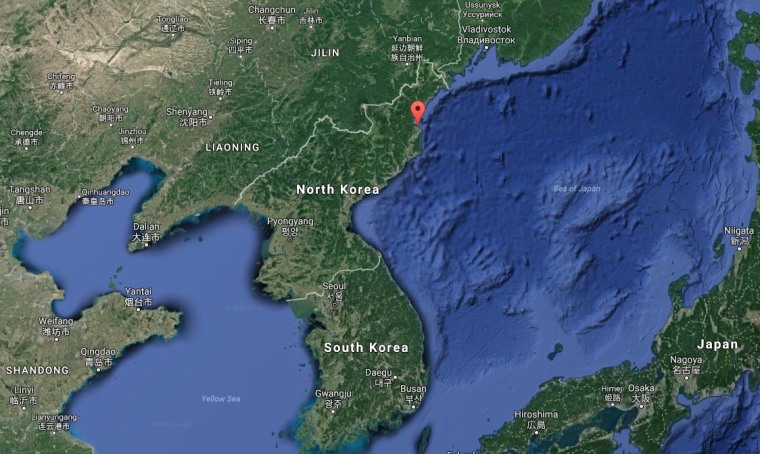 The plane was heading to the same devastated province where, we read, "service personnel worked day and night ... in the all-out charge to transform the afflicted areas into socialist fairyland."
After a glass of refreshing water — no in-flight meal — the smooth, brief flight ended at a runway flanked by six MiG warplanes, part of the military muscle Kim is determined to strengthen.
All around the airport's sole building, workers toiled in the cornfields and hundreds of bicycles filled the almost car-free roads.
Related: Why Today's North Korea Feels Like 1980s China
Here was a vision of China in the 1970s. The harvest, we read on board, was a good one: "So many apples hang in clusters that it seems the land would give way."
North Korea was being turned into "a socialist paradise" in the reports, whereas South Korea was described in the same newspaper as "a living hell" and the U.S. an "aggressive and a constant threat."
Kim is building his nuclear arsenal against these enemies, the newspaper intones.
"Its recent nuclear warhead test was a slap in the face for the U.S.,"
"The target of its nuclear attack," according to the article.
We left the airport via a dirt road, driving around a pristine coastline of sandy beaches and pretty bays, and into the industrial city of Chongjin, its steel works and belching chimneys a picture of another era.
The world's climate accords have no remit here.
This is the essence of North Korea, a country of startling contrasts. The dated aircraft versus the defiant nuclear test. The desperately poor peasant in contrast to the cappuccino-drinking official.
Related: U.S. 'Should Be Increasingly Worried' by Kim's Nuke Tests
The pride of self-reliance in a world of enemies and sanctions stands alongside the desperate truth — a nation that has fallen decades behind its hated southern neighbor.
On the in-flight newspaper South Korea was described as "a modern version of a slave society ... a dark land without future" — a view many outsiders have of North Korea.