HONG KONG — North Korea launched an intercontinental ballistic missile for the first time since 2017, its neighbors said Thursday, in a major escalation of its weapons program likely to stoke fresh tensions with the United States and its allies.
Japanese Prime Minister Fumio Kishida said the missile was believed to be a new kind of ICBM and condemned the test, which comes at a time when the world is focused on Ukraine, as an "unforgivable outrage."
"These series of actions taken by North Korea threaten the peace and security of our country, the region and the international community, and they are absolutely unacceptable," he said from Brussels, where he landed Thursday to meet with world leaders as Russia's invasion entered its second month.
South Korea's Joint Chiefs of Staff also said the missile appeared to be an ICBM. The South Korean military swiftly responded by test-firing multiple ground, sea and air missiles into the sea between Japan and the Korean Peninsula.
South Korean President Moon Jae-in strongly condemned the launch, which he said posed "a serious danger to the international community as well as the Korean Peninsula amid the war in Ukraine." The launch comes less than two months before Moon leaves office, presenting a challenge to his conservative successor.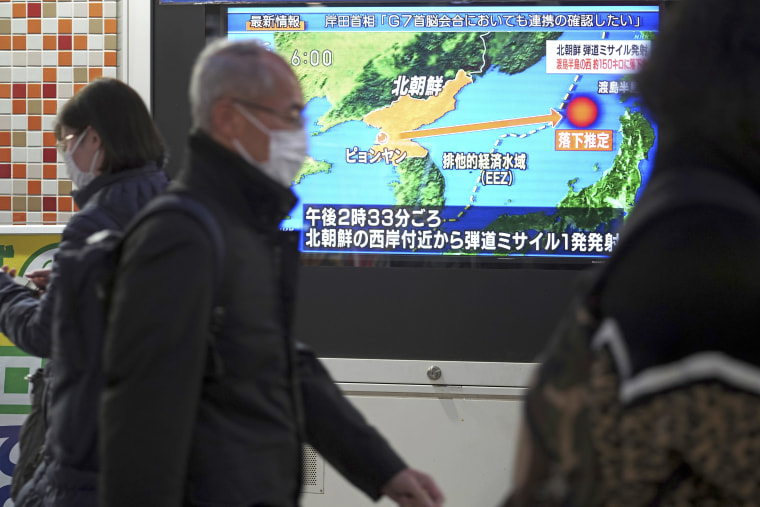 The dramatic move, which officials in the U.S. had warned might be coming, is the latest in a series of weapons tests that experts say are meant to force the international community to recognize Kim Jong Un's regime as a nuclear power and lift sanctions that have devastated the country's economy.
The launch ended a self-imposed moratorium on testing ICBMs and nuclear weapons that North Korea declared in 2018 ahead of diplomatic talks with former President Donald Trump that ultimately collapsed. The country is barred from such tests under United Nations Security Council resolutions.
White House press secretary Jen Psaki condemned the test and said the Biden administration was assessing the situation in close coordination with allies.
"This action demonstrates that the DPRK continues to prioritize its weapons of mass destruction and ballistic missile programs over the well-being of its people," she said in a statement, referring to North Korea by its official name, the Democratic People's Republic of Korea. "We urge all countries to hold the DPRK accountable for such violations and call on the DPRK to come to the table for serious negotiations."
Japan's top government spokesman, Chief Cabinet Secretary Hirokazu Matsuno, said the missile was launched east toward the sea. He said it landed at 3:44 p.m. local time (2:44 a.m. ET) about 90 miles west of Oshima Peninsula on northern Hokkaido Island, within Japan's exclusive economic zone.
Matsuno said the missile was estimated to have been in the air for 71 minutes, flew a distance of 680 miles and reached a maximum altitude of more than 3,725 miles.
That compares with 53 minutes, a distance of 590 miles and an altitude of about 2,780 miles when North Korea last tested an ICBM in November 2017. Pyongyang said that missile, the Hwasong-15, could reach anywhere in the United States.
The South Korean military said Thursday's missile was launched from the Sunan area, the site of Pyongyang's international airport. A missile launched there on March 16 appeared to explode shortly after liftoff.
Earlier this month, the Biden administration had warned that North Korea was secretly testing elements of a new ICBM system ahead of a potential full-range launch. It imposed new sanctions over two missile tests on Feb. 27 and March 5 that it said involved the Hwasong-17, North Korea's largest ICBM system. The Hwasong-17 first appeared at a military parade in October 2020.
North Korean state media quoted leader Kim Jong Un as saying that the two tests were part of a plan to launch reconnaissance satellites to monitor military action by the U.S. and its allies.
North Korea has not said what kind of missile was used in the test on Thursday. Compared with the Hwasong-15, the Hwasong-17 is much larger and may be better able to thwart missile defense systems, analysts say.
"It gives the North Koreans more options," said Daniel Pinkston, a lecturer in international relations at Troy University in South Korea. "They can load two or three or four warheads in the payload and deliver them to separate targets," he said, although North Korea has not yet demonstrated the ability to do so. 
North Korea has ramped up testing of shorter-range missiles in recent months, especially since the start of the year, leading the Biden administration to impose new sanctions on the country.
The tests have included an intermediate-range ballistic missile capable of reaching the U.S. territory of Guam, as well as a hypersonic missile and a ballistic missile fired from a submarine. The country hinted in January that tests of nuclear weapons or long-range ballistic missiles might be next.
Jennifer Jett reported from Hong Kong, Stella Kim from Los Angeles and Arata Yamamoto from Tokyo.