Defying the United Nations, North Korea on Friday launched one and possibly two ballistic missiles, South Korean military officials said.
A launch occurred at 5:55 a.m. Seoul time (4:55 p.m. Thursday ET) and the missile flew 800 km, or nearly 500 miles, a South Korean military official said.
Radar captured a another image at 6:17 a.m. localt time which resembled another missile launch in the same area, but that is hard to verify because the object only traveled around 10 miles, before disappearing, the official said.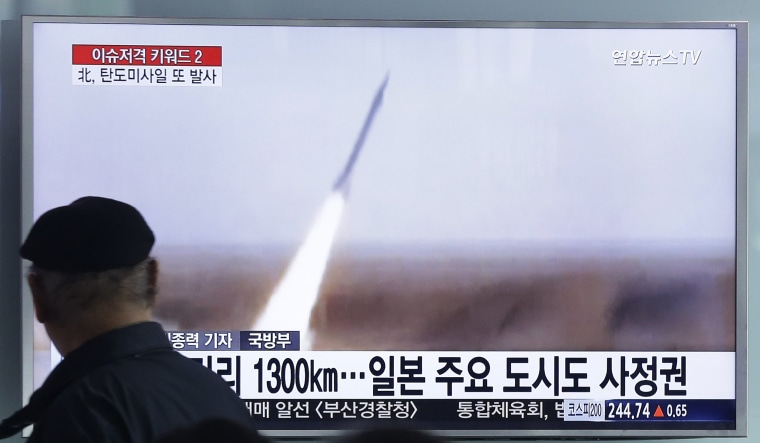 "What North Korea fired this morning looks like mid-range ballistic missiles, which North Koreans call Nodong missile," another South Korean military officer at the Ministry of Defense said.
North Korea is banned by the U.N. from conducting missile and nuclear tests.
The reclusive nation routinely ramps up its rhetoric against the U.S. around the time of joint U.S.-South Korean military exercises, which are currently under way. On Wednesday, a North Korean court sentenced an American college student to 15 years hard labor for allegedly stealing a propaganda sign.
U.S. State Department spokesman John Kirby said the U.S. is aware of the reports of the missile launch and is monitoring the situation.
"We call again on North Korea to refrain from actions that further raise tensions in the region and focus instead on taking concrete steps toward fulfilling its international commitments and obligations," Kirby said in a statement.
North Korea on March 10 fired two ballistic missiles, and a week before that it fired several short-range projectiles into the sea. The country has also threatened to carry out a preemptive nuclear strike against the U.S.
The rogue state on Feb. 6 launched a long-range rocket which was condemned as a thinly-veiled international ballistic missile test, and on Jan. 6 conducted its fourth nuclear test since 2006.
The U.N. and U.S. imposed new sanctions on North Korea in response.