North Korea has launched a medium-range ballistic missile, U.S. and North Korean officials said Sunday, the latest in a series of tests carried out since President Donald Trump came into office.
The launch Saturday came a week after the isolated nation test-fired another missile, which experts said marked a step forward in North Korea's missile program.
The state-run news KCNA said North Korean leader Kim Jong Un personally supervised the test-firing of a Pukguksong-2, a ground-to-ground medium- to long range strategic ballistic missile. Kim called the launch "perfect" and "expressed his great satisfaction," KCNA said.
A White House official told NBC News that the missile was of a type that was last tested in February and that had a shorter range than missiles North Korea launched more recently.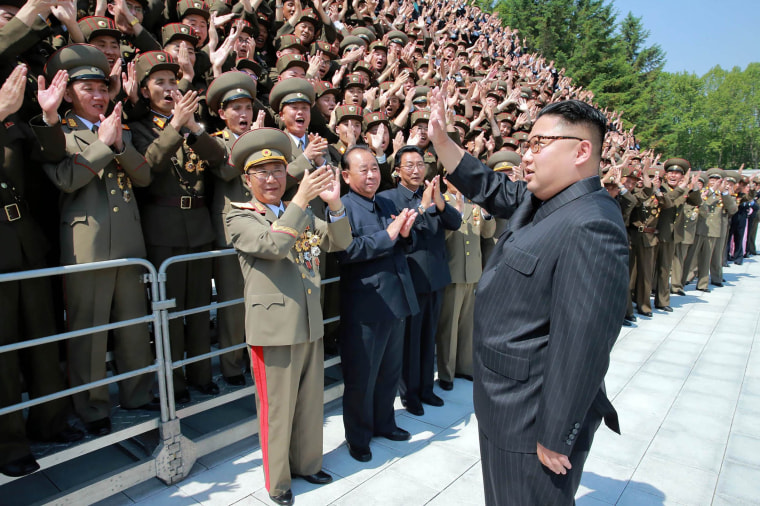 U.S. Pacific Command said in a statement that it had detected and tracked the launch at 9:59 p.m. Hawaii time (3:59 a.m. ET Sunday).
Later on Sunday, Secretary of State Rex Tillerson told Fox News that North Korea nuclear testing was "disappointing, disturbing."
Japanese Prime Minister Shinzo Abe also condemned the launch, describing it as a challenge to the international community.
"North Korea forcefully conducted a ballistic missile launch once again, only within one week [since the last missile launch] and despite strong warnings from the international community," he told reporters on Sunday. "This is something which tramples on the international community's effort to resolve the matter peacefully and a challenge to the world."
South Korea's Foreign Ministry said the tests were "reckless and irresponsible actions throwing cold water over the hopes and desires of this new government and the international community for denuclearization and peace on the Korean peninsula," according to Reuters.
South Korea's Joint Chiefs of Staff said the projectile was fired from an area around Pukchang, near North Korea's capital, according to Reuters. The office did not give further details.
North Korea has rejected all calls to curtail its nuclear and missile programs, calling them legitimate self-defense. It has been working to develop a nuclear-tipped missile capable of striking the U.S. mainland.
Related: That North Korean Missile Really Worked, Say U.S. Officials
"Today the U.S. mainland and the Pacific operational theater are within the strike range of the DPRK and the DPRK has all kinds of powerful means for annihilating retaliatory strike," North Korea's state KCNA news agency said in a commentary on Saturday.
Sunday's was the 10th test since Trump was inaugurated on Jan. 20. Last week, North Korea successfully launched a KN-17 missile, which some experts said may one day may be capable of reaching Alaska or Hawaii.
There have been escalating tensions in the Korean peninsula over the North's missile tests, as well as the deployment in South Korea of the U.S. missile defense system known as Terminal High Altitude Area Defense, or THAAD.