The half-brother of North Korean leader Kim Jong Un died suddenly at an airport in Malaysia's capital on Tuesday, local officials told Reuters.
Police said they were investigating the cause of death of Kim Jong Nam after he fell ill at the airport in Kuala Lumpur, according to the news agency.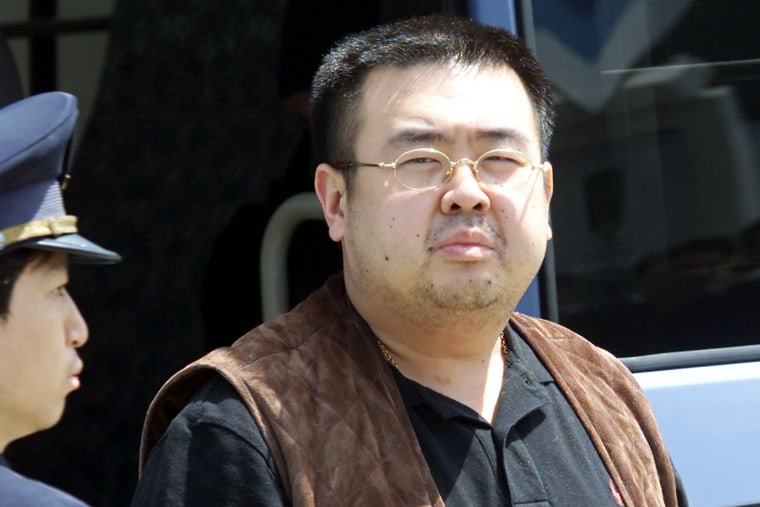 NBC News was not immediately able to verify that the man was the half-brother of North Korea's dictator. An official who answered the phone at the district police headquarters told NBC News that "the case is still under investigation." He declined to give his name or comment on the dead man's identity.
Kim Jong Nam and Kim Jong Un share a father in former North Korean leader Kim Jong Il, who died in 2011. But the pair have different mothers.
Details remained unclear. South Korean officials said it appears he did not die of natural causes.
Unification Ministry spokesman Jeong Joon-hee told a news briefing on Wednesday that the South Korean government believed Kim Jong Nam was murdered, according to Reuters.
"We have yet to have the full briefing from the Malaysian authorities but circumstances seems to be pointing towards confirming that the man killed was Kim Jong Nam," Chung Joon Hee, the spokesman of South Korea's Unification Ministry, told NBC News on Wednesday.
South Korean lawmaker Lee Cheol Woo, the secretary-general of the Intelligence Committee of South Korea's National Assembly, said the committee was told by the National Intelligence Service that the body is believed to be that of Kim Jong Nam and were awaiting autopsy results.
Believed to be in his 40s, Kim Jong Nam is believed to have fallen out of favor with the regime in 2001 after he was caught trying to enter Japan under a fake passport, saying he wanted to enter Tokyo Disneyland.
His reported death comes days after North Korea declared its first missile test since the inauguration of President Donald Trump.
Earlier this month South Korea said its secretive northern neighbor dismissed its minister of state security, who was a key aide to Kim Jong Un and ran the country's secret police.