It will take a couple of days for the U.S. to determine if North Korea's claim it detonated a hydrogen bomb is a big lie or a big problem — but experts already think it's more likely the event was just a blast from the past.
While the hermit kingdom may have been trying out a "boosted" nuclear device — more powerful than what it's detonated before but far less dangerous than an H-bomb — the evidence so far points to a repeat of previous tests.
Seismic data from Tuesday night's event would have shown a much greater force yield if hydrogen was involved, experts said. Instead, it was identical to the data collected after North Korea's tests in 2006, 2009 and 2013.
Air samples collected by drone should soon give analysts an idea of what happened, a senior U.S. military official said. But for the moment, the North Korean boast is being treated with skepticism.
"On balance, it is not believed that North Korea tested a two-stage H-bomb," said David Albright, president of the Institute for Science and International Security and author of "Solving the North Korean Nuclear Puzzle," an early history of the program.
"What could it have tested? On one side, North Korea may be bluffing about this test, meaning it tested a fission implosion device similar to the ones it previously detonated."
Joseph Cirincione, president of the global security firm Ploughshares Fund, was equally dubious about the announcement out of Pyongyang.
"Even a failed hydrogen bomb test would have a yield of 10, 20, 50 kilotons of force. This is a 6-7 kiloton yield, smaller than the last test," he said.
"What we're speculating is they tried to do a boosted nuclear device, which is an atomic bomb that has a little bit of hydrogen, an isotope in it called tritium, " added Cirincione.
Before it gave up its nuclear weapons program under Nelson Mandela, South Africa had worked on a boosted device, Albright noted. But South Africa had access to tritium, which North Korea has been trying to get, he said.
"You should be worried but you shouldn't be freaked out," Cirincione said.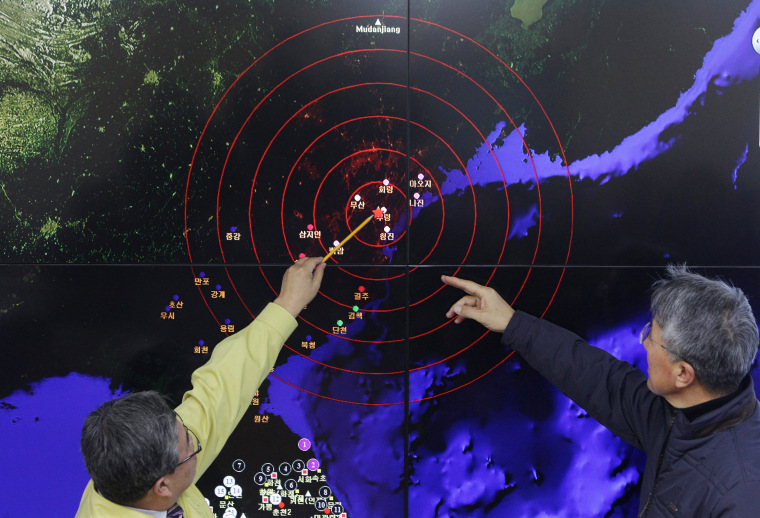 American estimates of North Korea's nuclear stockpile are hazy, and there is disagreement on whether Kim Jong-Un's regime has miniaturized weapons enough to put them atop missiles.
U.S. officials said North Korea may have up to "a few dozen" nuclear weapons that could be fit on its vast fleet of ballistic missiles, which are capable of hitting targets in Japan, South Korea or elsewhere in the northern Pacific, including U.S. military bases as far south as Guam.
The senior military official told NBC News that the U.S. was aware of test preparation for two weeks and launched drones to get a baseline air sample near the site. It sampled the air again on Wednesday and will test for traces of tritium that would indicate North Korea has something more than a standard nuclear weapon.
"It's bad enough they have a crude nuclear device, but an H-bomb would be much, much worse," Cirincione said. "The good news is it looks like they don't have a hydrogen bomb. The bad news is they are still testing. They are the only country that has tested since 1998 and they will learn something even from a failed test."