Nikki Haley, the U.S. ambassador to the United Nations, blasted North Korea's latest missile test Sunday, saying it "is not the way to sit down" with President Donald Trump.
Haley warned that the United States would continue to "tighten the screws" on the isolated nation and said North Korean leader Kim-Jong Un was in a "state of paranoia."
Her comments came hours after North Korea launched a ballistic missile that flew about 430 miles before crashing into the sea, U.S. and South Korean military officials said, in what appeared to be the latest missile test in defiance of U.N. sanctions.
The missile was launched at 5:27 a.m. Sunday Seoul time (4:27 p.m. Saturday ET), off Kusong north of the North Korean capital of Pyongyang, a South Korean military official told NBC News.
North Korea's state-run news agency, KCNA, said the military conducted a "successful launch of a surface-to-surface mid- to long-range rocket of the Hwasung-12 type.
Reuters quoted the agency as saying Monday that the test was aimed at verifying the capability to carry a "large-scale heavy nuclear warhead." The assertion couldn't be confirmed; many North Korean claims later turn out to have been exaggerated.
Haley said on ABC's "This Week" that the test appeared to be intended to send a message to South Korea and that North Korea's missile program was "getting kind of close to home" for Russia.
Related: North Korea Launches Ballistic Missile in New Test
Earlier Sunday, the White House press secretary's office said in a statement that "North Korea has been a flagrant menace for far too long."
The White House also suggested that Russia should be concerned. "With the missile impacting so close to Russian soil — in fact, closer to Russia than to Japan — the President cannot imagine that Russia is pleased," the White House statement said.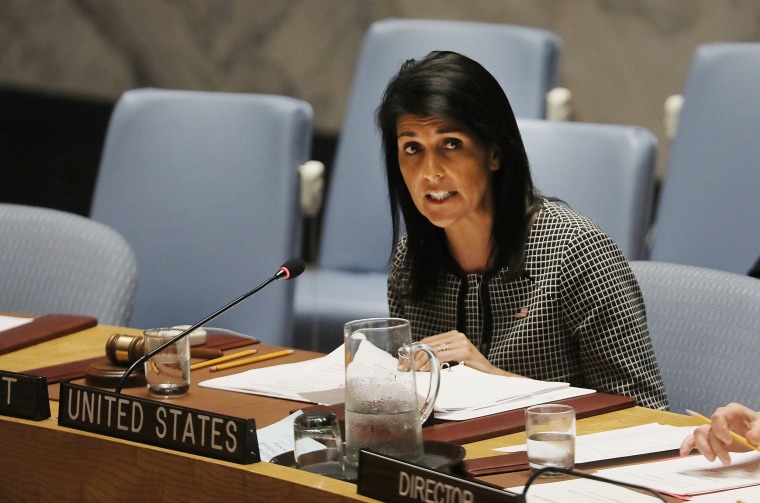 The escalating tensions came the day after a top North Korean diplomat said Pyongyang would be willing to meet with the Trump administration for negotiations "if the conditions are set."
And Trump had opened the door earlier this month to talks, saying he would be "honored" to meet North Korean leader Kim Jong Un.
The missile test came as a first test to newly elected South Korean President Moon Jae-in, who called for the National Security Council to meet on the matter, a presidential spokesperson said.