SEOUL — North Korea says it is "seriously reviewing" a plan to strike the U.S. Pacific territory of Guam with missiles — just hours after President Donald Trump told the regime that any threat to the United States would be met with "fire and fury."
A spokesman for the Korean People's Army, in a statement carried by the regime's state-run KCNA news agency on Wednesday (local time), said it was going over "military options to form attack positions" around the U.S. territory in order to "send a stern warning" to the United States.
In another statement citing a different military spokesman, North Korea also said it could carry out a pre-emptive operation if the United States showed signs of provocation, according to Reuters.
The announcement came amid sharply escalating tensions between the North, led by Kim Jong Un, and the United States.
It also came just two days after the 72nd anniversary of the world's first atomic bomb attack on Hiroshima, Japan. That bombing killed 140,000 people, and was followed three days later by another that killed more than 70,000 people in Nagasaki.
Related: Key Facts About Guam, the Center of U.S.-North Korea Tensions
"North Korea best not make any more threats to the United States," Trump warned Tuesday from his Bedminster Golf Club in New Jersey. "They will be met with fire, fury and, frankly, power the likes of which this world has never seen before."
U.S. officials believe North Korea now has the capability to put a nuclear weapon on a missile, NBC News reported on Tuesday, confirming a report in The Washington Post.
That advance does not mean North Korea has a nuclear-tipped intercontinental ballistic missile, according to a U.S. official briefed on the intelligence assessment. Pyongyang still has to establish that it can deliver a weapon accurately that survives reentry.
North Korea fired an intercontinental ballistic missile in late July in a test that the regime and independent experts said showed that some U.S. cities are now within its target range.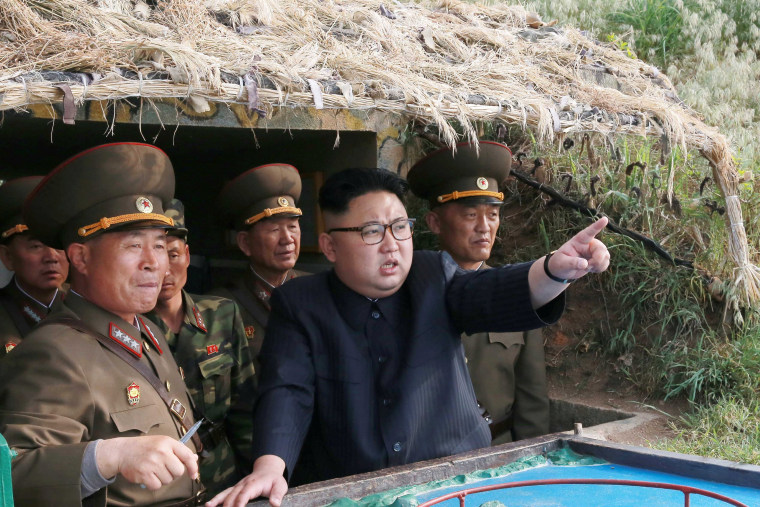 The Department of Defense detected the ballistic missile launch and later confirmed it to be an ICBM, U.S. officials said. It flew approximately 1,000 kilometers and landed in the Sea of Japan, within Japan's exclusive economic zone, according to Pentagon spokesman Capt. Jeff Davis.
The United Nations Security Council unanimously leveled new sanctions on North Korea on Saturday that could gut the regime's $3 billion annual export revenue by a third. The move was widely seen as punishment for the North's nuclear and missile programs.
U.S. Ambassador Nikki Haley called the resolution "the single largest economic sanctions package ever leveled against the North Korean regime" and "the most stringent set of sanctions on any country in a generation."
Guam Gov. Eddie Baza Calvo struck a calm and confident tone in a brief address posted to YouTube Wednesday aimed at allaying residents' fears.
"I know we woke up to media reports of North Korea's talk of revenge on the United States and this so-called new-found technology that allows them to target Guam," Calvo said. "I want to reassure the people of Guam that currently there is no threat to our island or the Marianas."
Calvo said "there are several levels of defense, all strategically placed to protect our island and our nation," and that he had spoken to the White House which affirmed that the U.S. would defend Guam as its own.
The island's governor said he nonetheless was convening a Unified Coordination Group as a result of the threat "to discuss the state of readiness of our military and our local first responders."
In Japan, a U.S. ally that is even closer to North Korea, officials struck a similarly measured tone.
The claim that North Korea can now miniaturize a nuclear weapon "is something of great interest to us and we are constantly gathering new information and analyzing that data," Japan's chief cabinet secretary, Yoshihide Suga, told reporters Wednesday.
"It is extremely important to strengthen the deterrence made possible by the Japan-U.S. alliance," Suga said, adding that "we are continuing to develop the cooperation between the two nations including this area of security."
Rep. Madeleine Z. Bordallo, a Democrat who represents the territory in Congress, issued a statement calling North Korea's nuclear capabilities "troubling," but added, "I am confident in the ability of U.S. defenses to protect our island and allies in the region."
"President Trump must work in partnership with the international community to de-escalate the growing tensions in the region and prevent North Korea from advancing its nuclear program further," Bordallo continued, also calling on Trump to show "steady leadership" as U.N. sanctions against North Korea are carried out.
Trump has previously vowed to confront North Korea "very strongly" for testing missile launches, telling reporters during a trip last month to Warsaw, Poland, that "I have some pretty severe things that we're thinking about," in terms of potential responses.
Stella Kim reported from Seoul, Daniel Arkin reported from New York City, and Arata Yamamoto reported from Tokyo.