SEOUL, South Korea — North Korea ordered all South Koreans out of the jointly-run Kaesong factory zone Thursday in a rapidly-escalating spat between the countries.
Pyongyang said it was seizing South Korean assets and turning the industrial facility into a military zone, according to officials in Seoul.
The announcement was made on North Korean state television and has not been formally communicated to the South, a government official in South Korea told NBC News on condition of anonymity.
"We did not receive any direct information regarding the statement," the official added.
North Korea's move comes after Seoul decided to suspend activity at the shared complex, which has been a rare symbol of cooperation between the two countries for more than a decade.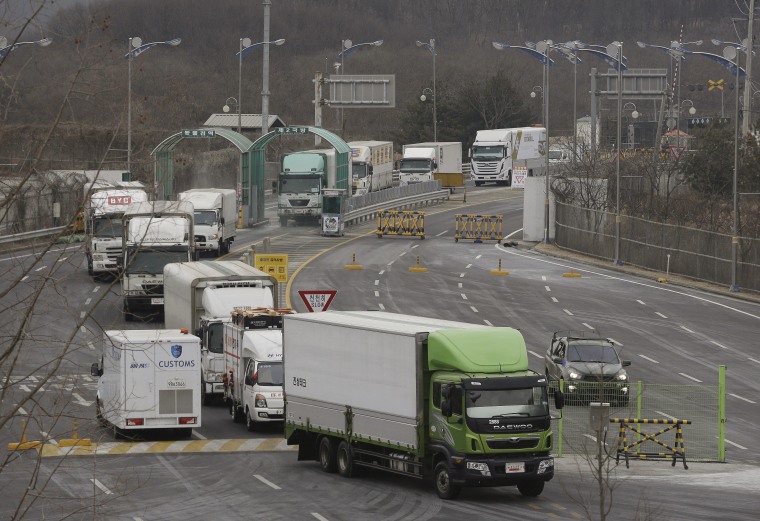 Seoul's decision to halt work at the complex was a response to Pyongyang's launch of a long-range rocket Sunday, which sparked widespread international condemnation.
U.S. senators voted overwhelmingly late Wednesday to back a bill aimed at derailing the North's nuclear ambitions.
Related: N. Korean Leader Had Military Chief Executed: Sources
North Korea's Committee for the Peaceful Reunification of the Fatherland — part of Kim Jong Un's ruling Workers' Party — said in a televised statement that Pyongyang "will deport all South Korean workers as of 5 p.m. [3:30 a.m. ET]. We will freeze all South Korean assets including factory facilities, goods and all others and those being deported may only take their personal belongings."
The fiery statement also called the South's shutdown of the plant a "dangerous declaration of war" and contained crude insults against South Korea's President Park Geun-hye, calling her a "confrontational wicked woman" who lives upon "the groin of her American boss," according to The Associated Press.
A South Korean government official later confirmed that all 280 South Korean workers at the site had returned across the border.
Related: North Korea Launches Long-Range Rocket in Defiance of U.N. Ban
The complex has long been seen as above the constant squabbling and occasional bloodshed between the rival Koreas, one of the last few bright spots in a relationship more often marked by threats of war.
North Korea pulled its workers from Kaesong for about five months in 2013, angered by U.S.-South Korean military drills.