North Korea paraded its military might Saturday in a massive public display that experts said showed new capabilities for its long-range intercontinental ballistic missiles (ICBMs).
Kim Jong Un did not speak during the huge event, which celebrates the birthday of North Korea's founding ruler Kim Il Sung, but another top official, Choe Ryong Hae, warned that the North would stand up to any threat posed by the United States.
Choe said President Donald Trump was guilty of "creating a war situation" on the Korean Peninsula by dispatching U.S. forces to the region.
"We will respond to an all-out war with an all-out war and a nuclear war with our style of a nuclear attack," Choe added.
The parade, the annual highlight of North Korea's most important holiday, came amid growing international worries that North Korea may be preparing for its sixth nuclear test or a major missile launch, such as its first flight test of an ICBM capable of reaching U.S. shores.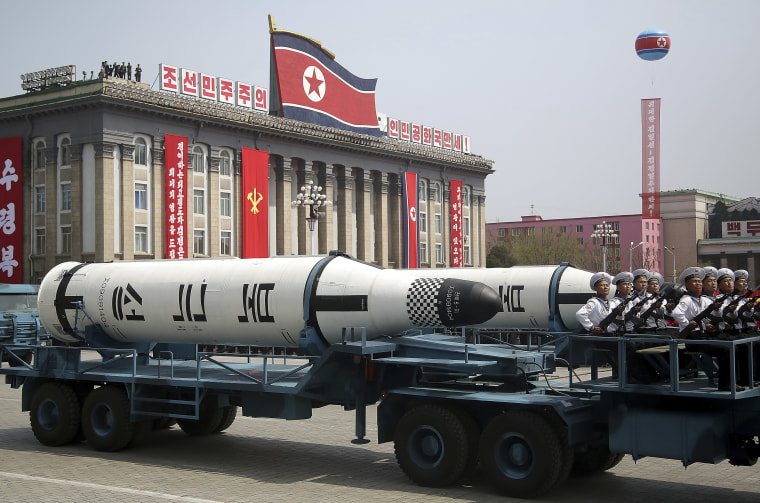 Experts said the parade included prototype missiles that were longer than previous versions and appeared to have improved launch capabilities.
Kim Dong-yub, a North Korea expert at Seoul's Institute for Far Eastern Studies, said the canisters and trucks suggested that the North was developing technology to "cold launch" ICBMs, ejecting them from the canisters before they ignite. This would allow North Korea to prevent its limited number of ICBM-capable launcher trucks from being damaged during launches and also make the missiles harder to detect after they're fired, he said. Cold launches would also allow the missiles to be fired from silos.
He said it's likely that North Korea is also developing solid-fuel ICBMs and that some of the rockets inside the canisters seen on Saturday might have been prototypes.
Other military hardware at the parade included tanks, multiple rocket launchers and artillery, as well as a solid-fuel missile designed to be fired from submarines.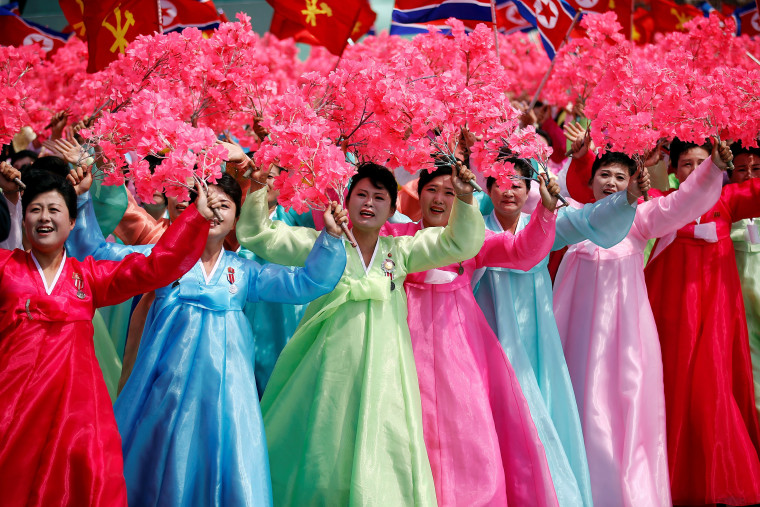 "North Korea made sure that the world saw that they are working on ICBMs and what we saw at the military parade was a prototype ICBM that will become the real deal after the necessary tests in the future," Cheong Seong-Chang, a senior fellow at The Sejong Institute in South Korea, told NBC News.
"The prototype we saw [Saturday] is longer in the length from the ones NK has previously shown the world," he added.
It was not immediately clear how ready the missiles were. NBC security analyst Jeremy Bash said the parade included "a couple of familiar weapons and some paint jobs on old weapons."
Melissa Hanham, a senior research associate at the U.S.-based Middlebury Institute of International Studies at Monterey, California, said the appearance of ICBMs enclosed in canister launchers suggested Pyongyang was working towards a "new concept" of ICBM.
"However, North Korea has a habit of showing off new concepts in parades before they ever test or launch them," she said. "It is still early days for these missile designs."
The Pukkuksong submarine-launched ballistic missiles (SLBM) were also on parade. It was the first time North Korea had shown the missiles, which have a range of more than 600 miles.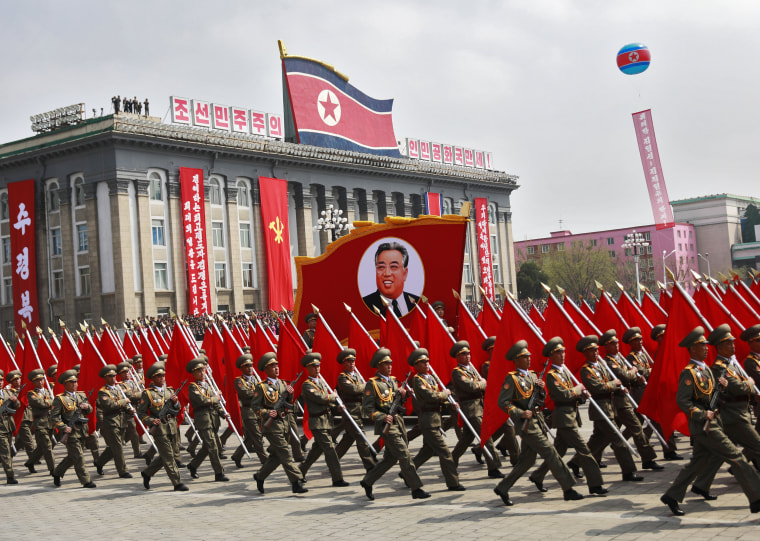 Displaying more than one of the missiles indicates North Korea is progressing with its plan to base a missile on a submarine, which are hard to detect, said Joshua Pollack, editor of the Washington-based Nonproliferation Review.
"It suggests a commitment to this program," said Pollack. "Multiple SLBMs seems like a declaration of intent to advance the program."
The parade, an elaborate display of the state's immense power, involves tens of thousands of participants, from goose-stepping soldiers to crowds of civilians who have spent weeks perfecting their ability to wave plastic flowers in unison.