North Korea appears "primed and ready" to carry out another nuclear test, satellite images suggest, defying President Donald Trump's warning that American could use military force to stop the pariah nation's atomic ambitions.
The satellite images — taken and published Wednesday — show increased activity at the reclusive nation's mountainous nuclear test site, according to U.S.-based monitoring group, 38 North.
Just one day earlier, the North warned it would strike the U.S. mainland with nuclear weapons at any sign of aggression from Washington — although analysts don't believe the country has the ability to do so yet.
Trump and his team have taken a more aggressive tone than previous administrations, dispatching a U.S. Navy strike group to western Pacific following a series of banned missile tests.
The possibility of a new nuclear test comes as North Korea prepares to celebrate the 105th anniversary of the birth of state founder Kim Il Sung on Sunday, an event that has previously been marked by with missile tests and other shows of force.
PHOTOS - Pyongyang Postcards: North Korea Prepares for Holiday as Tensions Escalate
38 North, a program at Johns Hopkins University, published the images alongside the headline: "North Korea's Punggye-ri Nuclear test site: primed and ready."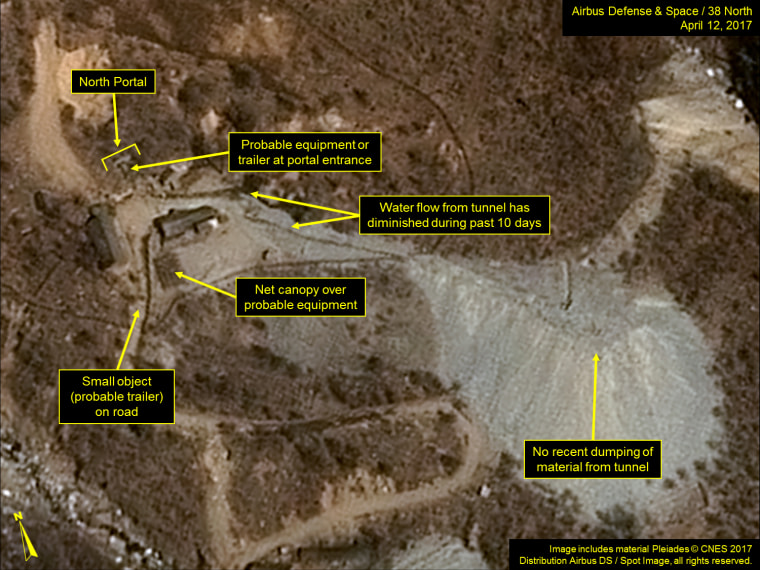 Analysts at the group were able to comp[are the most recent images with earlier ones. Wednesday's photographs showed tarp-covered supplies and formations of personnel at Punggye-ri, a remote, mountainous test site where North Korea carried out its five previous nuclear detonations. The group highlighted increased activity at the site before North Korea's most recent test in September last year.
North Korea's ruler, Kim Jong Un, has defined his leadership with a quest to build a nuclear weapon capable of hitting the United States.