North Korea has withdrawn an invitation for a U.S. envoy to visit the capital of Pyongyang to discuss the release of an American citizen who has been held in the Asian nation for more than a year, a State Department official said Sunday.
"We are deeply disappointed by the DPRK (North Korean) decision — for a second time — to rescind its invitation for Ambassador (Robert) King to travel to Pyongyang to discuss Kenneth Bae's release," State Department spokeswoman Jen Psaki said. "The DPRK announced publicly in May 2013 that it would not use the fate of Kenneth Bae as a political bargaining chip."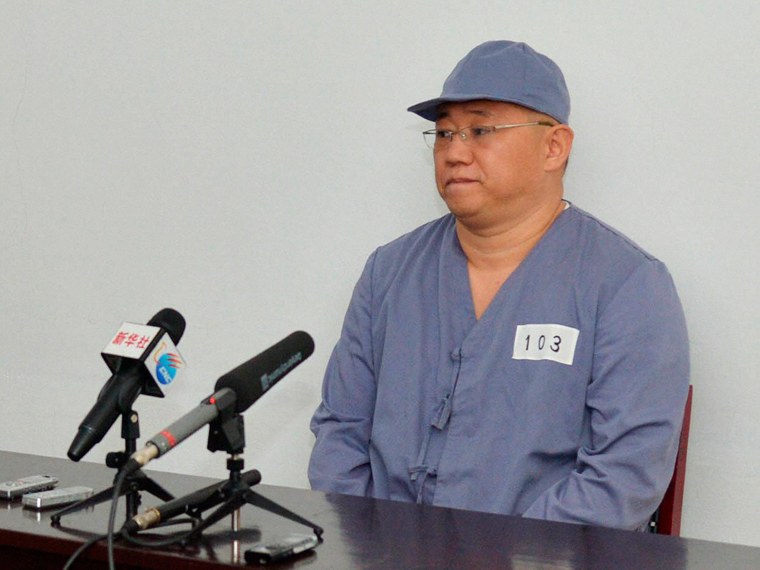 Ambassador King is the State Department's special envoy for North Korean human rights issues.
In a statement Monday, Bae's sister, Terri Chung, said her family was "saddened" to learn that King's invitation was revoked.
"We hope and pray that DPRK and U.S. diplomats will resume talks soon, ultimately leading to Kenneth's release," Chung said.
Psaki added that civil rights activist Jesse Jackson has volunteered to go to Pyongyang to try to free imprisoned U.S. missionary and tour group leader Kenneth Bae.
It was unclear if the North Koreans would accept the offer. In the family statement, Chung said Bae's family was "thankful" to Jackson, adding that they have been speaking with him "for the last few weeks."
Bae, who has been held in North Korea for 15 months, was recently returned to a labor camp after being hospitalized. He was arrested in late 2012 and sentenced to 15 years hard labor for unspecified hostile acts.
Meanwhile, pleas for his release on humanitarian grounds have fallen on deaf ears.
Daniel Arkin and Katie Distler of NBC News contributed to this report.