News analysis
WASHINGTON — The talks within two months between President Donald Trump and North Korean leader Kim Jong Un carry tremendous risks along with the hope of huge rewards.
The possible benefits are obvious. A meeting provides a chance to resolve the state of war that has divided the Korean Peninsula since the 1953 armistice, and eliminate the threat of a nuclear conflict; and then there's Kim's promise to halt missile and nuclear tests while talks are underway.
Even more surprising, the North Korean dictator agreed that the U.S. and South Korea could continue their planned joint military exercise, scheduled to begin at the end of this month. And he held out the prospect of giving up his nuclear weapons entirely at the end of the process.
Why would Kim Jong Un make such a bold move now?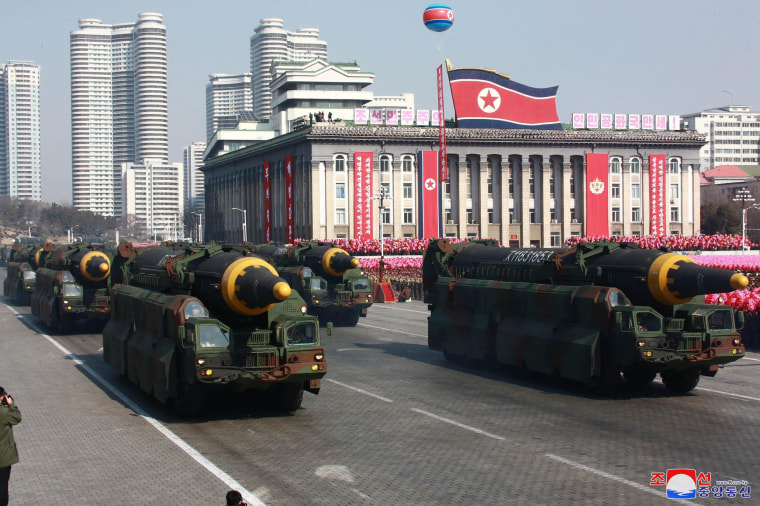 Trump may well be correct that his policy of tougher economic sanctions are beginning to bite. Kim may also be wary of White House threats of a pre-emptive nuclear strike, what National Security Council officials have referred to as "the bloody nose."
What concerns some experts, including those who've been pressing for diplomacy, is how unprepared the Trump administration likely is for what could be the most challenging nuclear negotiations since the end of the Cold War.
First, U.S. intelligence agencies have long underestimated the young North Korean dictator. They did not expect him to consolidate power as rapidly, or brutally, as he did — murdering his powerful uncle and exiled half-brother to remove potential rivals.
Only this week, the U.S. said it had concluded Pyongyang was responsible for assassinating Kim's step-brother in the Kuala Lumpur airport by using VX, a banned lethal nerve gas. The U.S. has also accused the Pyongyang regime of supplying Syrian President Bashar al-Assad with illegal chemical weapons. And the Defense Intelligence Agency reported to Congress this week that Kim now has three intercontinental ballistic missiles, two of which can hit the U.S. mainland.
Another reason for caution is the experience of Presidents Bill Clinton, George W. Bush and Barack Obama, all misled by North Korea to make concessions while Pyongyang continued to develop its illegal weapons.
Clinton notably said while announcing an agreement with Kim Jong Il on Oct. 18, 1994:
"This agreement will help to achieve a longstanding and vital American objective: an end to the threat of nuclear proliferation on the Korean Peninsula. This agreement is good for the United States, good for our allies and good for the safety of the entire world. It reduces the danger of the threat of nuclear spreading in the region. It's a crucial step toward drawing North Korea into the global community."
Clinton was wrong. Kim continued to develop a parallel weapons program, breeding the development of the very weapons that threaten the world today.
What also concerns many observers, even those who've been calling for diplomacy, are the mixed messages from the administration and the apparently ad hoc way Trump decided to accept the invitation to meet with Kim.
Even the optics were unusual: The decision was conveyed verbally by South Korean diplomats. There was no letter for intelligence analysts to parse. And the announcement was made by the South Korean emissaries outside the White House, rather than more formally inside.
Then there was the scramble to explain the move to Japanese Prime Minister Shinzo Abe, reportedly nervous about the South Korean and U.S. initiative.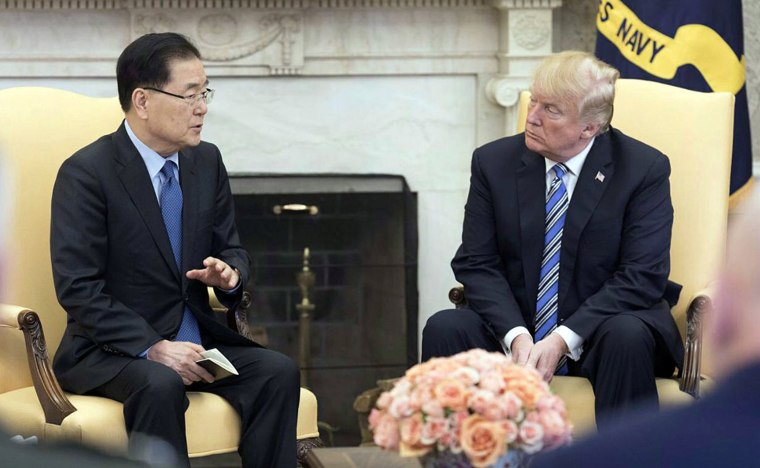 Most important, the president seemed to surprise his own staff and possibly Secretary of State Rex Tillerson, who is traveling in Africa. Earlier Thursday, the State Department spokeswoman said that the U.S. was not scheduling talks about talks.
Tillerson was also dismissive, saying the U.S. was "a long ways from negotiations" with North Korea and that talks would not be scheduled "at this point."
A State Department official insisted later that the country's top diplomat had not been blindsided but was just being "a very careful speaker."
Perhaps Tillerson was being understandably cautious, having been derided in a Trump tweet in the fall to not waste his time on diplomacy with the North.
Vice President Mike Pence also seemed to be pursuing a harder line at the Winter Olympics last month in PyeongChang, South Korea, when he opted to not stand for the arrival of the joint North and South Korean delegation, a sign of disrespect seen around the world. Kim's sister, sitting just behind him in the stadium, in turn snubbed Pence by canceling a scheduled meeting with him at the last moment.
Finally, there is the vacuum of veteran diplomats to undertake the painstaking work of preparing for such difficult talks.
The Iran nuclear agreement negotiated in 2015 under Obama took years, and was led on both sides by nuclear scientists, along with veteran diplomats.
This administration's top Korean expert, Ambassador Joseph Yun, resigned recently, reportedly in frustration at being kept out of key policy meetings. There is no U.S. ambassador in South Korea after 14 months. There is no confirmed assistant secretary of state for Asia. The department has been hollowed out.
So we are left with two bold but untested leaders armed with nuclear weapons who have taunted and threatened each other for more than a year suddenly agreeing to a high-stakes summit.