North Korean dictator Kim Jong Un announced the ground test of a "high-thrust" rocket engine, the country's state-run media said Saturday.
State-run media KCNA said that the rocket engine would help the country's plans to launch satellites, but the isolated regime has also in the past conducted nuclear tests and has said it is preparing to test an intercontinental ballistic missile.
Kim Jong Un "emphasized that the whole world will soon witness what eventful significance the great victory won today carries," KCNA said on its website. He said the test was a "success," according to the state-run media outlet.
The alleged test was announced on the same day that U.S. Secretary of State Rex Tillerson visited China — which has backed North Korea in a somewhat complex relationship — and a day after Tillerson said that all options to meet North Korea's weapons programs remained "on the table."
Tillerson said Friday that military force is a possibility. "If they elevate the threat of their weapons program to a level that we believe requires action then that option is on the table," he told a press conference in South Korea.
North Korea has conducted five suspected nuclear tests in the past, including two tests last year. It has threatened the U.S. in the past over joint military exercises with South Korea, and in January a senior North Korean told NBC News the country was ready to test-fire an ICBM "at any time, at any place."
Related: Tillerson Says Military Options Against North Korea 'on the Table.' What's That Mean?
In Beijing on Saturday, Tillerson said that tensions on the Korean Peninsula are high and "things have reached a rather dangerous level."
"We've committed ourselves to do everything we can to prevent any type of conflict from breaking out," he said.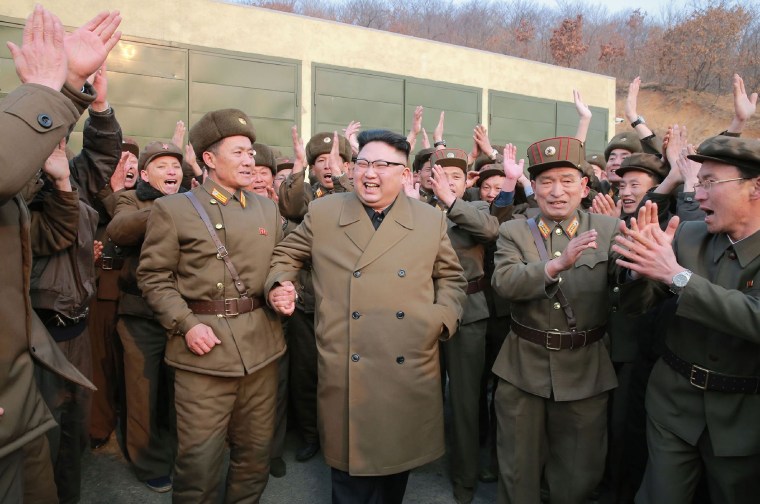 Tillerson said of the U.S. and China, "we will work together to see if we cannot bring the government in Pyongyang to a place where they want to make a different course — make a course correction and move away from their development of their nuclear weapons."
North Korea has never successfully test-fired an intercontinental ballistic missile. It has carried out numerous other missile tests, including in March when it fired four ballistic missiles into the Sea of Japan. In February of 2016 it said it launched a long-range rocket in defiance of a United Nations ban on tests.
Chinese Foreign Minister Wang Yi said Saturday that U.N. Security Council resolutions need to continue to be implemented, but an effort should also be made to "seek a breakthrough point to restart the dialogues and come back to the right track of a negotiated settlement."
"And we hope all parties, including our friends from the United States, could size up the situation in a cool-headed and comprehensive fashion and arrive at a wise decision," Wang said, according to a translation in a transcript of the briefing provided by the U.S. State Department.