North Korea carried out another banned ballistic missile test on Friday, U.S. officials confirmed to NBC News, but the missile exploded just after launch.
"The launch was unsuccessful and exploded in midair," a South Korean military official told NBC News. South Korea is "totally ready to meet any and all kinds of provocation," the official added.
Two U.S. officials said the missile was short-range, capable of reaching the South Korean capital of Seoul, but not Japan. U.S. Pacific Command said the missile was launched at 5:33 a.m. Saturday Seoul time (4:33 p.m. Friday ET) from near Pukchang airfield, and the missile did not leave North Korean territory.
The move is the latest provocation amid heightened up tensions on the peninsula. The White House said it is aware of the missile test and President Donald Trump has been briefed.
Trump responded on Twitter about three hours after the missile launch: "North Korea disrespected the wishes of China & its highly respected President when it launched, though unsuccessfully, a missile today. Bad!"
The test comes a day after Trump told Reuters in an interview that the U.S. and North Korea could be headed toward a "major, major conflict," and as South Korea announced it had installed key parts of a U.S. missile defense system.
Related: Sec. Tillerson to UN Security Council: 'Act Before North Korea Does'
In the Reuters interview, Trump said: "We'd love to solve things diplomatically but it's very difficult."
Earlier this week, North Korea conducted what were described as major live-fire drills as it marked the founding of its military.
A spokesperson for South Korean presidential candidate Moon Jae-in warned that if North Korea continues with provocations, "it will be met by tough punishment from the international community."
Japanese Chief Cabinet Secretary Yoshihide Suga said Japan was taking every precaution after the missile test.
"The Japanese government will closely coordinate with the related countries such as the U.S. and South Korea at the United Nations Security Council and so on to urge North Korea to restrain itself while we are taking every precaution to face any contingency," Suga said.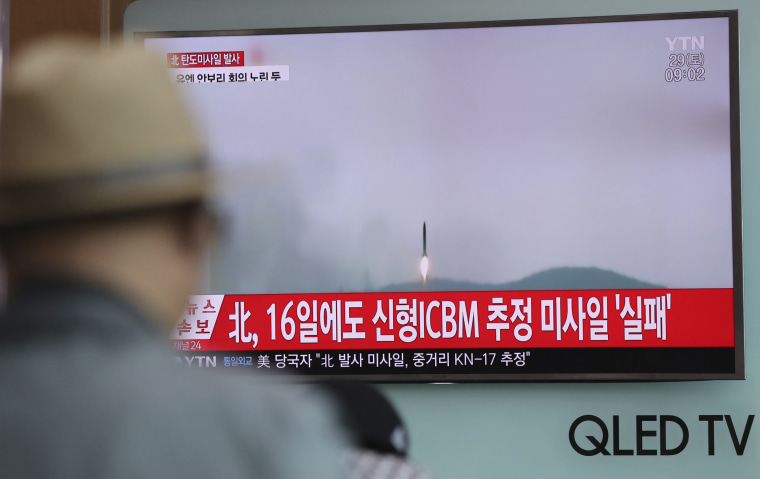 North Korea has conducted several ballistic missile launches this year. The country is barred by United Nations resolutions from carrying out ballistic missile tests.
North Korea on April 15 launched a missile but it failed "almost immediately," according to U.S. and South Korean military officials.
The country has conducted five nuclear tests since 2006, including two last year. North Korea has warned it is ready to carry out the test of an intercontinental ballistic missile at "any time," but it has never successfully launched such a missile.